Kids may be selling lemonade at the corner stand, but a real thirst quencher for adults is a Lemon Drop with a twist. Lemon Drop drinks served at the bar are typically made as a shot or shooter with a sugared lemon wedge. It may be served as simply as a shot glass rimmed with granulated sugar, filled with citron vodka and a lemon wedge on the side or a lemon wedge dipped in granulated sugar. Rather than taking a shot at the usual Lemon Drop, make it a bit more thirst quenching with a punch of added flavor.
Raspberry Lemon Drop – created by Cheri Loughlin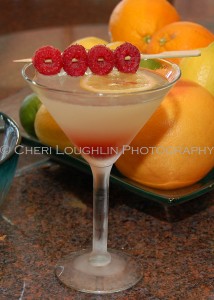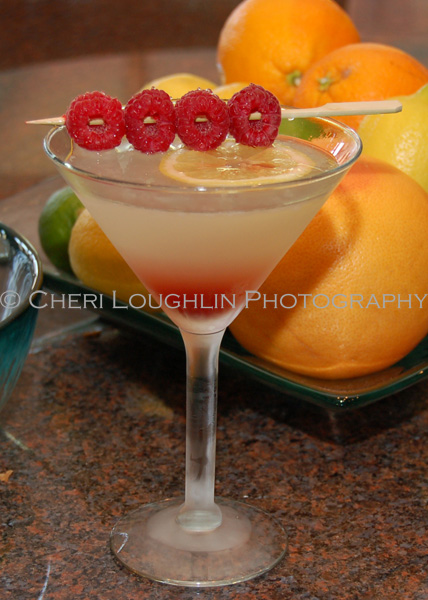 2 measures Vodka
1 Lemon – Juiced
1/2 measure Simple Syrup
1/4 measure Raspberry Liqueur
Lemon Wheel Garnish
Place vodka, lemon juice and simple syrup in cocktail shaker with ice. Shake to blend and chill. Strain into chilled cocktail glass. Float lemon wheel on top. Carefully drizzle raspberry liqueur over lemon wheel. Liqueur filters through the lemon wheel creating lovely layered effect.
This makes a beautiful drink. The raspberry liqueur continually sinks to the bottom of the glass giving the illusion of a rather plump looking raspberry at the bottom. Garnish the Raspberry Lemon Drop with skewer of fresh raspberries if desired. The last third of the drink is where the lemon wheel and raspberry liqueur start working together for an extra burst of flavor.
Twitter, Facebook, StumbleUpon – str8upcocktails @ gmail.com – ©2011 Cheri Loughlin-The Intoxicologist, All Rights Reserved. All opinions, reviews and spirits' coverage are the personal opinion and decision of Cheri Loughlin.