Elijah Craig Bourbon 12 Year Tasting Notes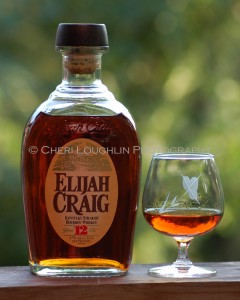 Aroma: Not quite ripe peaches. Salt water taffy.
Taste:Grassy grain such as rye or wheat. Almost like Wheat Chex or Wheaties. Same watery feel as some other Heaven Hill bourbons. Kind of barbeque sauce flavor in the back. Not too sweet. Love the deep, rich color. Cherry right of the bat with wood tone. Thicker than Single Barrel. Carmel chocolate smooth. Funny after taste in the lingering finish. Sweet around the edges. Little burny. Mint at the end. Tea flavor such as black tea bark.
Twitter, Facebook, StumbleUpon – str8upcocktails @ gmail.com – ©2011 Cheri Loughlin-The Intoxicologist, All Rights Reserved.
Review: Elijah Craig Bourbon