The Ginza with its use of ordinary sake inspired the Kentucky Sparkler. This cocktail reduces the ratio of bourbon due to Baker's higher proof, but fully utilizes its flavor. This version also takes full advantage Zipang Sparkling Sake turning this drink into a celebration style cocktail when the need arises. Addition of bitters adds depth of character and a hint of spicy flair. 
Kentucky Sparkler – created by The Intoxicologist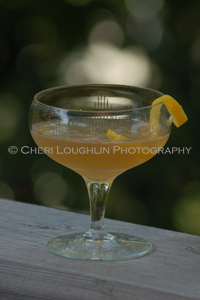 1 measure Baker's Bourbon
1/4 measure Simple Syrup
1/4 measure Lemon Juice
3 drops Orange Bitters
1-1/2 measure Zipang Sparkling Sake
Lemon Twist Garnish
Combine all liquids except sparkling sake in cocktail shaker with ice. Shake to blend and chill. Strain into chilled cocktail glass. Top with sparkling sake. Garnish with lemon twist.
My preferred way of enjoying Baker's is with a single cube left to melt idly in the glass while the bourbon warms to room temperature again.  Savoring the full warmth of this one increases the enjoyment in my opinion.  The texture remains smooth as silk, full and rich, warm and supple. Baker's Bourbon displays wonderful notes of vanilla and caramel.
High resolution cocktail and beverage stock photography images are available in downloadable digital format in the newly redesigned Stock Photography Gallery at www.cheriloughlin.com.
Twitter, Facebook, StumbleUpon – str8upcocktails @ gmail.com – ©2011 Cheri Loughlin-The Intoxicologist, All Rights Reserved. All opinions, reviews and spirits' coverage are the personal opinion and decision of Cheri Loughlin.