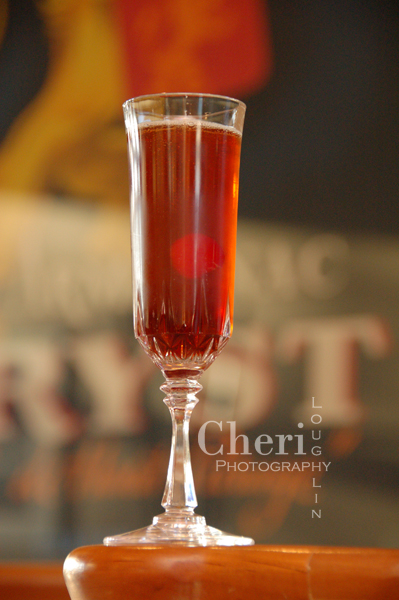 Perspective, karma and fortuity intertwine within this champagne flute to ultimately dance upon the tip of the tongue.  That's why it's Call it Kismet.  Believe in Lady Luck, destiny, hard work or ordinary happenstance.  No matter how you call the future, once in a while everything comes down to the luck of the draw.  Call it Kismet utilizes Heering Cherry liqueur's deep cherry flavor with subtle chocolate notes then laces in rich coffee and lush vanilla.  While it could have stopped at very simple, Brut Champagne adds the divine intervention of bubbly.
Call it Kismet Cocktail Recipe
Call it Kismet – recipe by Mixologist Cheri Loughlin, The Intoxicologist
3/4 ounce Heering Cherry Liqueur
1/2 ounce Kahlua Especial Coffee Liqueur
1/2 ounce Vanilla Liqueur
3 ounces Brut Champagne
Cherry Garnish
Combine liqueurs in cocktail shaker with ice. Shake to chill. Strain into chilled champagne flute. Top with champagne. Garnish with cherry. Wonderful deeply rich flavor of cherries kissed by hint of chocolate, rounded out by the essence of vanilla.
Subscribe to the monthly Newsletter
All content ©2015 Cheri Loughlin, The Intoxicologist. All Rights Reserved. Chat with Cheri @Intoxicologist on Twitter and facebook.com/Intoxicologist