77 Classic Gin Cocktail drink photos have been collected in the Cocktail Stock Photography gallery. Images include contemporary and vintage style stemware in a variety of settings; Halloween, holiday, outdoor, bar, mid-pour and generic.
High resolution images are available for immediate use with non-exclusive commercial or personal license to use purchased images in digital or print formats. Photos will not contain watermark after purchase. Cocktail Stock Photography images are excellent for building beverage brand portfolios and creating eye-catching cocktail menus. Cocktails may be used as is or renamed according to your needs.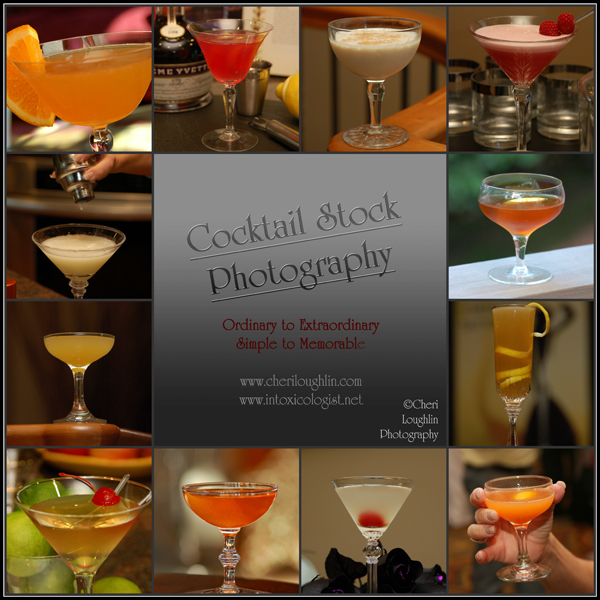 Cocktail Stock Photography: Gin Classics
(clockwise from upper left corner)
Satan's Whiskers – 6 photos; 2 generic backgrounds
Blue Moon – 7 photos, bar tools background
Alexander – 16 photos; 3 listed as Bourbon Alexander views on banister, 2 listed as Brandy Alexander with outdoor background, 11 listed as Cherry Vanilla Alexander with bar cabinet background
Clover Club – 4 photos; generic background
Hanky Panky – 2 photos, outdoor background
French 75 – 10 photos, railing and coffee table backgrounds, some mid-pour photos
Monkey Gland – 7 photos, outdoor background with and without cocktail shaker and event photo with cocktail in hand
Corpse Reviver #2 – 13 photos, black roses & Halloween style theme background
Lucien Gaudin Cocktail – 4 photos, coffee table with hint of sparkle in background
Gimlet – 5 photos, generic background
Bronx Cocktail – 2 photos; generic background
White Lady – 1 photo; shown in mid-pour with generic background
New in Cocktail Stock Photography: March 5, 2012
Twitter, Facebook, StumbleUpon – str8upcocktails @ gmail.com – ©2012 Cheri Loughlin-The Intoxicologist, All Rights Reserved. All opinions, reviews and spirits' coverage are the personal opinion and decision of Cheri Loughlin.
Cocktail Stock Photography: Gin Classics