The Rob Roy is similar to the Manhattan, but only uses Scotch as the base spirit. It can also be made Sweet, Dry or Perfect. When ordering a Rob Roy out, the sweet version is primarily what a bartender assumes. Rob Roy Dry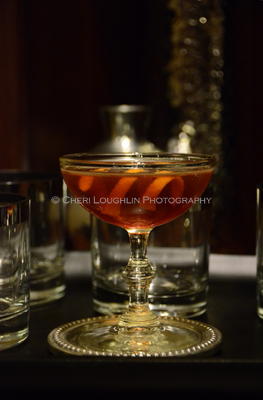 uses dry vermouth in place of sweet. Rob Roy Perfect uses equal measures of dry and sweet vermouth. Play with each variation and find your ideal Rob Roy.
Rob Roy
1-1/2 ounce Scotch
3/4 ounce Sweet Vermouth
2 to 3 dashes Classic Bitters
Lemon or Orange Twist Garnish
Combine liquids in cocktail shaker with ice. Shake or stir according to personal preference. Strain into chilled cocktail glass. Twist fresh lemon or orange peel over top of cocktail as garnish.
Twitter, Facebook, StumbleUpon – str8upcocktails @ gmail.com – ©2012 Cheri Loughlin-The Intoxicologist, All Rights Reserved.