Any time of year is a good time for a party, but fall brings on all sorts of reasons for friends to gather; football parties, tailgating, Halloween and Christmas to name a few. 18 ounce plastic party cups become handy "barware" as convenient, non-breakable drink cups whether people drink tea, soda, beer or alcoholic mixed drinks. Since these cups are a hefty size larger than the average cocktail, rocks or highball glass, it's easy to lose track of the amount of liquor being free-poured into the glass.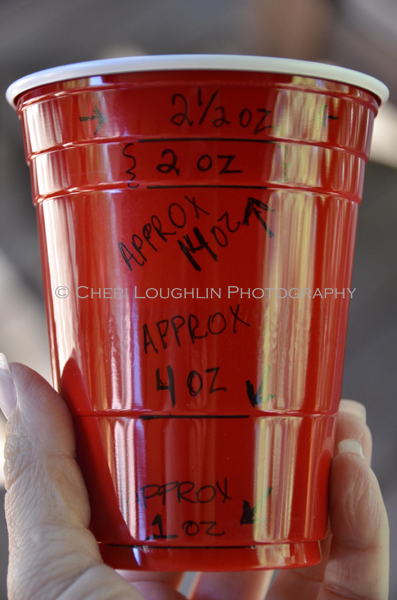 Measurements on this store brand 18 ounce party cup are approximate. Indentation lines on the cup were used as measurement reference points. Take a few minutes to measure the reference point lines on the actual size cup you will use to serve drinks to ensure proper pour.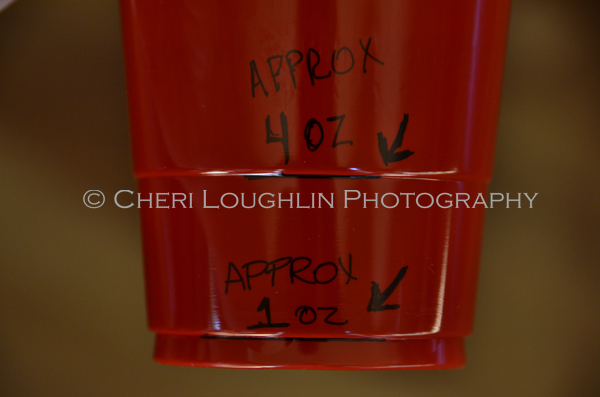 For point of reference: An average highball (Collins glass) style drink contains approximately 5 to 6 ounces of liquid (1-1/2 to 2 ounces alcohol with remaining mixer) atop fresh ice. An average highball glass is approximately 10, 12 or 14 ounces depending upon the actual glass. This translates to only half the glass or less containing actual liquid with the remainder of the glass being filled with ice.
Since glasses shouldn't be filled to the absolute rim to avoid spillage, it's reasonable to estimate the 18 ounce party cup's maximum realistic capacity would stop at the 16 ounce mark (second indentation down from the top of glass). This means the sensible amount of total liquid for the 18 ounce plastic cup should be about 7 to 8 ounces (alcohol and mixer) in total with ice fill for the remaining capacity.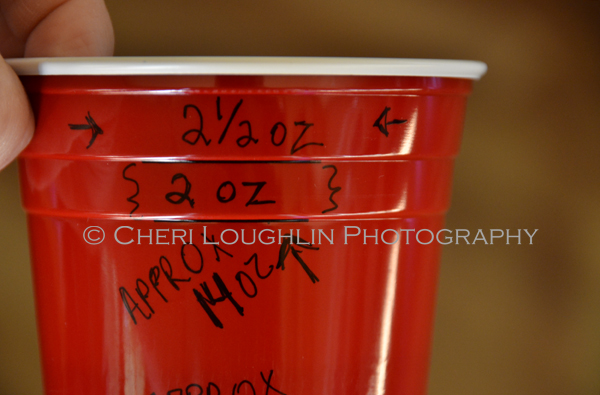 An easy way to ensure semi-correct measurements that keep a drink in good taste balance is to fill the glass with ice first. Add appropriate mixers to the 14 ounce measurement line and fill the 2 ounce space marked above the 14 ounce mark with your spirit of choice. This works well with most 2 ingredient highball drinks such as Rum & Coke, Vodka & Cranberry or Cape Cod, Orange Juice & Vodka or Screwdriver, etc…
Twitter, Facebook, StumbleUpon – str8upcocktails @ gmail.com – ©2012 Cheri Loughlin-The Intoxicologist, All Rights Reserved.
Bar Basics: 18 Ounce Plastic Party Cup