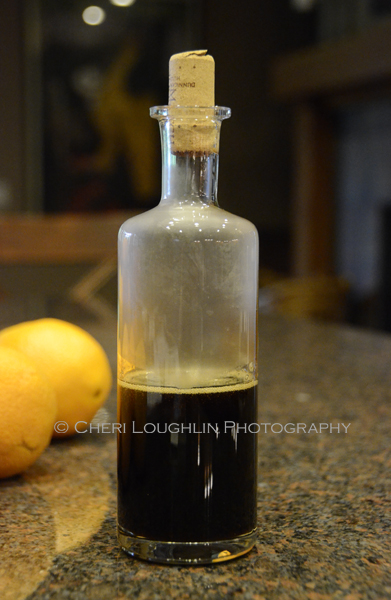 It's fun to discover new flavored syrup recipes by using ingredients you already have in the pantry. Dark Sumatra Syrup or coffee syrup is one of those recipes. This syrup recipe came about while searching for variations on the Espresso Martini. It indeed contributes wonderfully to the Dark Sumatra Martini, but also adds depth to your morning brew.
Dark Sumatra Syrup / Coffee Syrup – created by Cheri Loughlin
1 cup Demera Cane Sugar
1/2 cup Double Strong Fresh Brewed Coffee
1 ounce Vodka – optional
Brew coffee using double the amount of dark roast coffee beans / ground coffee. Place sugar and coffee in sauce pan over low heat. Stir continuously until sugar is completely dissolved and mixture has come to a soft simmer. Remove from heat. Add in optional ounce of vodka as preservative. Allow to cool. Place in sealed container. Keep refrigerated.
*I used Sumatra coffee. Brown sugar could be used in place of Demera Cane Sugar. Demera Cane Sugar contains hint of molasses which works very well in this syrup. Demera Cane Sugar can be found at many corner grocery stores on the sugar / baking aisle.
Twitter, Facebook, StumbleUpon – str8upcocktails @ gmail.com – ©2012 Cheri Loughlin-The Intoxicologist, All Rights Reserved.