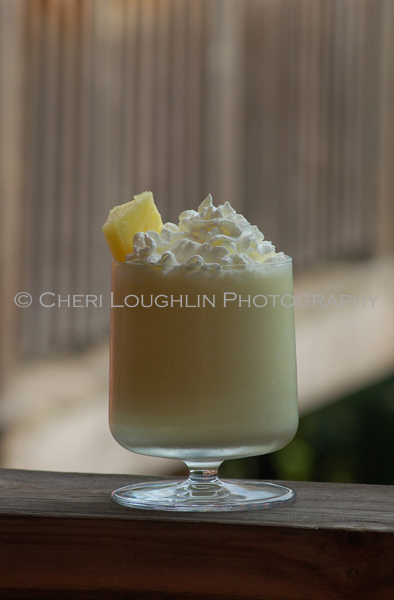 The succulent sweet taste of pineapple and coconut blend together seamlessly in this non-alcoholic blended adaptation of the vodka based Chi-Chi. It's the perfect pick-me-up dessert drink during the day or hold out for the happy hour version.
Chi-Chi a la Mode Non-Alcoholic Drink
Chi-Chi à la mode – recipe by Cheri Loughlin, The Intoxicologist
Serves 4
1/2 Fresh Cored Pineapple
3 ounces Cream of Coconut
3 ounces Half & Half
2 cups Ice
Fresh Pineapple Spears Garnish
Whipped Cream
Cut pineapple into chunks. Place pineapple chunks, cream of coconut, half & half and ice into blender. Blend until mixture is completely smooth. Pour into four cocktail glasses. Insert pineapple spear garnish. Top with dollop of whipped cream. Notation: Frozen pineapple may be used in place of fresh.
Chi-Chi Drink Recipe
Chi-Chi
1 ounce Vodka
1/2 ounce Cream of Coconut
1/2 ounce Pineapple Juice
1/2 ounce Half & Half
1/2 to 1 cup Crushed Ice
Fresh Pineapple Garnish
Whipped Cream – Optional
Blend liquid ingredients and ice together in blender until mixture is completely smooth. Pour into Hurricane glass. Garnish with fresh pineapple and whipped cream if desired.
All content ©2011 Cheri Loughlin, The Intoxicologist. All Rights Reserved. Chat with Cheri @Intoxicologist on Twitter and facebook.com/Intoxicologist or str8upcocktails@gmail.com