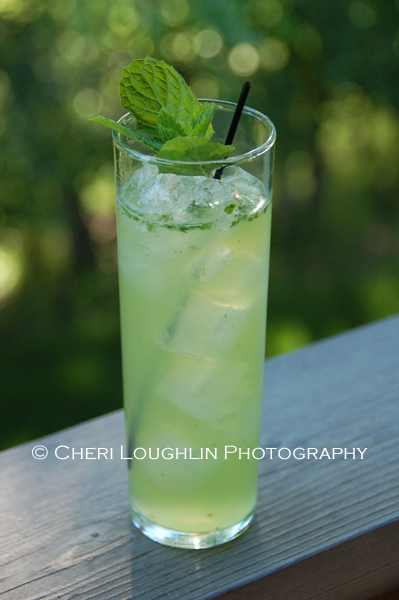 An ultimate summer drink; the Ultimate Mojito. Bonus: The Mojito has its own special holiday. July 11 is National Mojito Day.
Fresh mint is a must for this drink. But that little minty plant has become the bane of some bartenders. I've heard a lot of complaints that muddling all that mint is too time-consuming. I can't entirely agree with that hypothesis. Muddling isn't a grueling task. By muddling, I don't mean mashing the leaves until their a creamy mess. I mean gently bruising them with a muddler or back of a spoon. The purpose of muddling is to release the herb's essential oils. That's all. Not to make a mushy mess. I'll add, one or two mint leaves just won't do. Grab a handful of mint and the flavor bursts through, lovely and refreshing. Once you've had a truly minty Mojito, you won't mind the muddling.
Personally, I prefer a wooden muddler with a flattish bottom.  Something similar to the Big-Shot Muddler. Metal, dishwasher safe muddlers are of course easier to care for, but I like the sturdiness of a natural product. And care isn't that difficult. I rinse the muddler immediately after use and let it air dry on a towel before putting it away. Don't soak it in water or the wood will begin to break down. My wooden muddler has thirteen years use and it's still like new. Invest in durability and you won't regret it.
The next essential for a outstanding Mojito is bitters. For me, Peychaud's Aromatic Cocktail Bitters are the only way to go for a Mojito. I like the light underlying flavor of fruit that Peychaud's original bitters offers. It compliments the light, summery feel of a Mojito. A few drops are all you need.
Make your cocktail making easy and purchase ready made simple syrup or do what I do and make your own. Easy simple syrup recipe you can make in minutes. Use bottled or canned soda water for a topper or make your own sparkling water. I encourage you to play with your cocktail ingredients and measurements so you get the perfect cocktail for your taste preference.
10 Cane Rum was always my rum of choice for a Mojito. Unfortunately it was discontinued in 2015. But that hasn't stopped me from enjoying my share of Mojitos. Use any rum you like for this drink. I think a light cane sugar rum is particularly good for this drink instead of molasses based rums. That's personal preference though. Don't let me stop you from enjoying your Mojito exactly like you like it.
The taste is fresh, the flavors layer exquisitely. Bitters take just enough sweet edge off the concoction to allow the full effect of the mint to rum balance to play through. The rum I used contains a little aromatic spice with hint of caramel beneath the first sip.  It seems to flow over the tongue as if it were a harmonious melody. It's perfect for this Ultimate Mojito recipe.
Ultimate Mojito
10 – 12 Fresh Mint Leaves
1 ounce Simple Syrup
3/4 ounce Fresh Squeezed Lime Juice
2 ounces Sugar Cane Rum
2 – 3 dashes Peychaud's Bitters
1-1/2 ounce Club Soda
Fresh Mint Leaves Garnish
Lightly muddle mint leaves, simple syrup and lime juice in the bottom of mixing glass. Add rum, bitters and ice. Shake to blend and chill. Strain into a highball glass over fresh ice, removing most of the mint leaf residue. Top with club soda. Garnish with fresh mint leaves. Enjoy!
Post updated, July 11, 2022. All content ©2022 Cheri Loughlin, The Intoxicologist. All Rights Reserved. Chat with Cheri on facebook.com/Intoxicologist
Cheri Loughlin is the Omaha writer and photographer behind www.intoxicologist.net and author of Cocktails with a Tryst: An Affair with Mixology and Seduction. You can email Cheri with comments and questions at str8upcocktails@gmail.com.