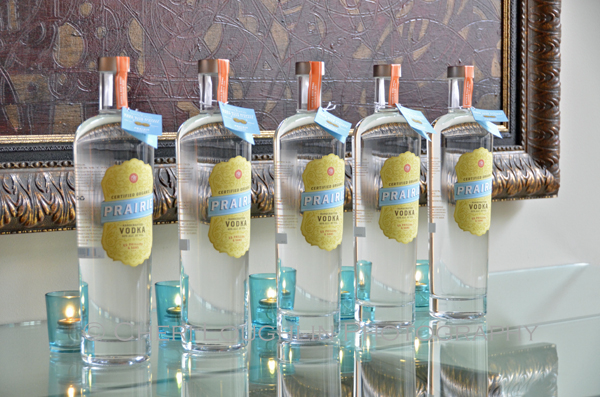 Prairie Organic Spirits recently invited me to join them for an evening of cocktails and food pairing as they announced the launch of two new spirits to their portfolio; Prairie Organic Gin and Prairie Organic Cucumber Vodka.
To be honest and open with you, my readers, I will let you know that Prairie Organic Spirits was a most gracious host and invited me to enjoy the evening festivities in St. Paul, MN, all expenses paid. I am sharing the experience with you through photos and my notes from the trip. All photos, tasting notes, thoughts and opinions shared here are my own.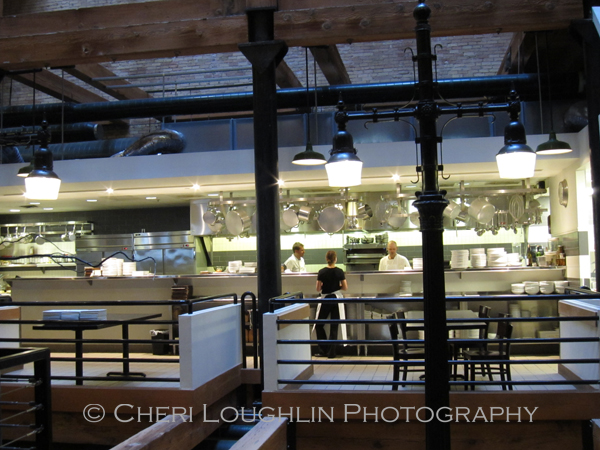 The cocktail and dinner event took place at Heartland Restaurant & Farm Direct Market with Executive Chef Lenny Russo preparing our dinner for the evening. Chef Russo is a 2010 – 2012 Best Chef Midwest Nominee by the James Beard Foundation. The nightly menu at Heartland is influenced by fresh ingredients delivered to the restaurant. The menu changes daily.
All of the Prairie Organic Spirits vodka and gin cocktails were paired with food courses prepared by Chef Russo. Chef Russo commented at the dinner that  usually cocktails are created to accompany food. In this case, Chef Russo created his food recipes to pair with the cocktails.
Prairie Organic Spirits Reception Drinks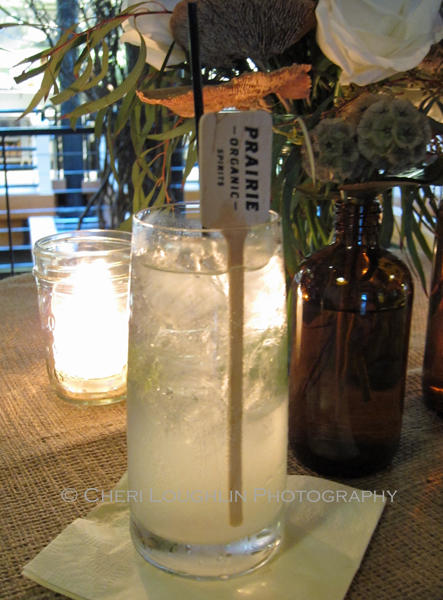 Bootlegger: Prairie Organic Vodka, Lime Cordial, Fresh Mint, Club Soda
Bootlegger was very sweet with overwhelming sour mix sweetness and acidic taste. Fresh mint flavor was a bit lost due to the sweet and acidic mixture. This seems to be a vodka take on a Mojito.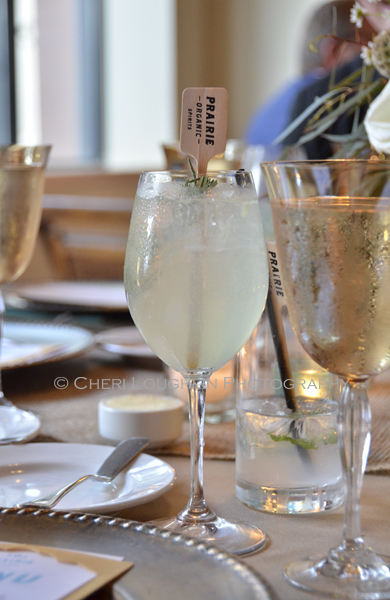 Rubicon: Prairie Organic Gin, Green Chartreuse, Luxardo Maraschino Liqueur, Lemon Juice, Club Soda, Fresh Rosemary Garnish
Rubicon was perhaps my favorite drink of the entire evening. This is Heartland's fresh take on the Last Word cocktail. The Rubicon is served over ice, has varying ratios in its ingredients rather than equal parts and is topped with club soda to lessen the straight spirited cocktail that is usually almost all liquor. This version is lighter in flavor. The longer the Rubicon sits with itself the more Luxardo and Chartreuse flavors come to the forefront. It is fresh, nice and summery. Rosemary garnish is an excellent touch for aroma and eye appeal.
Prairie Organic Spirits Dinner Drinks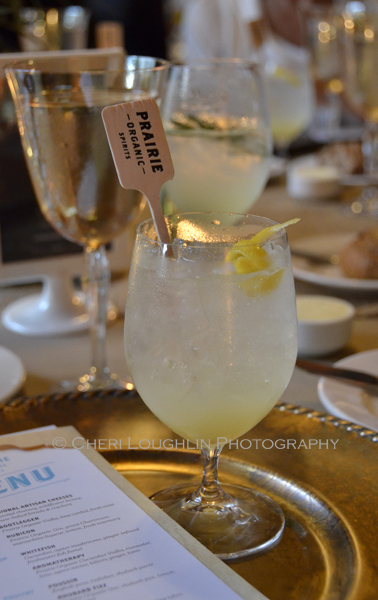 Aromatherapy: Prairie Organic Cucumber Vodka, Rosewater, Lime Juice, Agave Nectar, Bitters, Ginger, Tonic, Lemon Knot Garnish
Aromatherapy is appropriately named. The aroma is immediate rosewater and cucumber. It is spring water fresh. The taste is a hint of bitter, perhaps the tonic, and fresh. There is light sweetness like the flavor softness associated with succulent garden fresh cucumber.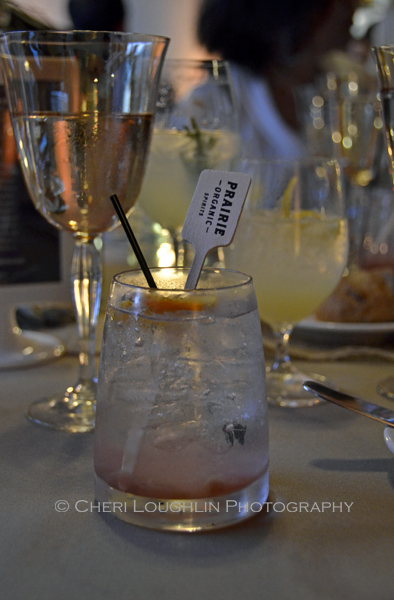 Rhubarb Fizz: Prairie Organic Gin, Rhubarb Jam, Lemon Juice, Soda Water, Orange Twist
Rhubarb Fizz color is quite nice after stirring. The jam does not integrate well into the drink, so it continues to settle as it sits. There is not much flavor in this drink. It is mostly gin and acidic flavors. Barely any rhubarb comes through.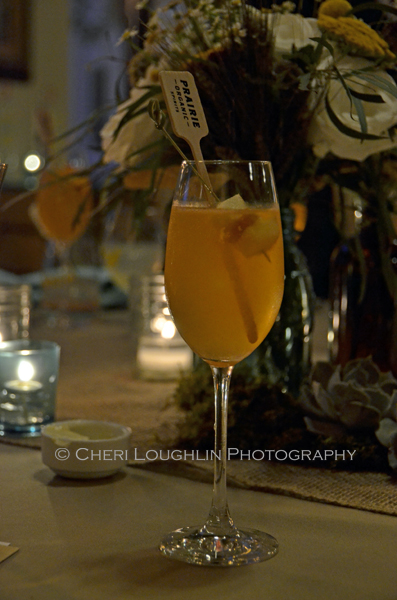 Happy Apple: Prairie Organic Cucumber Vodka, Aperol, Honey Syrup, Lemon Juice Apple, Soda Water, Apple Slices
Happy Apple carries the cucumber aroma well. It is prevalent. There is a slight bitter edge in the taste; perhaps from the Aperol. Cucumber flavor comes through nicely. I could pick up the tiniest hint of honey, but there was virtually no sweetness to the drink at all.
Prairie Organic Spirits Dessert Cocktail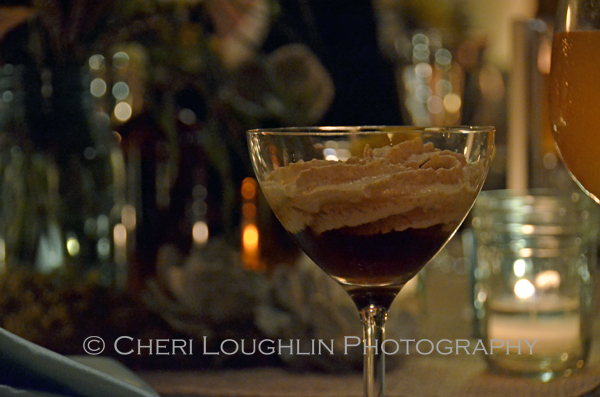 Nutty Russian: Prairie Organic Vodka, Nocino, Kahlua, Cinnamon Whipped Cream, Soda Water
Nutty Russian was perhaps the most perplexing and disappointing cocktail of the evening. I love a good espresso cocktail. The description sounded promising until…soda water? Nutty Russian was the only drink served in a true cocktail glass.  In my opinion the execution of this cocktail was ill conceived. I am not sure if it would have been better to serve it with a spoon or a straw. The Nutty Russian was presented with dark liquid base topped with one inch cinnamon whipped cream piped over the top of the cocktail.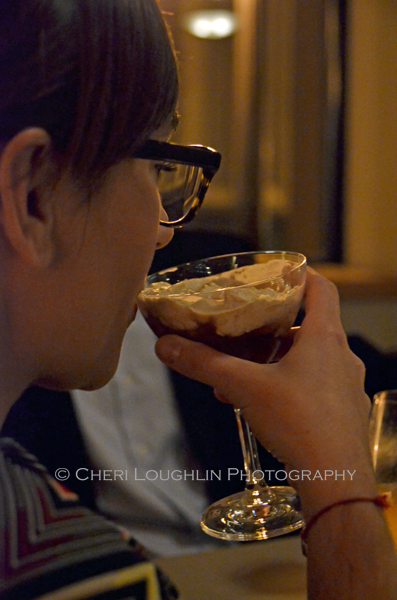 The cinnamon whipped cream was truly delicious. However it was nearly impossible to sip the cocktail through the whipped cream. The cream floated rather than integrated with the drink. Trying to sip the cocktail beneath left one with cinnamon whipped cream mustache on and beneath the nose. I was grateful to have accepted the offer of black coffee with dessert as well. I had a spoon!
I spooned a taste of the cocktail liquid with the cinnamon cream. The liquid was much too abrasive and bitter. I did what any mad scientist would do. Experiment! The Nutty Russian ended up in completely in my coffee. When in doubt, improvise.
The slideshow below contains a few photos I was able to take while at the Prairie Organic Spirits Prairie Made Dinner event. There are more photos on the Prairie Vodka Facebook page taken by their team of photographers as well. Enjoy!
[portfolio_slideshow]
Find more information about Prairie Organic Spirits on their website. Follow on facebook.com/PrairieVodka and join the @PrairieVodka conversation on Twitter.

All content ©2013 Cheri Loughlin, The Intoxicologist. All Rights Reserved. Chat with Cheri @Intoxicologist on Twitter and facebook.com/Intoxicologist or str8upcocktails@gmail.com
Prairie Organic Spirits Prairie Made Dinner