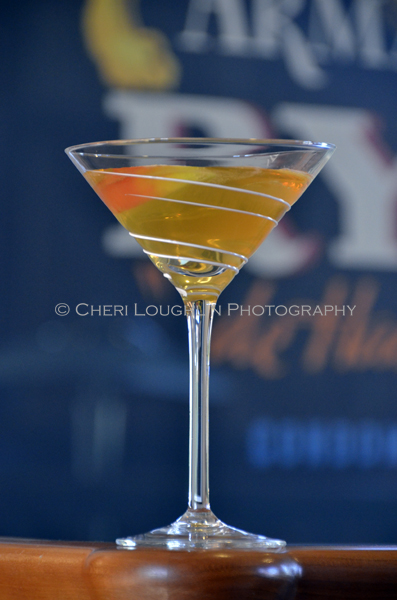 In 2010, the Appletini was declared the "new official drink of Facebook." This was soon after the release of The Social Network, the movie based upon the story of Facebook and the key players involved in the beginning of the social network. Though the Appletini has always been a popular cocktail, its celebrity status didn't seem to skyrocket after its "official" cocktail status update. Facebook and The Social Network haven't touched the cocktail crowd in quite the same way that Sex and the City did with the Cosmopolitan.
The Appletini is a much loved cocktail of both men and women. It is typically thought of as a sweet drink with apple liqueur, vodka and lemon or lime juice. But, in its most classic form it is made with sweet and dry vermouth, vodka or gin and apple juice or apple cider. No apple liqueur or apple schnapps are in the classic version. Some variations use vodka, calvados and a premium orange liqueur such as Cointreau or Grand Marnier.
Appletini Variation: Barefoot in Dublin Recipe
Barefoot in Dublin tweaks the Appletini with Irish whiskey and Moscato wine. This gives the Appletini beautiful warming notes and lush roundness in the mouth feel. The rich apple flavor is accompanied by soft sweetness. Barefoot in Dublin is ideal as a fall cocktail or does double duty for St. Patrick's Day due to the Irish whiskey inclusion.  
Barefoot in Dublin – recipe by Mixologist Cheri Loughlin
2 ounces Barefoot Moscato Wine
1 ounce Jameson Irish Whiskey
1 ounce Mott's Apple Juice
1/4 ounce Honey
Apple Slice Garnish
Place liquids and honey cocktail shaker. Stir briefly until honey is dissolved. Add ice. Shake to chill. Strain into chilled cocktail glass. Garnish with apple slice.
It is important to allow the honey to dissolve before adding ice to the shaker. Otherwise honey has the tendency to stick together as a blob rather than dissolve.
All content ©2012 Cheri Loughlin, The Intoxicologist. All Rights Reserved. Chat with Cheri @Intoxicologist on Twitter and facebook.com/Intoxicologist or str8upcocktails@gmail.com
Barefoot in Dublin Appletini Cocktail