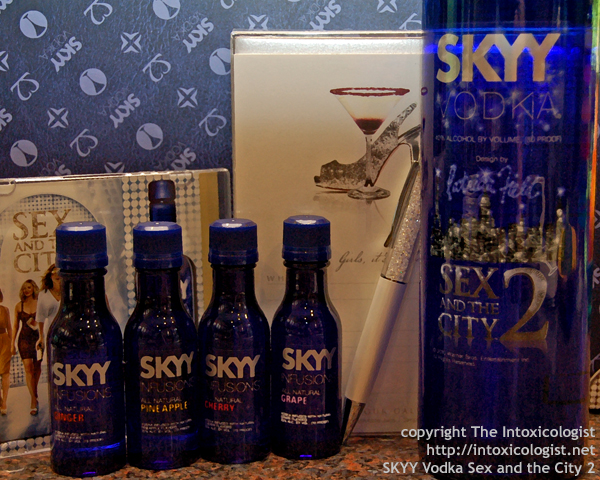 Months of hype leading up to the recently released Sex and the City 2 movie leads the liquor industry scrambling for new cocktail recipes to walk down the red carpet on the way to the nearest after party.  The only reason cocktails come into play at all is due to the iconic Cosmopolitan sipped by Sex and the City character, Carrie Bradshaw, in 1998, but made famous on the cocktail circuit by Madonna when paparazzi photographed her sipping the light pink hued drink at the Rainbow Room in 1996.  This little pink drink had already been in existence in various forms, but adapted to Cosmo perfection by Dale DeGroff.
Cosmopolitan – Dale DeGroff, Craft of the Cocktail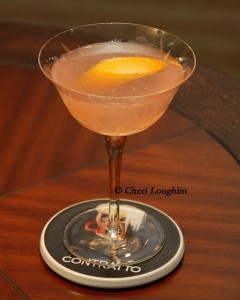 1-1/2 ounce Citron Vodka
1/2 ounce Cointreau
1/4 ounce Fresh Lime Juice
1 ounce Cranberry Juice
Flamed Orange Peel Garnish
Combine liquid ingredients in cocktail shaker with ice.  Shake to blend and chill.  Strain into chilled cocktail glass.  Garnish with flamed orange peel.  Dale discusses the step by step process of how to flame an orange peel in his book, Craft of the Cocktail.
There are so many adaptations to the Cosmo it is only fitting one with champagne topper mingle into the mix for a show stopping appearance at any Sex and the City after party. Dan Crowell of Libation Association created the Champagne Cosmopolitan.
Champagne Cosmopolitan – Dan Crowell
1 ounce Belvedere Cytrus Vodka
1 dash Grand Marnier
1-1/2 ounce Cranberry Juice
1/2 ounce Fresh Lime Juice
1 Twist Orange
1 ounce Moet & Chandon White Star Champagne
Shake Vodka, Grand Marnier, cranberry juice and lime juice over ice in a cocktail shaker.  Strain into a chilled champagne flute.  Top off with champagne.  Garnish with orange twist.
The hum and buzz surrounding Sex and the City 2 would lead most to believe this movie is the height of fashion with the sexiest cocktails for stylish women everywhere to sip while gadding about in heels, flirty dresses and oversized hats.  Intersperse some gossip and gratuitous sex and everyone can be the star of their own movie.  A little farfetched in today's busy world of working women who might be single or married, with or without children.  But the movie does give rise to the question, "What do real sexy women of the city drink when out on the town?"   This is the question asked of readers on The Intoxicologist Facebook page and those following along on Twitter.
While Sex and the City 2 has spawned many revamped cocktails with stylishly fun names befitting star status, the question still applies as to what cocktails men and women find sexy.  Is it the Cosmo or flirty cocktails creatively named specifically for the movie?  Not so surprisingly, simplicity is sexy.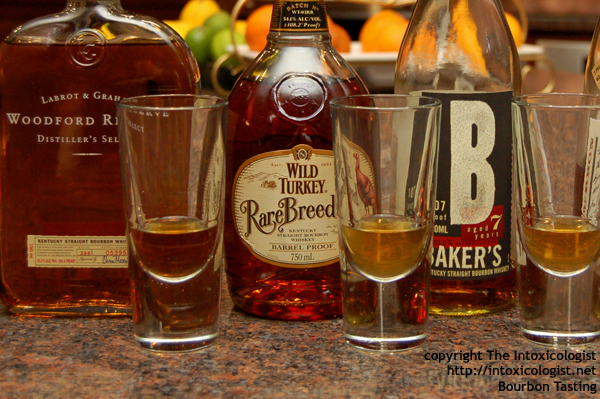 Haze King says, "A good ol beer will do."  For Heather Jenkins a simple Rum and Coke suffice.  Choose your favorite rum; easy enough.  Tanya Warren loves a little thing called Pineapple and Vodka.  Crystal Farris goes classic with Bacardi & Coke with a squeeze of lime, but prefers diet rather than the overly sugared fare.  John Southerly likes a little sexy undercurrent with his lady's cocktail choice. He says, "Top shelf martini.  Dirty or not.  And a hint of lipstick left on the glass…" Pucker up ladies.
Several chose straight pours as their sexy drink of choice.  Joe Clayton specifies Anejo Tequila, but only from a long slender glass.  I'm imagining nicely manicured fingers delicately picking up that glass for easy sipping looks pretty darn good, too.  Rhiannon Davies agrees sipping tequila is sexy, but prefers Platina Tequila over ice with a twist of lime.  However, Rhiannon doesn't confine sexy to just one drink choice.  She also likes Zubrowka sipped neat and Jameson 12 Year Old with exactly three pieces of ice (it could be one piece if it were Glace Ice).  LuAnn Brandle goes for the gold with Johnnie Walker Blue.    VanillaNorth of A Bourbon for Silva knows sexy and chooses Bourbon, or something "strong and straight" proving she's far from plain vanilla.
LadiesLoveLV think The Modern Mixologist's version of the Cable Car is "very sexy with the long orange spiral & cinnamon/sugar rim!"  They just might have something there.
Cable Car – Tony Abou-Ganim, The Modern Mixologist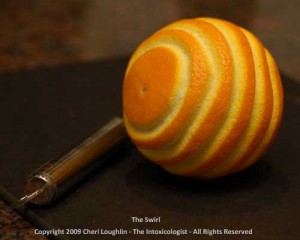 1-1/2 ounce Spiced Rum
3/4 ounce Orange Curacao
1-1/2 ounce Fresh Lemon Sour
Long Orange Spiral Garnish
Sugared Rim
Place liquids in mixing glass with ice.  Shake to blend and chill.  Strain into sugar rimmed cocktail glass.  Garnish with long orange spiral.  Read the history of the Cable Car along with detailed instructions for this recipe on The Modern Mixologist website.

All content ©2010 Cheri Loughlin, The Intoxicologist. All Rights Reserved. Chat with Cheri @Intoxicologist on Twitter and facebook.com/Intoxicologist or str8upcocktails@gmail.com
Real Sexy Sex and the City Cocktails