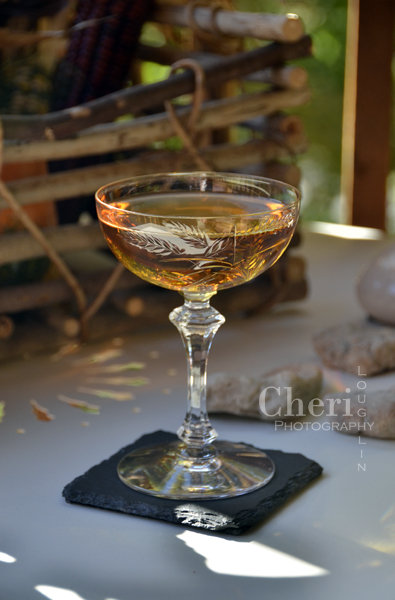 September officially welcomed autumn and the idea of windier, cooler days into our future. The gorgeous Harvest Moon brightening the night sky was a nice touch. It kind of makes us forget the cold winter days ahead. But there is nothing like Daylight Saving Time ending to remind us that Old Man Winter is ready to rule once again. Oh yes. The dog days of summer are officially gone.
The day I put the finishing touches on the Pocket Gold cocktail the sun shone brightly. Temperatures climbed well into the 70's. This kind of weather is something to be grateful for so late in October. I also knew it would probably be the last warmer moment to enjoy a little deck time. The beautiful autumn sunshine made this cocktail sparkle and shine. Hence the name, Pocket Gold.
Pocket Gold Recipe Tasting Notes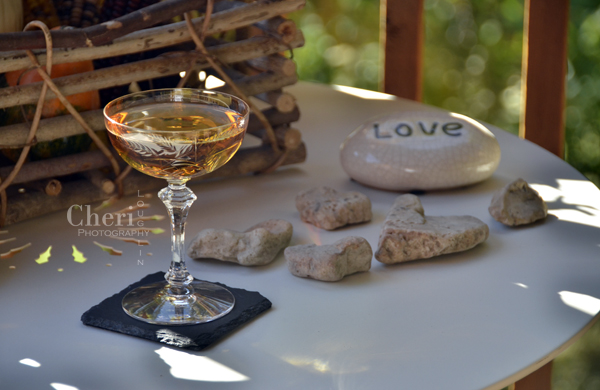 The Pocket Gold fall cocktail was created with the passing of all hints of warmer weather in mind. If warmth in the air is gone we may as well have a bit of warmth in our glass!
This cocktail benefits with the inclusion of bourbon with a sweeter, rounded finish. I chose Maker's Mark Bourbon. I could easily see using Woodford Reserve Bourbon as well. There are others. These two just happened to be in my cabinet at the time.
Pocket Gold is lightly sweet with nutty finish. The dry vermouth is hardly realized. It acts as nice balance to the cocktail. The longer the cocktail sits, the fuller, rounder, richer, deeper the flavor becomes. Pocket Gold is an excellent fall to winter cocktail. Serve this drink martini style for sophisticated holiday cocktail parties.
Pocket Gold Recipe
Pocket Gold – recipe by Mixologist Cheri Loughlin
1 ounce Maker's Mark Bourbon
3/4 ounce Toschi Nocello Walnut Liqueur
3/4 ounce Tuaca Liqueur
1/2 ounce Noilly Prat Dry Vermouth
Place liquids in mixing glass with ice. Stir until completely chilled. Strain into chilled martini glass.
I used products from Maker's Mark, Toschi, Tuaca and Noilly Prat. Toschi Nocello is a liqueur made from walnuts and hazelnuts. If you cannot find this locally it can be purchased online. You could also substitute a hazelnut liqueur in its place with slightly different flavor results.
Daylight Saving Time
This year Daylight Saving Time began Sunday, March 10, 2013, and it ends Sunday, November 3, 2013. As the saying goes, spring forward, fall back. At least we gain an extra hour. Use the extra hour wisely!
Does the extra hour mean an extra hour of Happy Hour? I say Why Not?! Since bars close at 2am in some areas and we move the clock back an hour at 2am in the U.S. that means 2am would become 1am. Does that mean we get an extra hour of bar crawl time Sunday, November 3? That would almost make it worthy of a holiday, don't you think?!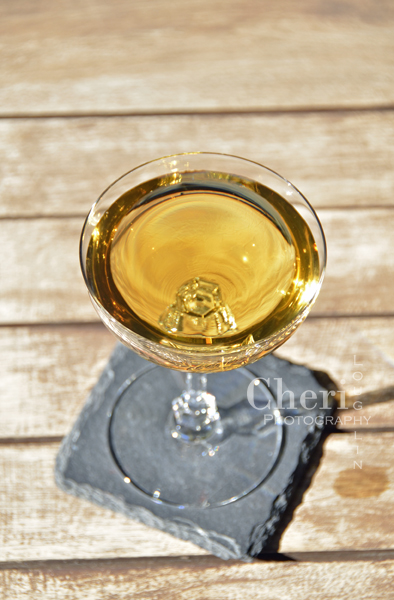 All content ©2013 Cheri Loughlin, The Intoxicologist. All Rights Reserved. Chat with Cheri @Intoxicologist on Twitter and facebook.com/Intoxicologist or str8upcocktails@gmail.com