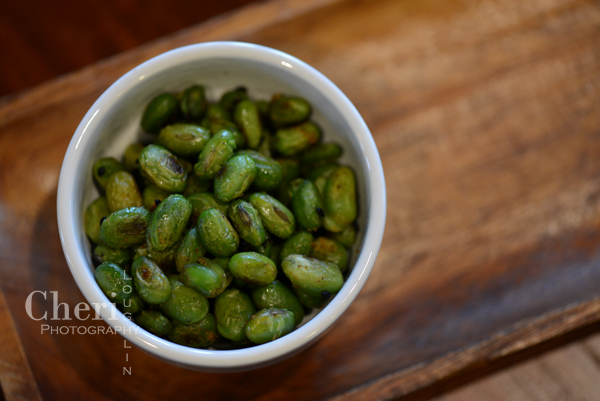 I am mixing things up a little today. You see, I love to experiment in the kitchen with more than just liquor. Well, because I love to eat. When I drink cocktails I tend to snack. I kind of like to have something good on hand rather than a bag of chips. Ok, so chips are good, but so are lots of other things. Last week I came across a recipe for plain roasted edamame and I thought it would be perfect as a bar snack. But I wanted to jazz it up and give it spicy kick. So I turned plain roasted edamame into Spicy Roasted Edamame. Keep this snack in mind to pair with beer or sake style cocktails.
So here goes…
Oh, stay tuned. There is a sake recipe coming up, too. This is where we mostly talk about cocktails after all.
Spicy Roasted Edamame Recipe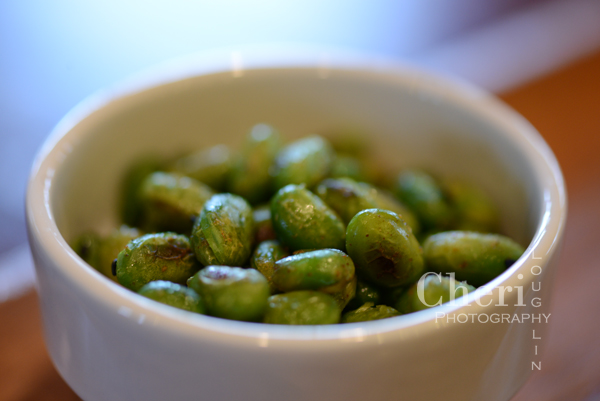 Spicy Roasted Edamame – adapted recipe by Cheri Loughlin
1 – 16 ounce Frozen Bag Shelled Edamame
2 teaspoons Olive Oil
1/8 teaspoon Cayenne Pepper
1/8 teaspoon Garlic Powder
1/8 teaspoon Onion Powder
Sea Salt – to taste
1 teaspoon Black Sesame Seeds
Preheat oven to 450 degrees Fahrenheit.
Thaw the edamame by pouring the beans into a microwave safe bowl. Cover and microwave for 30 seconds. Toss the edamame beans. Cover and place back in the microwave. Repeat the process of heating for 30 seconds and removing to toss the edamame about four or five times until properly thawed. Just don't let the beans get mushy.
Once edamame beans are thawed add olive oil to the bowl. Toss to coat the beans. Sprinkle cayenne pepper, garlic powder and onion powder over the top. Add sea salt to taste. I used approximately 1/4 to 1/2 teaspoon. I did not measure precisely since I tasted as I sprinkled the salt. (Add more spices if you prefer. I probably will the next time. I love a lot of spice!) Toss the edamame to coat with the spices.
Place the edamame on a large baking sheet with edges. Make sure the edamame is distributed into a single layer. Bake at 450 degrees for 15 to 18 minutes. Remove from the oven. Sprinkle the black sesame seeds over the top. Return the edamame to the oven. Bake for an additional 5 to 7 minutes. Remove from the oven. Serve warm.
I used my local store brand edamame. All spices and seeds were purchased at grocery stores that are available nationwide.
Black sesame seeds are similar to the more popular white sesame seeds, but contain much more flavor in my opinion. Fun fact is they also contain about 60% more calcium than hulled white sesame seeds do. They are also high in protein. Read more about the flavorful black sesame seed if you are interested by following the link.
About that sake cocktail…
Pear Flair Sake Cocktail Recipe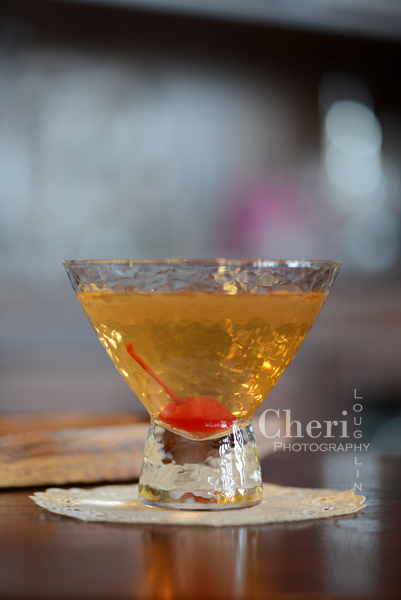 A lot of vermouth comes through in this particular cocktail. It could use a little more pear flavor in my opinion. As is, it is lightly sweet.
Pear Flair – from the book Sake a Modern Guide by Beau Timken and Sara Deseran
3 ounces Sake
1/2 ounce Dry Vermouth
1/2 ounce Pear Brandy
1/2 ounce Triple Sec
Maraschino Cherry
Place liquid ingredients in cocktails shaker with ice. Shake or stir according to preference until mixture is chilled. Strain into chilled cocktail glass. Garnish with maraschino cherry.
All content ©2014 Cheri Loughlin, The Intoxicologist. All Rights Reserved. Chat with Cheri @Intoxicologist on Twitter and facebook.com/Intoxicologist or str8upcocktails@gmail.com
Spicy Roasted Edamame and Pear Flair Cocktail