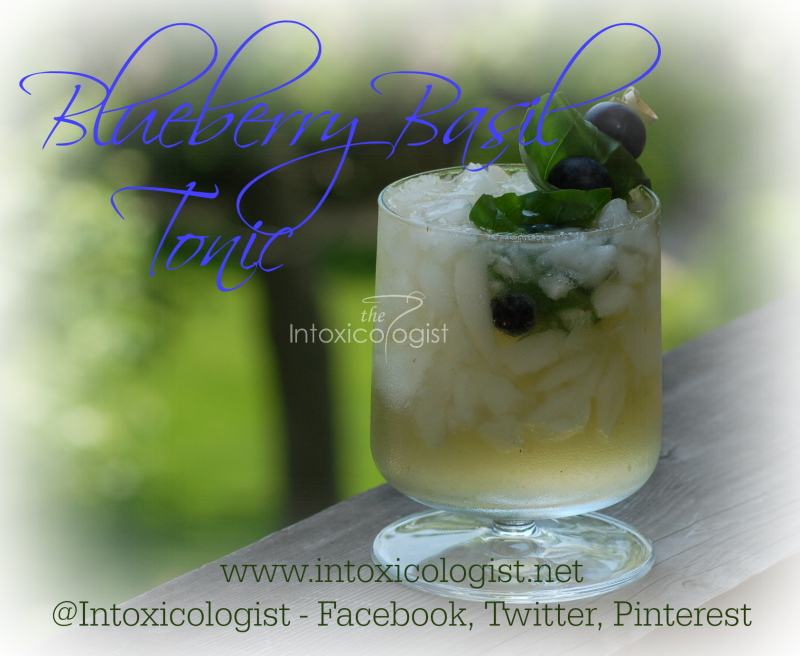 Tequila weights this cocktail with just enough caramel spice. Since the only added sugar comes naturally from the blueberry and from the diet tonic, this cocktail stays low when it comes to counting calories. Basil flavor would be much too heavy for this drink if it were muddled. Just place the basil in the cocktail shaker with all other ingredients and shake with ice. The ice bruises and breaks up the basil just enough to give the Blueberry Basil Tonic a gentle yet refreshing flavor. Blueberry remains faint since this is not an overly sweetened fruit.
This Blueberry Basil Tonic is approximately 157 calories. Adjust the tequila to 1-1/2 ounces instead for an estimated 124 calories. If you're interested in estimating the calories in your cocktails, check out the Counting Calories infographics.
Blueberry Basil Tonic Low Calorie Cocktail
Blueberry Basil Tonic –created by Cheri Loughlin, The Intoxicologist
2 ounces Cielo Reposado Tequila
5 fresh Basil Leaves
20 fresh Blueberries (cut in half)
Diet Tonic Water
2 fresh Basil Leaves and 4 Blueberries for Garnish
Combine tequila, basil leaves and blueberries in a cocktail shaker with ice. Shake gently. Strain into a highball glass over ice. Top off with diet tonic water. Garnish with skewered basil leaves and blueberries.
Subscribe to the monthly Newsletter
All content ©2015 Cheri Loughlin, The Intoxicologist. All Rights Reserved. Chat with Cheri @Intoxicologist on Twitter and facebook.com/Intoxicologist
Blueberry Basil Tonic Low Calorie Cocktail