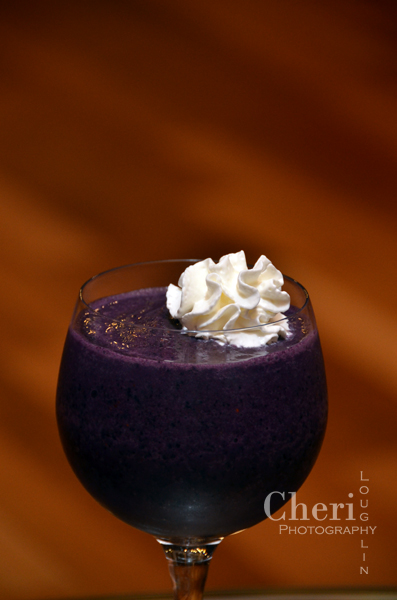 The photo shows a delicate little dab of whipped cream atop this gorgeous Purple Paradise frozen dessert cocktail. Don't let the photo fool you. After setting the camera aside, I generously slathered the top of this blended concoction with whipped cream, stirred it in ever so sweetly and enjoyed every creamy sip. Whipped cream makes everything better, don't you think?! With the beautiful purple color, this is just an amazing, happy drink! Make two and share. Everyone deserves a little time in paradise.
Try not to go overboard with the cinnamon spice. Too much cinnamon will leave a bit of drying texture to the drink. Use the spice sparingly for just a hint of spice flavor. You can always add more. The Purple Paradise flavor overall is much like a decadent blueberry pie or blueberry buckle dessert with hint of spiced blueberry. Only this time it's a frozen treat whipped up blender style for warm weather sipping. Enjoy!
Purple Paradise Frozen Drink Recipe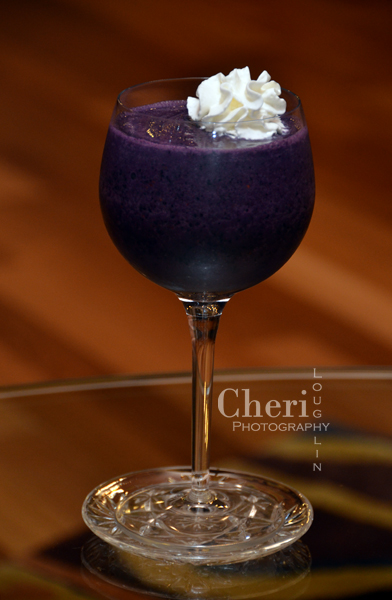 Purple Paradise – recipe by Cheri Loughlin, The Intoxicologist
2 ounces Spiced Rum
1 ounce Marshmallow Cream
4 ounces Half and Half
8 ounces Frozen Unsweetened Blueberries
Dash to 1/8 teaspoon Cinnamon Spice – according to taste
8 ounces Crushed Ice
Whipped Cream
Place all ingredients except whipped cream in a blender. Blend until mixture is completely smooth. Pour into a large goblet. Top with whipped cream.
All content ©2014 Cheri Loughlin, The Intoxicologist. All Rights Reserved. Chat with Cheri @Intoxicologist on Twitter and facebook.com/Intoxicologist or str8upcocktails@gmail.com