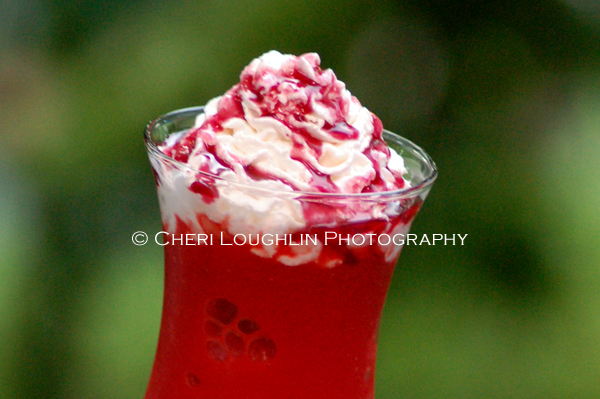 Wowser!  Frozen strawberries hit the spot with this drink recipe concoction.  Rather than use ice to keep the Bamboozle Swoozle chilled, unsweetened frozen strawberries keep this drink thick and rich with nice texture.  Lime balances it out with just enough tart without going overboard.  Luscious whipped cream and boysenberry syrup top it off to make this classic daiquiri cocktail conversion a dessert recipe to dive into day or night, rain or shine.
Bamboozle Swoozle Non-Alcoholic Frozen Daiquiri
Bamboozle Swoozle – recipe by Cheri Loughlin, The Intoxicologist
Inspired by the Strawberry Daiquiri
16 ounces Frozen Strawberries – unsweetened
2 ounces Fresh Lime Juice
1 ounce Boysenberry Syrup
6 ounces Raspberry Lemonade
Whipped Cream – Garnish
Boysenberry Syrup – Garnish
Place frozen strawberries, fresh lime juice, 1 ounce Boysenberry Syrup and raspberry lemonade in a blender.  Slowly chop the mixture until it mixes easily and then puree for several minutes until it is thoroughly blended.  Divide mixture between four small glasses or two large decorative cocktail glasses.  Top with whipped cream and garnish each with Boysenberry syrup drizzle.
For those who like a little more cocktail flair, the Bamboozle Swoozle allows for splash of traditional spirited play.
All content ©2011 Cheri Loughlin, The Intoxicologist. All Rights Reserved. Chat with Cheri @Intoxicologist on Twitter and facebook.com/Intoxicologist or str8upcocktails@gmail.com