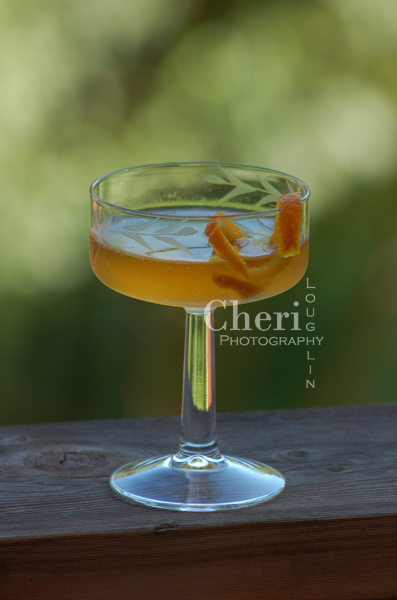 This is one very mixed up classic cocktail! It seems someone started brainstorming ingredients and just couldn't decide which one was the best for the Brainstorm. I have sampled this classic using Bourbon rather than Irish Whiskey. At first the bourbon seems far removed and lost in the flavor, but after the second and third sip it begins to warm to the soul of the drink. Sip and savor this cocktail with bourbon, whiskey, Scotch or with Irish Whiskey as referenced below.
Brainstorm Recipe
Brainstorm
2 ounces Irish Whiskey
1 ounce Sweet Vermouth
1/4 ounce Benedictine
Orange Twist Garnish
Combine liquids in mixing glass with ice. Stir to chill. Strain into chilled martini glass. Garnish with orange twist.
Brainstorm Recipe Card and Variations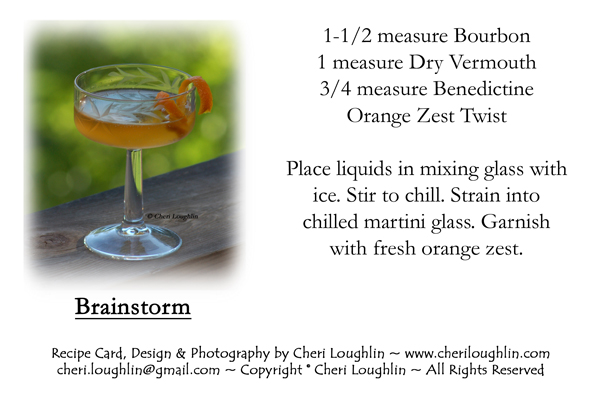 The Brainstorm recipe card is another variation of this recipe using Bourbon with greater degree of Benedictine. Brainstorm can lean a bit toward the sweeter side if you get too heavy handed with the Benedictine, so consider easing up just a little on the liqueur.
Cocktail Database uses 1/2 ounce dry vermouth rather than sweet vermouth. Some recipes, such as one found on Man Tested Recipes, use rye whiskey rather than Irish whiskey with varying measurements of Benedictine and vermouth. Difford's Guide uses bourbon in lower quantity dry vermouth and also changes the measures of the remaining ingredients. Esquire uses Irish whiskey and dry vermouth, but uses tablespoon measurements on remaining ingredients. Play around with the drink and find the spirits and measurements that work for you palate.
All content ©2014 Cheri Loughlin, The Intoxicologist. All Rights Reserved. Chat with Cheri @Intoxicologist on Twitter and facebook.com/Intoxicologist or str8upcocktails@gmail.com