The classic Dark & Stormy with Goslings Rum, ginger beer and lime is a favorite of many. It tastes great and it is easy to make with three ingredients. Simple and flavorful make it the best of both worlds. There's nothing better than coming home from a long work day and having a great drink with little effort required. Well, okay… it's much better if there is no work required, because someone else makes it for you. That's way better!
But sometimes the same old thing gets a little, shall we say; boring. There's a reason Chef Emeril Lagasse uses the phrase, "Kick it up a Notch." Add some enthusiasm to your usual drink. Enhance the flavor. Mix things up a little. Change is good.
Dark Ginger Thyme Storm Recipe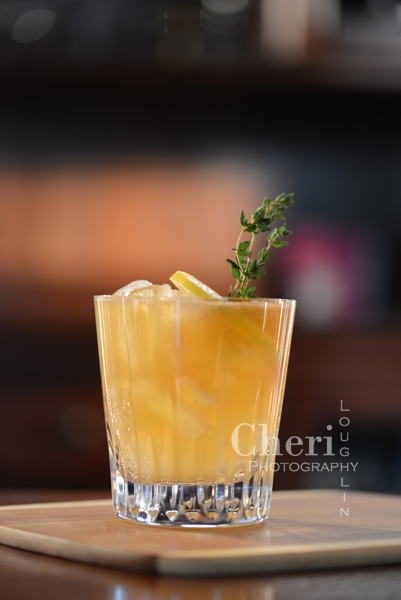 Dark Ginger Thyme Storm – recipe by Cheri Loughlin, The Intoxicologist
2 ounces Shellback Spiced Rum
1 ounce Fresh Lemon Juice
1/2 ounce Dark Ginger Thyme Syrup (easy syrup recipe)
2 ounces Ginger Beer
Lemon Wheel
Thyme Sprig
Place spiced rum, lemon juice and syrup in a cocktail shaker filled two-thirds with ice. Shake to blend. Strain into a large rocks glass or tall glass over fresh ice. Top with ginger beer. Garnish with a lemon wheel and thyme sprig.
The Dark Ginger Thyme Storm variation of the Dark & Stormy uses lemon to complement the ginger flavor. The ginger and thyme syrup with dark brown sugar packs in the extra power punch of flavor. This drink is nicely tart with soft sweetness. There is gentle lemonade flavor with crisp ginger notes. I also created the Ginger Thyme Cider Rum Punch with the same syrup. The syrup recipe makes plenty for several cocktails, so try the recipe in the link and the drink recipe above. You won't regret it!
Subscribe to the monthly Newsletter
The Dark Ginger Thyme Storm recipe was commissioned by representatives of Shellback Rum as part of The Intoxicologist Corporate Mixology program. Find more recipes created by Cheri Loughlin for Shellback Rum on this site and at ShellbackRum.com and by following Shellback Rum on Facebook.
All content ©2014 Cheri Loughlin, The Intoxicologist. All Rights Reserved. Chat with Cheri @Intoxicologist on Twitter and facebook.com/Intoxicologist