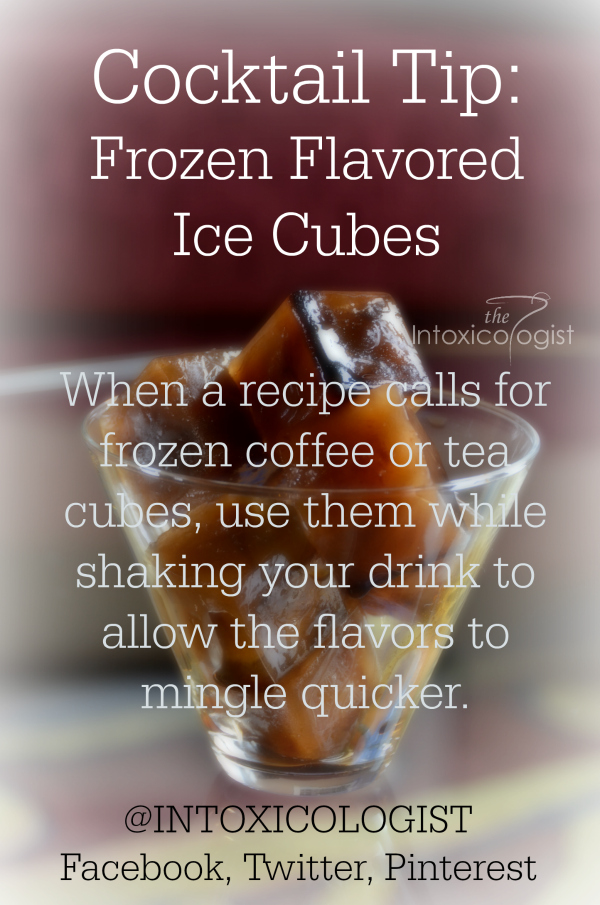 There are many drink recipes with frozen tea or coffee cubes for lattes. You will see whole cubes in the glass in photos. Directions usually call for ingredients to be poured over the frozen cubes before serving. I have recipes that call for this method. But, after working with frozen coffee and tea cubes for a while, my experience has been that this method just does not work well. The ice just doesn't melt quick enough to integrate the flavor of the coffee or tea into the drink properly.
I understand pouring liquid over perfectly square ice cubes makes a much prettier presentation for photographs. Presentation is a big deal in the world of blogging, Pinterest and sharing of food and drink photos. It's probably why there are so many drink photos with chocolate oozing down the sides of cups making it nearly impossible to pick up a mug in a semi-clean fashion. What's up with that anyway? When did messy, sticky and sloppy drinks and tables become fashionable for food and drink presentation? Drip happens. But when the mug or glass is barely recognizable under a mess of sloppy drink presentation, it's time to clean up. Then again, that's just my opinion. Millions of Pinners don't seem to mind at all. Carry on.
There are solutions for integrating flavored cubes into drinks quicker. We could place the ice in a glass and allow it to sit for a while to begin melting. Or, we could use the frozen coffee or tea cubes in the same manner we use regular ice. Make it part of the shake. In the case of the recipe below, chai tea is a crucial ingredient to the flavor of the drink. It is important to release the flavor quick so it becomes part of the drink's flavor profile. Begin the integration by shaking with the chai tea cubes; start the melt factor. The ice will be battered and bruised, but there will be flavor in the drink.
Chocolate Chai Tea Recipe
The flavor of this Chocolate Chai Tea reminds me of the chocolate orange candies that come out during the holidays. This time there is a spicy chai twist. The flavor gets better and better as the flavors mix and mingle in the glass.
Chocolate Chai Tea – recipe by Cheri Loughlin, The Intoxicologist
1 ounce Silver Rum
1/2 ounce Premium Orange Liqueur
1/2 ounce White Crème de Cacao
3 Chai Tea Ice Cubes
Chocolate Shavings or Chocolate Powder
Place rum, liqueur and crème de cacao in a cocktail shaker with the chai tea ice cubes. Shake to blend and chill mixture. Pour all of the contents into a rocks glass. Garnish with chocolate shavings or sprinkling of chocolate powder on top.
Subscribe to the monthly Newsletter
This Chocolate Chai Tea recipe was commissioned by representatives of Shellback Rum as part of The Intoxicologist Corporate Mixology program. Find more recipes created by Cheri Loughlin for Shellback Rum on this site and at ShellbackRum.com and by following Shellback Rum on Facebook.
All content ©2014 Cheri Loughlin, The Intoxicologist. All Rights Reserved. Chat with Cheri @Intoxicologist on Twitter and facebook.com/Intoxicologist