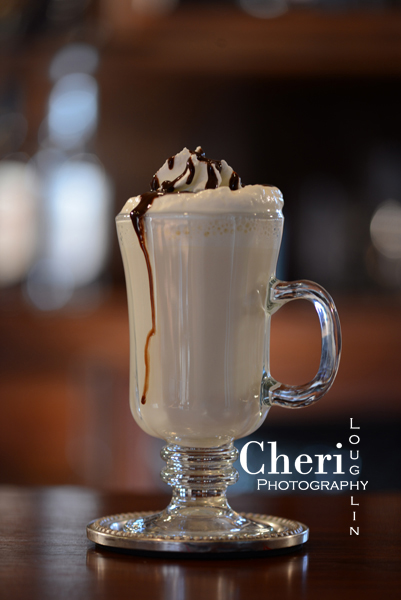 What's better than German Chocolate Cake and hot chocolate?
Both.
Together.
In one delicious, decadent mug with no baking required.
Yes. You read that right. Sip worthy German Chocolate Cake ready at your fingertips (make that lips) in a matter of minutes rather than an hour or more. But I give you this recipe with fair warning.
This German Chocolate Cake Cocoa is not only decadent; it is downright dangerous. This isn't just some pretty mug to look at. It is slurp, devour and lick your lips kind of scrumptious. My idea of dessert is dessert in a glass. And this; This is that kind of dessert.
German Chocolate Cake Cocoa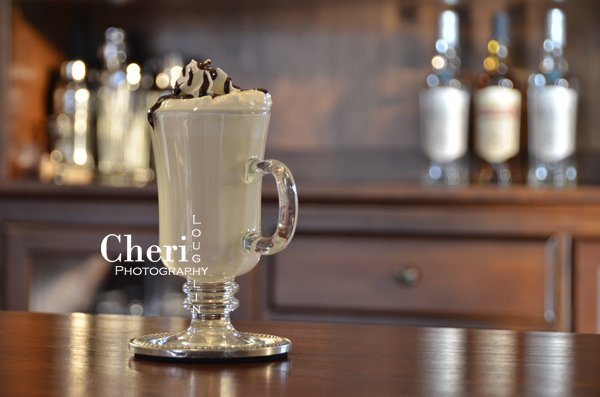 German Chocolate Cake Cocoa – recipe by Cheri Loughlin, The Intoxicologist
1 ounce Shellback Silver Rum
1/2 ounce Hazelnut Liqueur
1-1/2 ounce Sweetened Condensed Milk
1/2 ounce Cream of Coconut
4 ounces Boiling Water
French Vanilla Whipped Cream* – recipe with Peanut Butter Cup Hot Chocolate
Chocolate Syrup
Place rum and hazelnut liqueur in a heat resistant coffee mug. Set aside. Place water, sweetened condensed milk and cream of coconut in microwave safe glass container. Microwave until mixture is completely heated, approximately 2 to 3 minutes. Stir. Pour into mug with rum and liqueur. Top with whipped cream. Drizzle chocolate syrup on top of the whipped cream.
Regular whipped cream can be substituted for French Vanilla Whipped Cream. Add additional sprinkle of shredded coconut if you like.
Take it Tailgating Tip
Take this recipe for your next tailgate party for a make and take treat your friends will thank you for. Make the heated base ahead of time. Take the remaining ingredients with you to make individual servings at the tailgate as needed.
German Chocolate Cake Cocoa – tailgating size
This is 5-1/2 times the size of the recipe above. If you're using small disposable hot beverage cups this recipe should serve more than five people. Then again, your friends will want more than one cup. You might want to hide the flask!
Place water in a large saucepan and bring to a boil. Add sweetened condensed milk and cream of coconut. Stir continually until mixture is thoroughly heated and smooth.
22 ounce Boiling Water
8-1/4 ounces Sweetened Condensed Milk
2-3/4 ounces Cream of Coconut
Pour mixture into a 40 ounce capacity stainless steel vacuum flask (otherwise known as a Thermos®).
Add to the vacuum flask mixture:
5-1/2 ounces Silver Rum
2-3/4 ounces Hazelnut Liqueur
Put a lid on it and roll it around just a little to allow the ingredients to mix.
Take the full flask, a can of whipped cream (or fresh whipped cream if you're ambitious) and bottle of chocolate syrup with you to the tailgate.
When you're ready to serve, just pour the German Chocolate Cake Cocoa from the flask into small heat resistant cups, top with whipped cream and chocolate syrup. Enjoy.
This out-of-this-world amazingly delicious hot cocoa recipe was commissioned by representatives of Shellback Rum as part of the Corporate Mixology program offered by Cheri Loughlin, The Intoxicologist. Find more recipes created by Cheri Loughlin for Shellback Rum on this site and at ShellbackRum.com and by following Shellback Rum on Facebook.
All content ©2014 Cheri Loughlin, The Intoxicologist. All Rights Reserved. Chat with Cheri @Intoxicologist on Twitter and facebook.com/Intoxicologist or str8upcocktails@gmail.com
German Chocolate Cake in a Mug