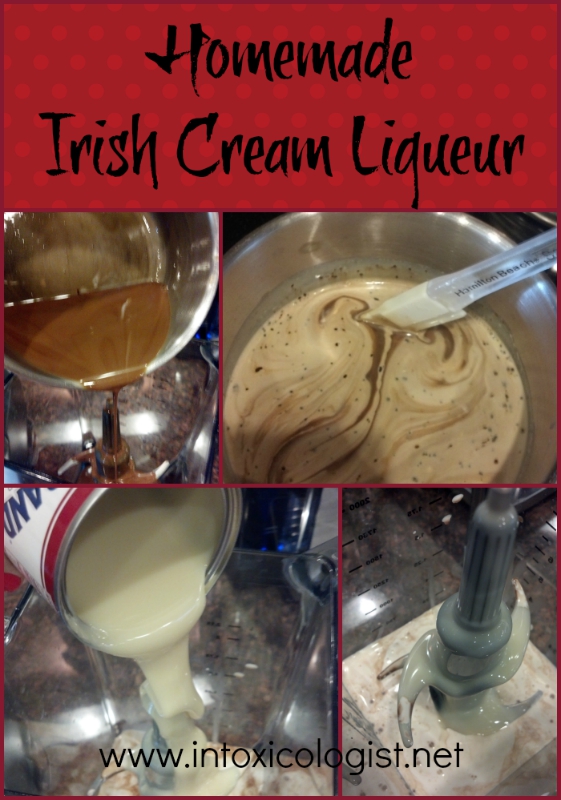 It's easy to purchase liqueurs. Stop at your local liquor store, peruse the aisles, pick up what you want and pay. But there is something fascinating and fulfilling about making your own. At least there is for me. I love DIY projects. I especially love DIY liquor projects. They keep me on my toes creatively and make terrific gifts!
I've experimented with several homemade Irish Cream liqueur recipes found online. Many call for heavy cream or half and half. They end up extremely thick and often have a very short shelf life. Some recipes have been so think the neck of the bottle becomes stopped up with coagulated cream. There's a lot of shaking with an Irish cream recipe! You do know what happens when cream gets shaken don't you?! I also look for liqueurs with a long shelf or refrigerator life.
After much experimentation and giving away many batches of Irish Cream Liqueur, I created one I like very much. This recipe skips fresh cream or half and half. There are no chocolate chips or dehydrated coffee granules to heat and melt. No blender required. No stove required! Simplicity at its finest. And it tastes delicious! Photo above shows stove top and blender use from some of my earlier tries. The recipe below is super easy without blender or stove top required.
By the way, January 25 is National Irish Coffee Day. Make your own delicious Irish Cream Liqueur for a creamy version of the classic recipe.
Homemade Irish Cream Liqueur Recipe
Irish Cream Liqueur – recipe by Cheri Loughlin, The Intoxicologist
1-1/2 cup (12 ounces) Irish Whiskey – I used Tullamore D.E.W.
1 – 14 ounce can Sweetened Condensed Milk – I used Eagle brand
1 – 12 ounce can 2 % Evaporated Milk – I used PET brand
2 Tablespoons Chocolate Syrup – I used Hershey's brand
1-1/2 ounce fresh Espresso – cooled
1 teaspoon Vanilla Extract – I used homemade
1/2 teaspoon Almond Extract
Place sweetened condensed milk, evaporated milk and chocolate syrup in a large bowl with pour spout. Whisk gently until syrup is thoroughly integrated into mixture. Add Espresso and extracts. Stir gently again to combine. Add Irish whiskey as final ingredient. Whisk gently to combine all ingredients. Pour into a glass container with lid. Seal. Refrigerate.
Shake container once a day to prevent chocolate from settling to the bottom of the container. Shake before each use. This homemade Irish cream liqueur is good to go as soon as it is combined, but best after mellowing for about a week.
The brands I used were brands I ordinarily pick up at the local grocery store or already had on hand in my liquor cabinet and pantry. This is not a sponsored recipe post. Use the quality liquor and pantry products you usually use and trust to ensure the recipe turns out to your taste liking.  Brands mentioned were for reference only.
All comments, opinions and photography are my own. I'm sharing this recipe as an example of recipe services provided through my cocktail development program.
Subscribe to the monthly Newsletter
All content ©2016 Cheri Loughlin, The Intoxicologist. All Rights Reserved. Chat with Cheri @Intoxicologist on Twitter and facebook.com/Intoxicologist
Cheri Loughlin is the Omaha writer and photographer behind www.intoxicologist.net and author of Cocktails with a Tryst: An Affair with Mixology and Seduction. You can email Cheri with comments and questions at str8upcocktails@gmail.com.
DIY Homemade Irish Cream Liqueur