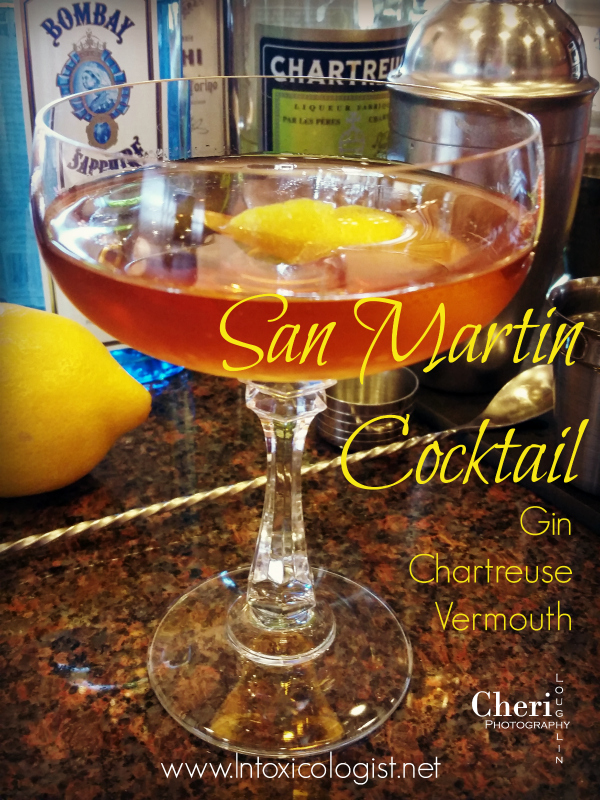 I've been in a bit of a cocktail rut lately. When I reach in the liquor cabinet I grab the same spirits to make the same drinks I've been drinking for years. It's usually a Manhattan or Martini. But thanks to some nifty suggestions from readers my glass has been a revolving door of cocktails.
I recently sampled the San Martin cocktail. Those of you who follow my Facebook page already know I loved it. The San Martin cocktail is simply delicious. The first word I wrote on my tasting notes was, "YUM!"
I found a couple of recipes on the internet with differences in measurements, but they all had one thing in common. No matter which measurements you decide to go with for best flavor for your taste, you'll still come away with a strong drink. The San Martin uses gin, Chartreuse, and vermouth. Some recipes called for Green Chartreuse and others Yellow. I opted for yellow for a bit milder flavor. But trust me. This cocktail packs a wallop of a punch when it comes to flavor. There is gentle spice and full, luscious mouth-feel. The drink just rolls over the tongue like velvet.
I used the following recipe:
San Martin Cocktail
2 ounces Bombay Sapphire Gin
1 ounce Cocchi Vermouth di Torino
1 barspoon Yellow Chartreuse
Lemon Twist
Place liquids in a mixing tin with ice. Stir until completely chilled. Strain into a chilled glass. Twist a fresh lemon peel over the drink, around the rim and then drop it in the drink.
It's important to make sure the drink and your glass is as cold as possible. Since the drink is potent, it makes it a great sipping rather than gulping cocktail. Sippers usually sit longer causing them to warm. You don't want that to happen to your wonderfully made drink.
Another version called for 1-1/2 ounce of London Dry Gin, 1/-1/2 ounce of Red Vermouth and 1 teaspoon of either Yellow or Green Chartreuse with the same lemon twist. I thought that much vermouth might overwhelm the gin flavor, so I cut back on the vermouth and upped the gin. You vary the measurements according to your taste.
Thanks for your cocktail suggestions the last couple of weeks. I love sampling them. Keep suggesting drinks and I'll keep sampling and sharing.
Subscribe to the monthly Newsletter
All content ©2015 Cheri Loughlin, The Intoxicologist. All Rights Reserved. Chat with Cheri @Intoxicologist on Twitter and facebook.com/Intoxicologist