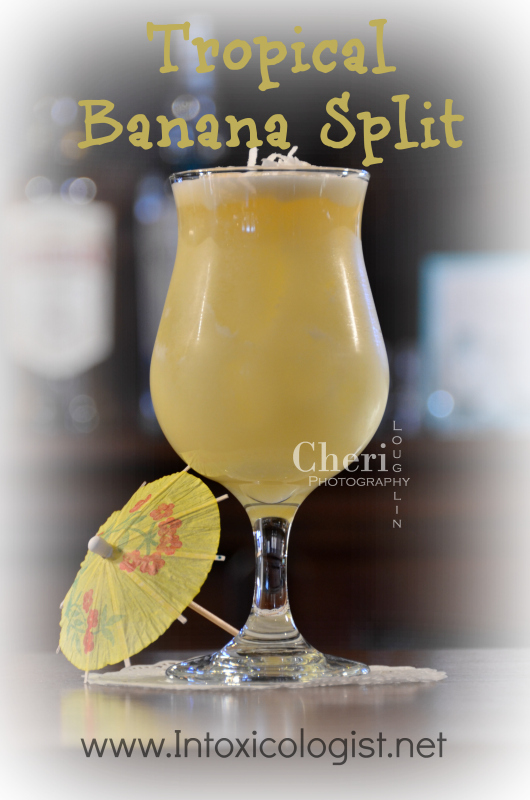 Looking for a tropical alternative to the usual Mai Tai and Pina Colada fare? Stop right here. This Tropical Banana Split tastes like you're sipping from the islands. It's tropical with fruity coconut, banana and even chocolate! Make this your new beach and backyard favorite.
Tropical Banana Split Recipe
Tropical Banana Split – recipe by Cheri Loughlin
1-1/2 ounce Shellback Silver Rum
1/2 ounce Crème de Banane
1/2 ounce White Crème de Cacao
1-1/2 ounce Pineapple Juice
1 ounce Orange Juice
1 ounce Cream of Coconut
1/4 ounce Shellback Spiced Rum
Shredded Coconut
Orange Slice, Pineapple Slice, Maraschino Cherry
Combine silver rum, crème de banana, crème de cacao, juices and cream of coconut in a cocktail shaker filled two-thirds full of ice. Shake to blend ingredients. Strain into a poco grande glass or goblet over fresh ice. Top with a float of spiced rum. Sprinkle shredded coconut over the top. Garnish with a pick of fresh fruit.
Dip a banana slice in shell style chocolate sauce and up the ante on this already delectable drink.
Subscribe to the monthly Newsletter
The Tropical Banana Split recipe was commissioned by representatives of Shellback Rum as part of The Intoxicologist Corporate Mixology program. Find more recipes created by Cheri Loughlin for Shellback Rum on this site and at ShellbackRum.com and by following Shellback Rum on Facebook.
All content ©2015 Cheri Loughlin, The Intoxicologist. All Rights Reserved. Chat with Cheri @Intoxicologist on Twitter and facebook.com/Intoxicologist