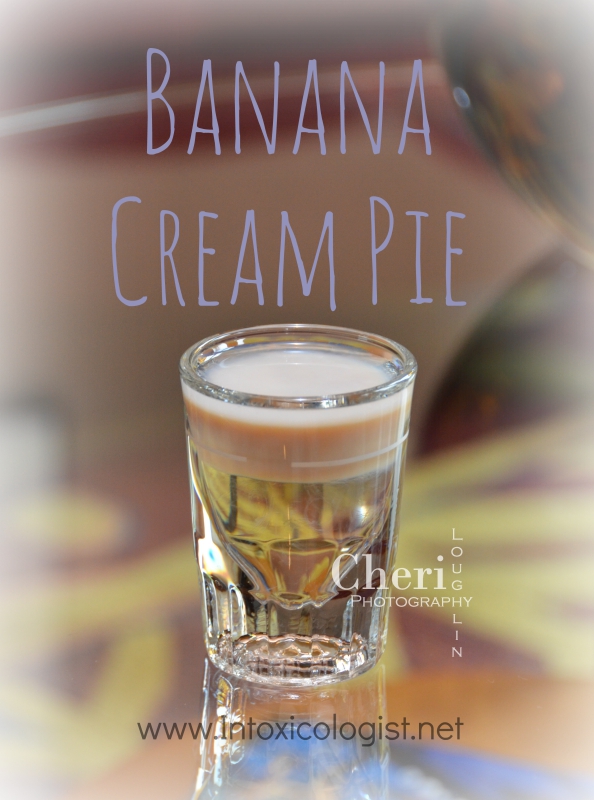 Traditional banana cream pie calls for buttery graham cracker crust or flaky baked dough crust, layers of freshly sliced bananas, topped with creamy custard and fresh whipped cream or meringue. But quick fix Banana Cream Pie served in a shot glass is way more my speed. Dessert in a glass. Sipping dessert. Just the way I like it. How about you?
March 2 is National Banana Cream Pie Day
Keep in the spirit of a traditional layered Banana Cream Pie with a layered shot.
Layered Banana Cream Pie Shot
Layered Banana Cream Pie
1/2 ounce Coffee Liqueur
1/2 ounce Licor 43
1/2 ounce Banana Liqueur
Layer chilled spirits in large shot glass or shooter glass. Layering can be achieved by gently pouring spirits over back of bar spoon one on top of the other. Order heaviest weighted spirits to lighter weighed spirits.
Banana Cream Pie Shot for Two
It's always more fun to share dessert. It's even more fun to share a shot of dessert. This Banana Cream Pie shot recipe is slightly different, shaken rather than layered and built for sharing. Party on!
Banana Cream Pie – Serves 2
1/2 ounce Banana Liqueur
1/2 ounce White Crème de Cacao
1/2 ounce Vodka
1/2 ounce Half & Half
Combine liquids in cocktail shaker with ice. Shake to blend and chill. Strain into two shot glasses.
Subscribe to the monthly Newsletter
All content ©2015 Cheri Loughlin, The Intoxicologist. All Rights Reserved. Chat with Cheri @Intoxicologist on Twitter and facebook.com/Intoxicologist
Cheri Loughlin is the Omaha writer and photographer behind www.intoxicologist.net and author of Cocktails with a Tryst: An Affair with Mixology and Seduction. You can email Cheri with comments and questions at str8upcocktails at gmail.com.