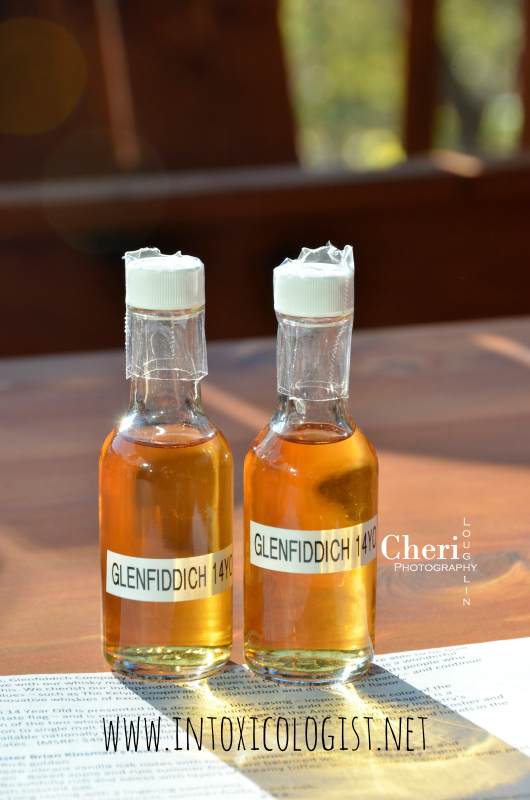 Product provided by brand representatives. All comments and opinions are my own unless otherwise stated.
I recently received a small sample of Glenfiddich's newest Scotch offering; Glenfiddich 14 Year Old. Glenfiddich 14 YO is aged in ex-bourbon American Oak Casks. Glenfiddich Malt Master, Brian Kinsman, then finishes the whisky in deep charred new American Oak barrels. This new expression will become part of Glenfiddich's permanent collection.
Glenfiddich is among some of my favorite Scotches. I've tried many more Scotches since that post in 2009, so I should really update the list. Though I do love sipping Scotch neat or on the rocks, it's also delicious in cocktails like these from a 2009 Tales of the Cocktail tasting room and this version of the Bobby Burns from local bartender Chris Engles.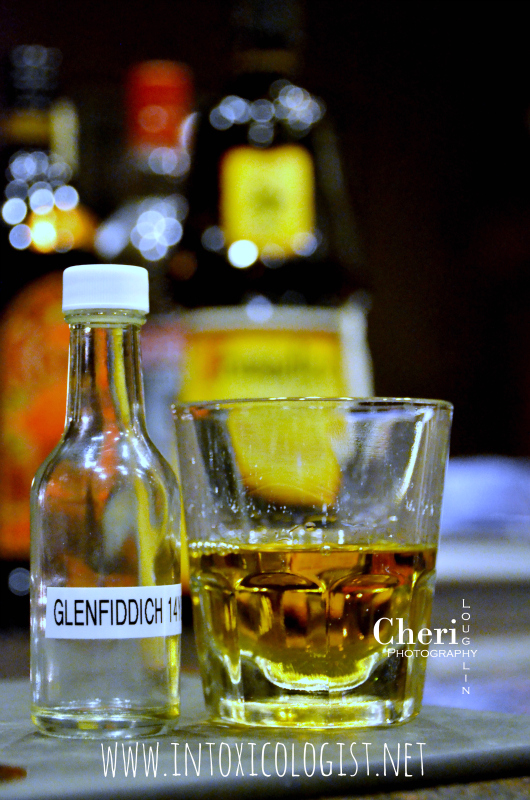 Glenfiddich 14 YO tasted neat reminds me of fruit cake, apricot and pecan. It is full-bodied, chewy to a degree. The flavors lingers on the tongue with soft sweetness, hints of vanilla and nut. Now, let me explain "fruit cake" briefly, because I'm not talking about the jellied, red and green dotted fruitcake that can usually be found during the holidays.
A friend of mine told me she chose fruit cake as her wedding cake. Not just any fruit cake. She said it took her mother months of prep work to make the cake. Fruits had to macerate in liquor for a long time. She took great care to use only the best ingredients.
My friend made the cake for a group of us, so I was able to see and taste it firsthand. It was nothing like I expected fruit cake to be. The cake was so dark it was almost black. Fruits and nuts were chopped into smaller pieces than the candied fruit you find in store-bought fruit cake. It was moist, but not wet or too sticky. It was rich and decadent with lots of luscious fruit and spice. So rich in fact, she served it in small slivers. I wish I'd thought to ask for the recipe, but at least I have the flavor memory. So when I say "fruit cake" regarding flavor, I mean deep, rich, nutty fruit without the syrupy sweetness of traditional fruit cake.
Fruit cake is a good thing. And so is Glenfiddich 14 Year Old
Malt Master Brian Kinsman's Glenfiddich 14 YO Tasting Notes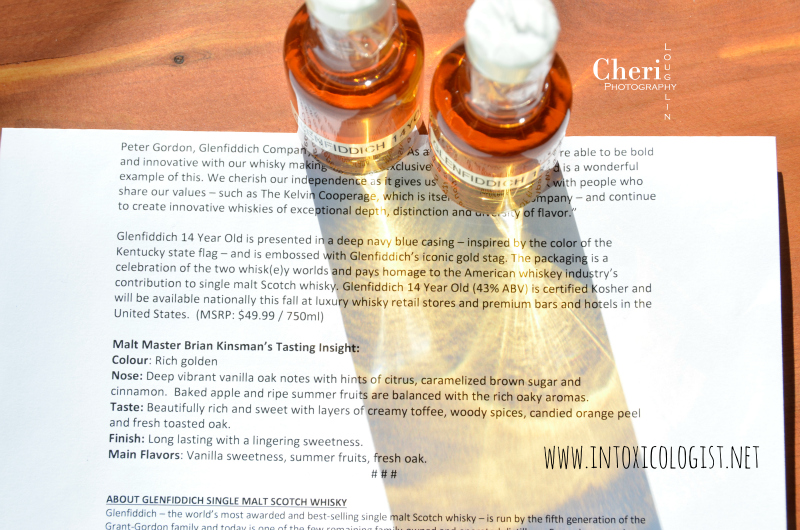 Color: Rich golden
Nose: Deep vibrant vanilla oak notes with hints of citrus, caramelized brown sugar and cinnamon. Baked apple and ripe summer fruits are balanced with the rich oaky aromas.
Taste: Beautifully rich and sweet with layers of creamy toffee, woody spices, candied orange peel and fresh toasted oak.
Finish: Long lasting with lingering sweetness.
Main Flavors: Vanilla sweetness, summer fruits, fresh oak.
Subscribe to the monthly Newsletter
All content ©2015 Cheri Loughlin, The Intoxicologist. All Rights Reserved. Chat with Cheri @Intoxicologist on Twitter and facebook.com/Intoxicologist
Cheri Loughlin is the Omaha writer and photographer behind www.intoxicologist.net and author of Cocktails with a Tryst: An Affair with Mixology and Seduction. You can email Cheri with comments and questions at str8upcocktails@gmail.com.