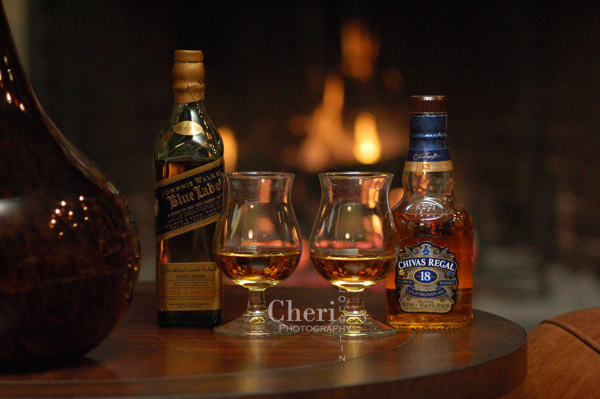 With Christmas coming down to the wire last minute gift ideas for those who love the more spirited side of life come into play. By spirited I don't mean in the energetic sense of the word such as those scuba diving or mountain climbing sports lovers who require expensive high end gear for safety sake. I'm talking casual brown liquor lovers who waft scotch in a glass either neat or over a couple of cubes of pristine ice. Searching for holiday gifts that touch the recipient with heartwarming appeal should be simple and stress free. With all the choices on the market, sometimes that search becomes daunting.
Johnnie Walker Blue vs Chivas Regal 18
Recently I was asked to compare Chivas Regal 18 against the largely holiday gifted scotch, Johnnie Walker Blue. To be fair, this is an apples to oranges head to head taste comparison.
Chivas Regal 18 Scotch Tasting
Side by side Chivas Regal 18 comes across a little darker in color than Johnnie Walker Blue. Color does not always signify deeper or richer with regard to taste. Chivas contains nice aroma with hints of fig and nut. There is little smoke in the flavor if any at all. It is slightly thin in mouth feel. There are subtle notes of chocolate and the faintest hints of spice. This Chivas expression blends 18 year aged whiskies together and offers the bottling at approximately one third the price of Johnnie Walker Blue. Packaging is straight forward – Bottle, label, box. Gift wrap at your own expense with nice wrapping, ribbon and gift tag.
Johnnie Walker Blue Scotch Tasting
Johnnie Walker Blue contains little comprehensive aroma as compared to many scotches. The flavor is honeyed with virtually no burn at all. It is velvety, a little floral with some perfume. In my opinion sipping Johnnie Walker Blue is almost like consuming highly refined water in that it is so smooth there is not enough definition of character within the scotch. This is definitely an achievement in refining the process and blending scotches to supreme smoothness. It is an impressive example of a master blender perfecting his craft, but it does little to impress me with the scotch. In my opinion Johnnie Walker Blue is nowhere near worth the price unless the goal is undefined character. That being said, millions truly love Johnnie Walker Blue and their opinion of its worth is sincerely valuable. Johnnie Walker Blue also presents in a distinctive, individually numbered Baccarat crystal bottle that can also be engraved for the holidays.  This unique characteristic comes packaged in silk lined box with certificate of authenticity.  All of this no doubt contributes to the higher price.
The Comparison
If one is going for the complete perfection of smooth that Johnnie Walker Blue achieves, Chivas Regal 18 does not quite reach this scale of flawlessness. Nor does Chivas Regal 18 offer the luxurious pampering and sophistication that goes along with the purchase of Johnnie Walker Blue. However, is an almost two third bump in price worth the subtleties these spirits provide the casual scotch consumer? In my opinion no.
A Few of My Favorite Scotch Choices
As I struggle to post this evaluation of Chivas Regal 18 and Johnnie Walker Blue I realize there might be a few who read and take my opinion into consideration when making choices for personal purchases and those of ones they care about this season. Being truly honest as a frequent scotch consumer, I think it only fair to include my choices for scotch gifting in the approximate price ranges covered above. There are a fair amount of scotches on hand in my liquor cabinet at any given time either by way of liquor company representatives or by my own choice through purchases made at liquor stores. Some of my favorites are listed below in no particular order. The reason for no particular order is I consume a variety of spirits and choose according to my mood or a specific flavor I am craving at the time. The ones listed are those that I truly love at any price and it in no way reflects poorly on any which might not make their way to the listing since there are many more in my cabinet at the moment. By the way, I'm adding new favorites all the time. It's so difficult too choose with so many scotches!
Dewar's 18 – Rich chocolate flavor with smoke and honey. This is a little less intense version of the Dewar's Signature.  Much more affordable and easier to find.
Dewar's Signature – An extreme pleasure. DEWAR'S Introduces High-End Discovery Gift Set
Laphroaig Quarter Cask – Never thought I would love Laphroaig, but this one is divine without the severe iodine Laphroaig is so well known for. Laphroaig Single Malt Scotch: Own It, Sip It, Network It
Macallan Sherry Oak 12 – The everyday scotch to learn and get one's feet wet in the world of brown liquor. The standard. A little caramel, possibly fig in the taste. Rich color.
Macallan Fine Oak 17 – Smoke, chocolate, mocha. Richness in the glass. Smoky, rich, full of flavor. Robust. Lots of body. Slight vanilla tone. Twitter Tasting The Macallan
Ardmore Traditional Cask – Hearty bouquet, delicate sweetness fleeting beneath significant smoke flavor. Investing in Dad: Ardmore 30 & the Traditional Cask
Glenmorangie Original – Straw color, light in flavor, no smokiness.  Delicate without being overstated.  An easy sipper.  Perfect for someone starting out.  Glenmorangie Original – "Like Dew on Heather"
The Balvenie Doublewood & Glenfiddich 12 – I'll be honest again and say I don't personally consume these two as frequently myself, but love them just the same and occasionally do have a glass.  They are purchased with frequency in my home for another scotch drinker and they also make great cocktails when I get the chance to sneak a few ounces.   'Made in Scotland' Makes Mixing at Home a Cinch
What scotches would you recommend for gift giving?
All content ©2014 Cheri Loughlin, The Intoxicologist. All Rights Reserved. Chat with Cheri @Intoxicologist on Twitter and facebook.com/Intoxicologist or str8upcocktails@gmail.com
Gifting Scotch for the Holidays