Product, recipe and cocktail photo provided by brand representatives. All bottle and tasting note photos, comments and opinions are my own unless otherwise stated.
I was first introduced to Pisco Portón by the maker himself, Johnny Schuler, several years ago during Tales of the Cocktail. In case you're wondering, it is pronounced "pēskō" named after a Peruvian port. I had to ask, too.
Pisco Portón is a clear, Peruvian spirit made from grapes. Pisco is also the national spirit of Peru. Pisco Portón displays beautifully in a tasting glass. The aroma contains hints of spice such as nutmeg. Notes of sweetness, floral, grass and juicy peach play over the nose.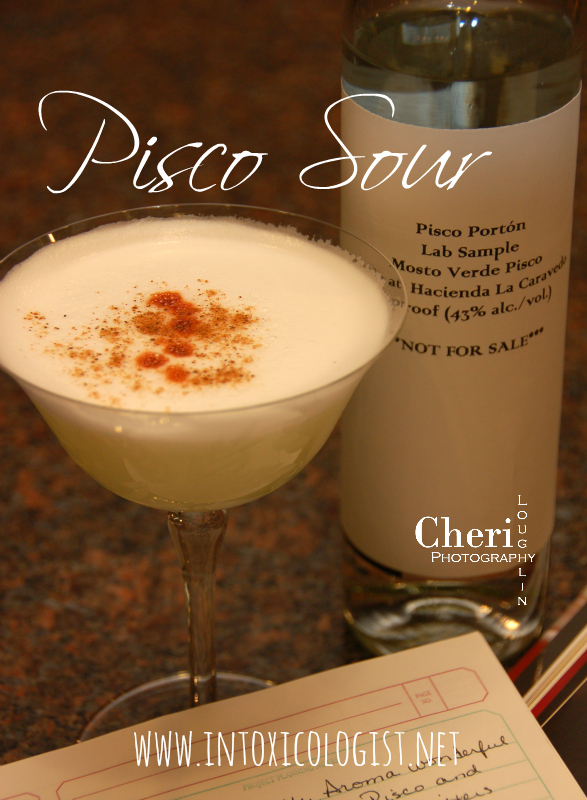 The taste is creamy smooth with a bit of perfume, fresh mown grass and peach flavors. There is a bit of heat when tasted neat, but ice mellows that heat and smooths out the spirit. There are hints of nut skin and a bit of chewiness as it crosses the palate. The spirit is lush and full.
Pisco is often sipped neat, but I do prefer it best in cocktails. The Pisco Sour is perhaps the most referenced cocktail using pisco. The Bar at the Peninsula Chicago serves their Pisco Sour in a champagne flute with sugared rim.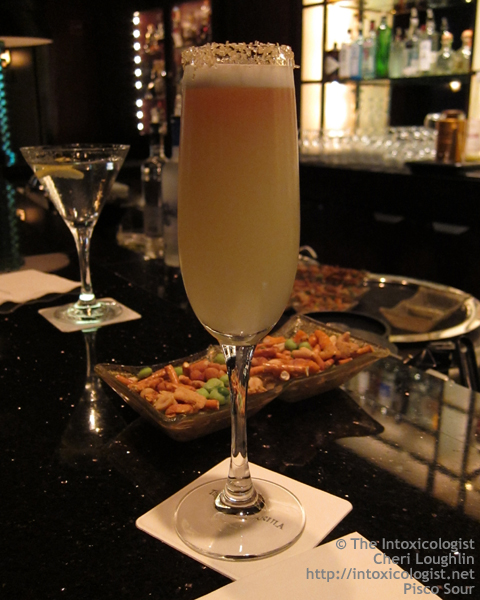 There are a wide variety of pisco recipes to choose from that include this spirit including hot cocoas, sangrias, and variations on classic recipes that typically use tequila, gin and brandy to name a few.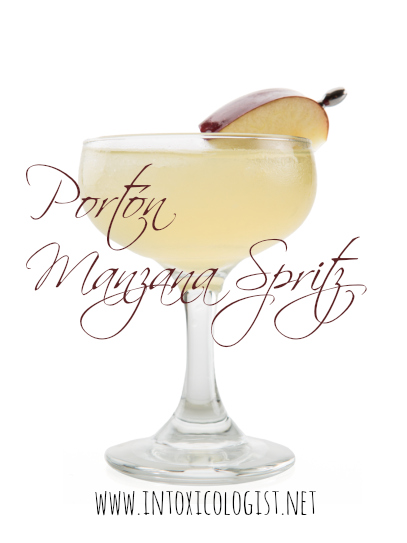 Portón Manzana Spritz
2 ounces Pisco Portón
6 ounces Sparkling Apple Cider
1/2 ounce Fresh Lemon Juice
Thinly Sliced Apple Slices
Place pisco and lemon juice in a cocktail shaker with ice. Shake until well chilled. Strain into a coupe glass. Top with chilled sparkling apple cider. Garnish with apple slices.
Subscribe to the monthly Newsletter
All content ©2015 Cheri Loughlin, The Intoxicologist. All Rights Reserved. Chat with Cheri @Intoxicologist on Twitter and facebook.com/Intoxicologist
Cheri Loughlin is the Omaha writer and photographer behind www.intoxicologist.net and author of Cocktails with a Tryst: An Affair with Mixology and Seduction. You can email Cheri with comments and questions at str8upcocktails@gmail.com.
Pisco Portón Review and Cocktail Recipe