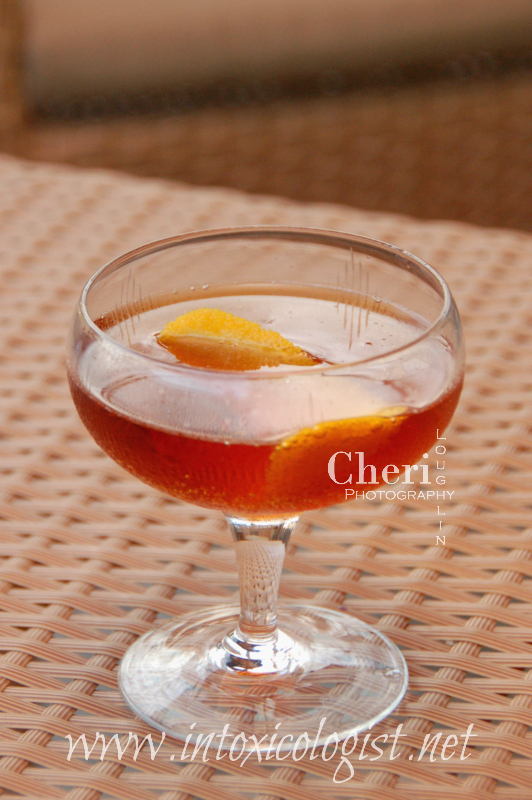 The Hanky Panky cocktail is sometimes referred to as a variation of a Sweet Martini which uses a 3:1 ration of gin and sweet vermouth with orange bitters. Some say the original Hanky Panky recipe used cognac rather than gin. Yet other variations add fresh orange juice and a couple of dashes of orange bitters to the drink.
So who's to say what is exactly correct? Truly only the creator, Ada "Coley" Coleman who crafted the drink while head bartender of the Savoy in the early 1900s. The drink was an experimental drink created for actor, Sir Charles Hawtrey. He asked Ada to make him something with some "umph" factor. Though the term "hanky panky" refers to improper, naughty behavior just shy of serious misconduct, this drink is named for an entirely different reason. Once Sir Charles consumed the drink he said, "By Jove! That is the real hanky-panky."
Ada is listed as one of the most influential bartenders. She was one of the first well-known female bartenders, mentoring others who went on to become influential in the bartending world. Her Hanky Panky cocktail is one of the first cocktails known to use Fernet Branca as an ingredient.
Hanky Panky Recipe Variations

The Savoy Cocktail Book by Harry Craddock lists the recipe as 1/2 each gin and sweet vermouth (1-1/2 ounce Italian (sweet) vermouth, 1-1/2 ounce dry gin,) 2 dashes Fernet Branca stirred with ice and served strained in a cocktail glass with a squeezed orange peel over the top of the drink.
Bartender's Guide by Trader Vic copyright 1947 lists the Hanky Panky recipe as 3/4 ounces each of dry gin and Italian vermouth and 2 dashes of Fernet Branca stirred with ice and served in a chilled cocktail glass without orange peel garnish. The recipe is omitted from the Trader Vic's Bartender's Guide, Revised copyright 1972. Interestingly, though widely recognized as a classic cocktail, the Hanky Panky recipe is missing from many noteworthy bartender manuals.
The following Hanky Panky recipe is adapted from The Savoy Cocktail Book by Harry Craddock 1930 copyright. This drink was featured at Hendrick's Enchanted Portal to the Peculiar at Tales of the Cocktail in New Orleans, 2009. (shown in photos above)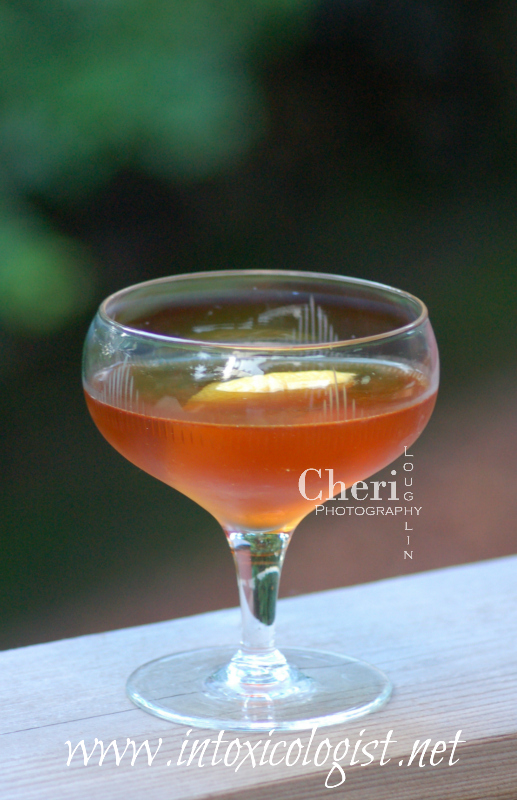 Hanky Panky
2 ounces Hendrick's Gin
1 ounce Sweet Vermouth
2 dashes Fernet Branca
Orange Peel
Place liquids in a mixing glass with ice. Stir until well-chilled. Strain into a chilled cocktail glass. Squeeze a fresh orange peel over the top and drop into the drink.
Subscribe to the monthly Newsletter
All content ©2016 Cheri Loughlin, The Intoxicologist. All Rights Reserved. Chat with Cheri @Intoxicologist on Twitter and facebook.com/Intoxicologist
Cheri Loughlin is the Omaha writer and photographer behind www.intoxicologist.net and author of Cocktails with a Tryst: An Affair with Mixology and Seduction. You can email Cheri with comments and questions at str8upcocktails@gmail.com.
Hanky Panky Classic Cocktail