The bottle is gloriously old fashioned with tribute to the timelessness of the hand-crafted formula contained within the glass that holds its fine treasure.  Saying Carpano Antica Formula is vermouth downplays the richness of the red sweetness that rolls over the tongue filling the mouth with languid lush temptation and extravagance.  There is much history surrounding Carpano Antica Formula first produced in Turin, Italy, in 1786.  But to be quite honest when one looks at the label with its antique appearance, tradition and history transfers to sense and taste of what is to come.  The consumer expects more from the liquid inside.  Carpano Antica Formula does not disappoint.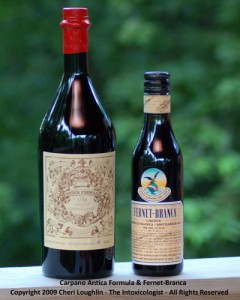 'Red Velvet.'  Those words describe exactly the vanilla, spices, dried fruit, orange rind, and subtle hints of tobacco one will find with mere drops of this luxuriant vermouth as it plays across the tongue.  As mentioned, Carpano Antica Formula technically sits within the aperitif category of spirits so consuming it 'as is' truly is worthwhile and fully recommended.  However cocktail culture has found significant use for this vermouth in modernized versions of classic drink recipes.  When researching Carpano Antica Formula drink recipes the two that came up most frequently were the Manhattan and Negroni.  These two are most easily found on the internet.  To offer something a little different to mix up with Carpano Antica Formula I went a different route.
Bombay #2 contains nice orange flavor immediately with a hint of bitter on the back end.  There is rich smoothness in the middle that possibly stems from the Carpano Antica Formula.  Definite spicy cinnamon flavor with cigar notes.   Even the Pernod comes across light and airy.  Anise aroma is there with a hint of it in the flavor.  Maybe even a wee amount of chocolate undertone comes through as well.  This makes a great drink for anyone who likes something with a little sweetness without going overboard.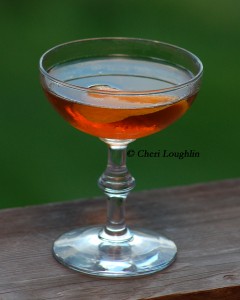 Bombay #2
1-1/2 ounce Cognac
3/4 ounce Dry Vermouth
3/4 ounce Carpano Antica Formula
1/4 ounce Premium Orange Liqueur
Absinthe
Orange Zest Twist Garnish
Place ice in martini glass with 1/8 ounce Absinthe.  Set aside.  Combine the rest of the ingredients in a mixing glass with ice.  Shake to chill.  Toss ice and Pernod from martini glass.  Strain contents from mixing glass into Pernod washed martini glass.  Garnish with orange zest twist.
This cocktail is not only beautiful, but lightly refreshing with the fresh aroma of orange instantly present.  Vermouth is forefront in the flavor profile with delightful rounding effect.  Difford's Guide comments say his recipe is an adaptation of a recipe in the 1930 edition of Harry Craddock's Savoy Cocktail Book.  My thought about these classic drink recipes is they do not need to be re-created in mass quantities to be enjoyed.  The fact that Simon Difford breaks all his recipes down in 'shot' or 'part' ratios allows recipes to be enjoyed in small or large portions.  I chose to make this in a small 2 ounce version.  The drink is small so it is easily enjoyed while remaining chilled.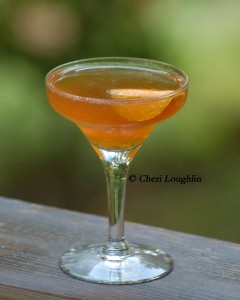 Peto Martini
2 ounces Gin
1 ounce Dry Vermouth
1 ounce Carpano Antica Formula
1/4 ounce Fresh Squeezed Orange Juice
1/8 ounce Maraschino Liqueur
Orange Zest Twist Garnish
Combine liquid ingredients in a cocktail shaker with ice.  Shake to chill.  Strain into a martini glass.  Garnish with orange zest twist.
What's not to love about the Hanky Panky name?  It brings to mind all sorts of naughty deeds of misconduct and ill behavior of the wayward sort.  The drink recipe however is straight to the point and easy to concoct.  Fernet Branca is rather headstrong if too much is used, so go easy with the dashes.  Carpano Antica Formula truly shines in this particular drink.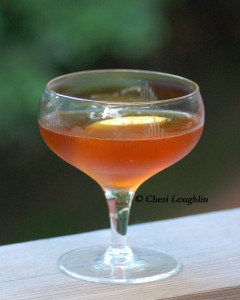 Hanky Panky
2 ounces Dry Gin
2 ounces Carpano Antica Formula
2 dashes Fernet Branca
Orange Peel Garnish
Shake ingredients over ice in a mixing glass.  Strain into a chilled martini glass.  Squeeze a fresh cut orange peel over the top of cocktail.
Carpano Antica Formula boggles the mind with options for use.  Searching for existing cocktail recipes that call for this aperitif/vermouth by name has not been an easy task, but the joy is discovering so many vermouth recipes from the past to recreate or use as a sounding board for future adaptations.  While we may not be accustomed to thinking of vermouth as a basis for cocktails outside the traditional Manhattan or Negroni, Carpano Antica Formula just may be the spirit to turn thinking around about that very thing.  It certainly has me looking up vermouth drink recipes in a whole new light.
Twitter, Facebook, StumbleUpon – str8upcocktails @ gmail.com – ©2012 Cheri Loughlin-The Intoxicologist, All Rights Reserved. All opinions, reviews and spirits' coverage are the personal opinion and decision of Cheri Loughlin.
Carpano Antica Formula Adds Velvet Touch to Classic Drink Recipes