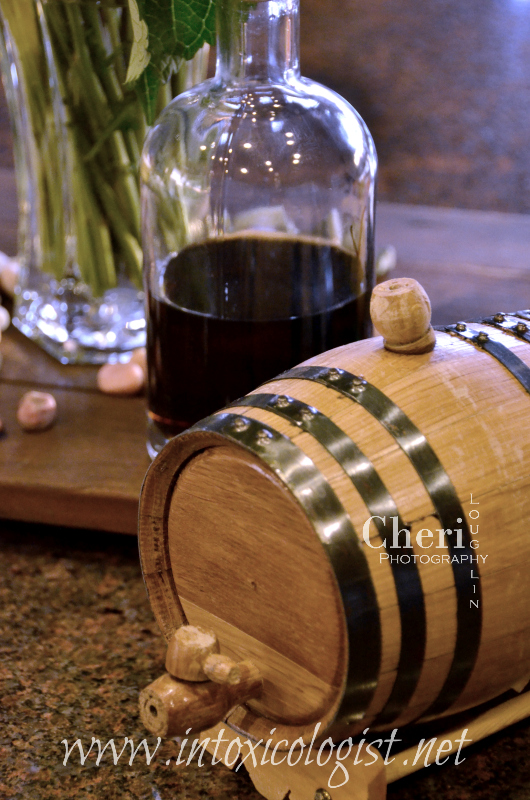 *Disclosure: contains affiliate links
Have you tried your hand at making your own barrel-aged cocktails yet? It's kind of fun, but does require a little planning and of course time. My 1 liter barrel is similar to this one, but mine is not personalized. It comes with easy step by step instructions, but no recipes. You can use an existing recipe or search for barrel-aging recipes online.
A few months ago I finally put my small barrel to use. Rather than make the typical Manhattan (which was tempting because it is one of my favorites), I chose another path. After looking up a few barrel-aged recipes online, I decided to use the Vieux Carré as a guide.
The Vieux Carré uses rye, cognac, and sweet vermouth in equal measure with a hint of Benedictine and bitters. I opted for almost the same ratios, but swapped cognac for apricot brandy and Benedictine for Drambuie. Drambuie's flavor is more honeyed and less spicy than Benedictine. Apricot brandy introduces a bit of fruit flavor to the mix.
Before aging the cocktail is lightly sweetened and full of rich, full-bodied flavor. After aging for four to six weeks the flavor became drier, resulting in a bitter-sweet cocktail with rich brownish-red color. The cocktail turned out a little sweeter after aging than it was before placing it in the barrel. But the fruit flavor was much more pronounced. The drink turned out with rich plum fruit flavor and lush roundness in the taste. Cherry lingers in the finish with a tinge of wood flavor from the barrel.
For the last month or so, this has been my "house cocktail." Since it really isn't the Vieux Carré with ingredients changed, but retains the same basic recipe I wasn't sure what to call it.
Barrel Aged Cocktail Recipe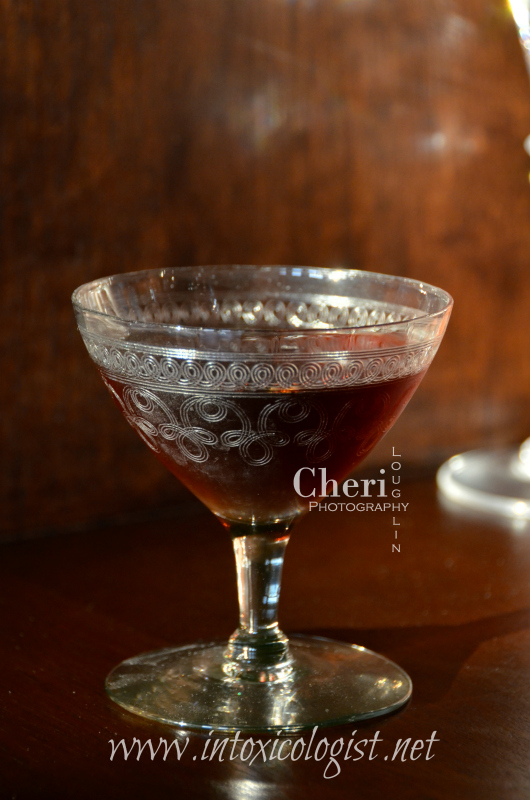 Barrel-Aged House Cocktail – adapted by Cheri Loughlin
In the Barrel
8 ounces Rye
8 ounces Apricot Brandy
8 ounces Drambuie Liqueur
4 ounces Punt e Mes Red Vermouth
Add all to barrel. Allow to age four to six weeks according to taste preference. Begin tasting once a week after the third week. After aging to desired taste, empty contents of barrel into a glass container with lid. A cleaned out 750ml bottle works well for this. Though the recipe starts out with 28 ounces of spirit, some is lost during the aging and taste sampling process. The total remaining volume should be less than the 25 plus ounces a 750ml bottle can hold.
After aging to serve:
2-1/2 ounce Barrel-Aged Spirit
4 drops Walnut Bitters
1 drop Cherry Bitters
Combine liquids in mixing glass with ice. Stir until well chilled. Strain into a chilled cocktail glass.
I was pretty happy with the results of my first try at making a barrel-aged cocktail. After bottling my barrel-aged cocktail, I took a stab at another. This time I decided to barrel-age a variation of the Manhattan. I'll share those results another time.
Subscribe to the monthly Newsletter
All content ©2016 Cheri Loughlin, The Intoxicologist. All Rights Reserved. Chat with Cheri @Intoxicologist on Twitter and facebook.com/Intoxicologist
Cheri Loughlin is the Omaha writer and photographer behind www.intoxicologist.net and author of Cocktails with a Tryst: An Affair with Mixology and Seduction. You can email Cheri with comments and questions at str8upcocktails@gmail.com.
*Disclosure: Some of the links in the post above are "affiliate links." This means if you click on the link and purchase the item, I will receive an affiliate commission. Regardless, all thoughts and opinions shared in this post are my honest personal opinions. I am disclosing this in accordance with the Federal Trade Commission's 16 CFR, Part 255: "Guides Concerning the Use of Endorsements and Testimonials in Advertising."
Vieux Carré Barrel-Aged Cocktail Variation