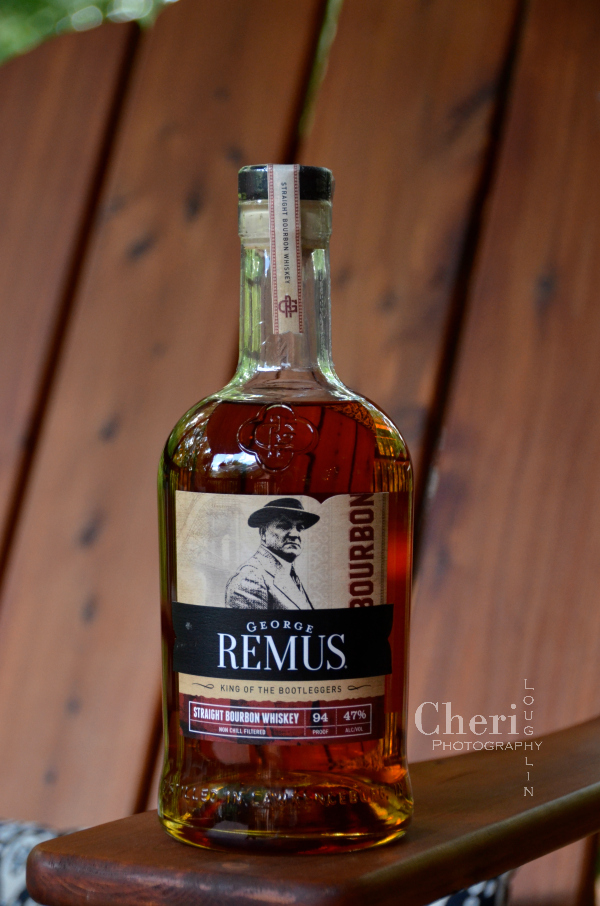 George Remus Bourbon is a high-rye blend whiskey, aged for a minimum of four years in American White Oak barrels. The name is inspired by George Remus, dubbed the "King of the Bootleggers." That nickname captured my curiosity, so I did a little poking around on the internet.
George Remus Bourbon provided by brand representatives. All photos, comments and opinions are my own unless otherwise stated.
Remus was German born and immigrated to the United States when he was four years old. He helped support his family as a teenager, working in the family drugstore. By the age of 21 he was a full-fledged pharmacist and owned the drugstore. He tired of the drugstore business so enrolled in law school, finishing the 3 year course in half the time. He began practicing law in Chicago, Illinois, in 1900 where he became a well-known criminal defense attorney.
The U.S. Congress passed the Volstead Act in 1918 and it became law by January 1920. Violations of the Volstead Act were soon the mainstay of Remus' law practice. He became resentful of the amount of money his clients were able to make with ease as bootleggers. The Cincinnati Enquirer quoted him in January 1952 as saying, "I was impressed by the rapidity with which those men, without any brains at all, piled up fortunes in the liquor business. I saw a chance to make a clean-up."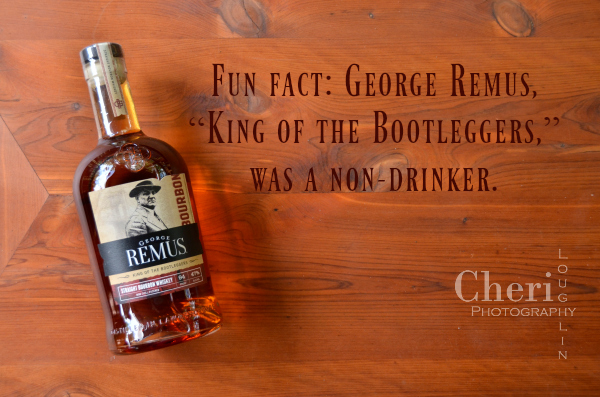 Ironically, George Remus did not drink, nor did he smoke tobacco. Yet he strategically set out to possess all of the pre-Volstead Act bonded liquor so he could sell it and make his fortune. He studied the Volstead Act for loopholes and exploited Title II, Section 6 of the law allowing liquor to be sold with prescriptions for "medicinal purposes."
That was the beginning of the legend to be known as the "King of the Bootleggers." The history of his rise and fall as a bootlegger is fascinating to say the least. I highly recommend reading the full story here and watch a short video here.
Back to the bourbon within the namesake bottle that fueled my curiosity.
George Remus Bourbon Review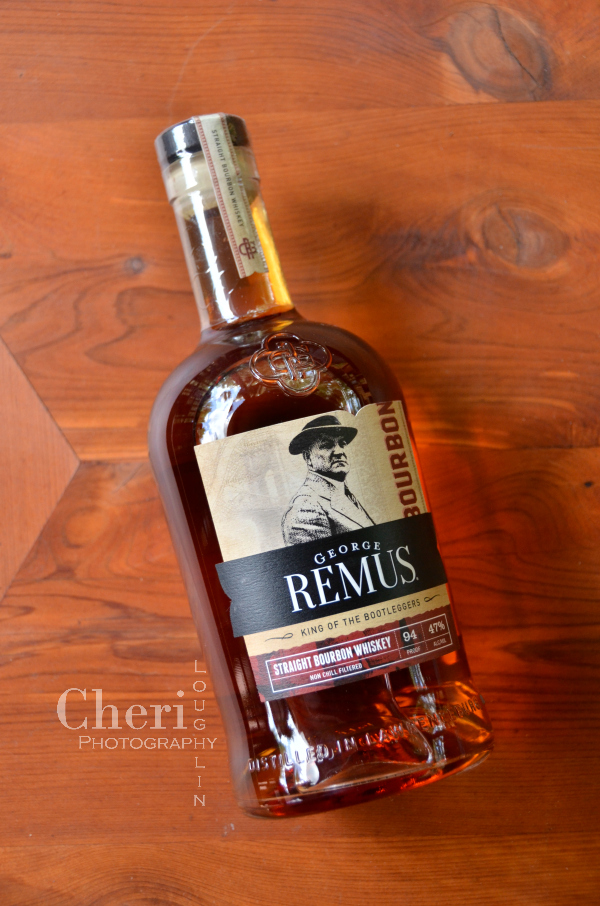 94 proof / 47% alcohol by volume
$45 price point for 750ml bottle
Available in Kansas, Kentucky, Indiana, Ohio, and Wisconsin
Distilled in Lawrenceburg, Indiana
Get social! Keep up to date with @GeorgeRemusBourbon on Facebook and Instagram, @kings.circle on Instagram, and @GeorgeRemus on Twitter.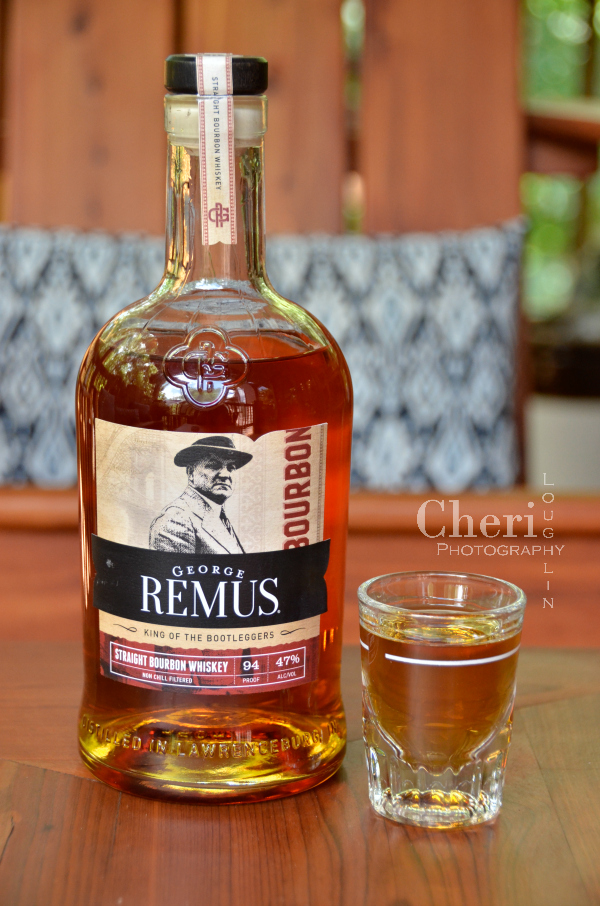 First Impressions: Mobster is the first word that comes to mind. Otherwise there is nothing particularly special about the bottle or label. I am sometimes wary of labels that feed into the tough guy / mobster personage. I wonder if the spirit inside the bottle will surpass the label hype. Read further to find out if the bourbon lives up to the legend.
Color: The color as it sits in the bottle reminds me of a fiery redhead. The color mellows to amber blonde with lovely red hues.
Aroma: It is subtle with just a touch of vanilla and honey or maple.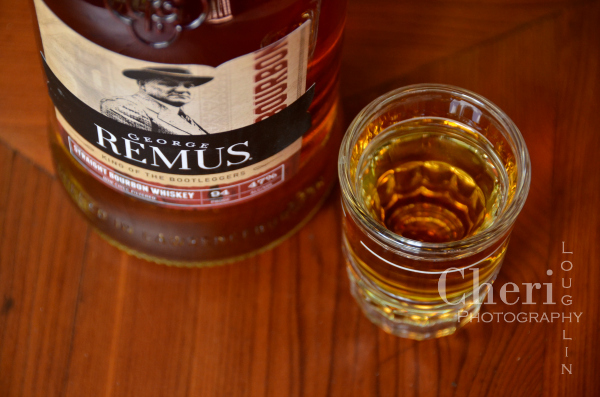 Tasted Neat: Ah! Some burn, but overshadowed by the smooth sweetness. There is maple and caramel with a hint of oak. It is rich with creamy vanilla the rolling mouthfeel. There is lots of depth to this exquisite bourbon.
Overall Impressions: George Remus Straight Bourbon Whiskey is a keeper. It definitely lives up to the legend of the bootlegging boss, George Remus. Though this is primarily sipping bourbon, there's no law that says we can't make a cocktail.
George Remus Bourbon Outlaw Cocktail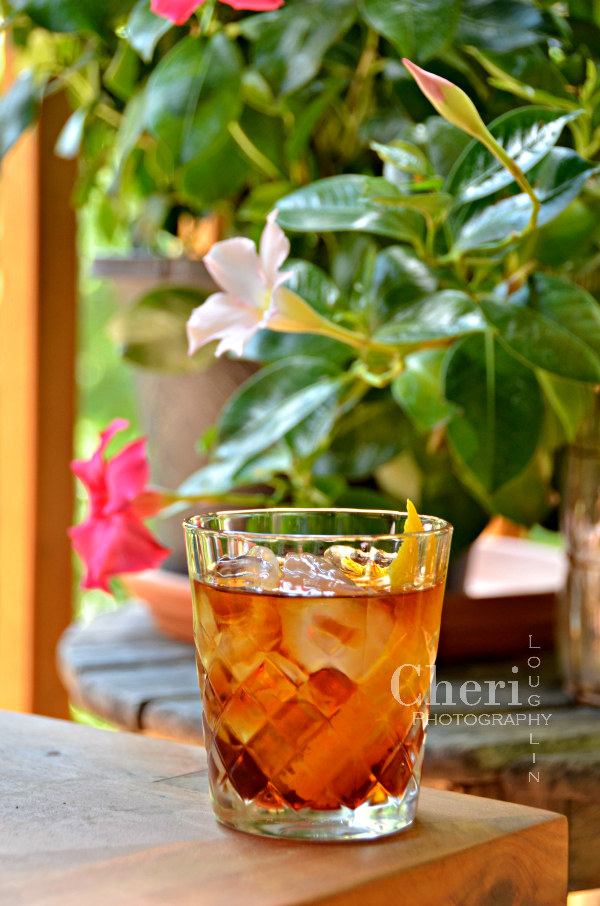 Deep rich flavor. Some sweetness with lovely citrus on the nose. Averna lends chocolate and coffee notes to the drink. Walnut shines.
Outlaw – recipe by Cheri Loughlin
1-1/2 ounce George Remus Bourbon
1/4 ounce Averna Amaro
¼ ounce Punt e Mes Vermouth
3 drops Fee Brothers Black Walnut Bitters
1/4 ounce Maple Syrup
Orange Twist
Place all liquid ingredients in a mixing glass with ice. Stir until well chilled. Strain into a rocks glass with ice. Cut a fresh swath of orange peel. Twist it over the drink to release oils. Swirl around the rim of the glass with the peel side before placing twist into the glass.
Subscribe to the Newsletter
All content ©2017 Cheri Loughlin, The Intoxicologist. All Rights Reserved. Chat with Cheri @TheIntoxicologist on Instagram and facebook.com/Intoxicologist
Cheri Loughlin is the Omaha writer and photographer behind www.intoxicologist.net. Email Cheri with comments and questions at str8upcocktails at gmail.com.
George Remus Bourbon Review – Outlaw Cocktail