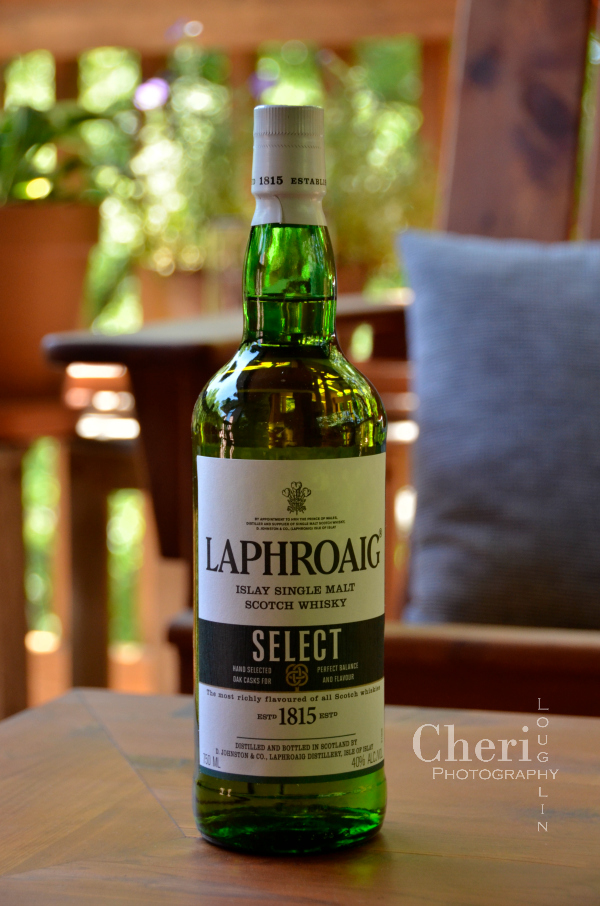 Laphroaig Scotch is definitely not for the faint of heart or the newbie scotch drinker. But it is iconic and positively a scotch for the bucket list. It tends to be one of those love it or hate it scotches. The brand has embraced this love/hate relationship by allowing people to enter their opinions about Laphroaig in a section on their site dedicated to opinions. The descriptions some people come up with range from funny to downright scary. It makes trying this scotch almost a dare to prove a description right, wrong, good, bad or indifferent. You can also share your thoughts about Laphroaig Scotch on Twitter, Instagram and Facebook.
Laphroaig Select product provided by brand representatives. All photos, comments and opinions are my own and that of the tasting team unless otherwise stated.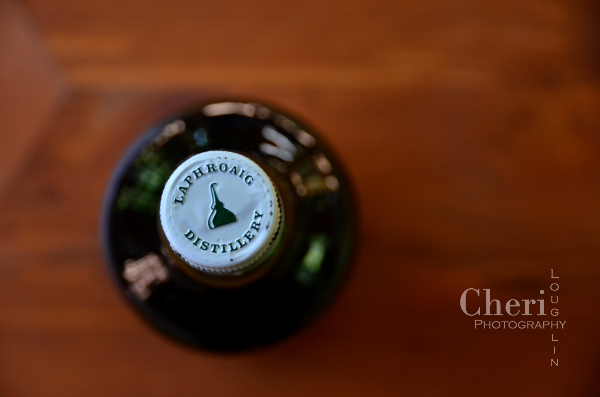 To be honest, I am not a huge fan of Laphroaig 10 due to the severe peat and iodine taste. Its aroma reminds me of the smell of hospitals and iodine soaked bandages. That being said, I love Laphroaig Quarter Cask. It is a terrific slow sipping scotch with an undercurrent of chocolate flavor just beneath the peat. Laphroaig Select seems to bridge the gap between Laphroaig 10 and Quarter Cask.
Marinate pork shoulder in Laphroaig Quarter Cask overnight before slow smoking it. It adds wonderful aroma and flavor to the beast. You're welcome.
Our tasting team for the Laphroaig Select tasting included scotch drinkers and those who usually stick to wine or other whiskies. I happen to be on team "I love it all" so it is always interesting to get the impressions of those who have never sampled a particular spirit before. And let me tell you, this was one fun tasting. There was a little friendly name calling going on for those who just couldn't bring themselves to finish their small glass of Laphroaig Select.
Read my review of Laphroaig Triple Wood here.
Laphroaig Select Review
80 proof / 40% alcohol by volume
$45 price point for 750ml bottle
Website: http://www.laphroaig.com/
YouTube: https://www.youtube.com/user/officiallaphroaig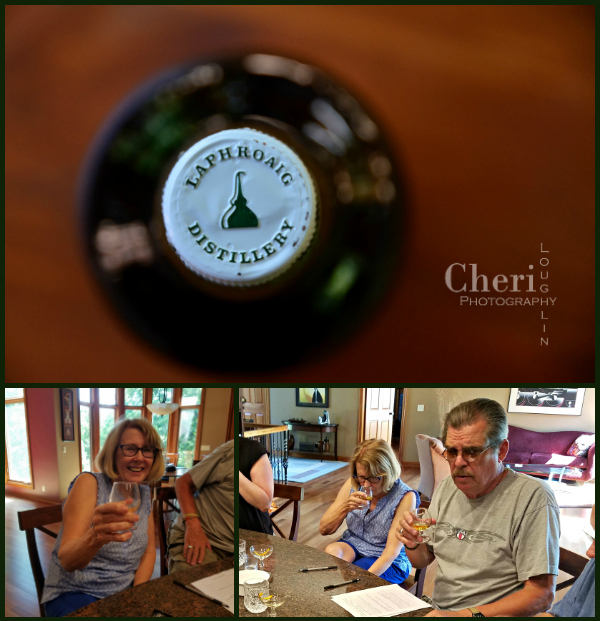 First Impressions: Opinions varied on the bottle. I think it is classic in style. One tasting team member had this to say about the bottle; "Love the green bottle. It reminds me of a beautiful jar I have from Spain that was used to ripen olives." She sounds like someone who appreciates glass as much as I do. Another team member said he liked the green bottle, but the label did nothing for him. It isn't a label that would necessarily grab his attention.
Color: There are no caramel colorings added to the Laphroaig Select. All the color comes naturally from the barrels during the aging process. The color is gold that tends to shimmer a bit in the sun.
This is where the tasting got fun and the friendly name calling began.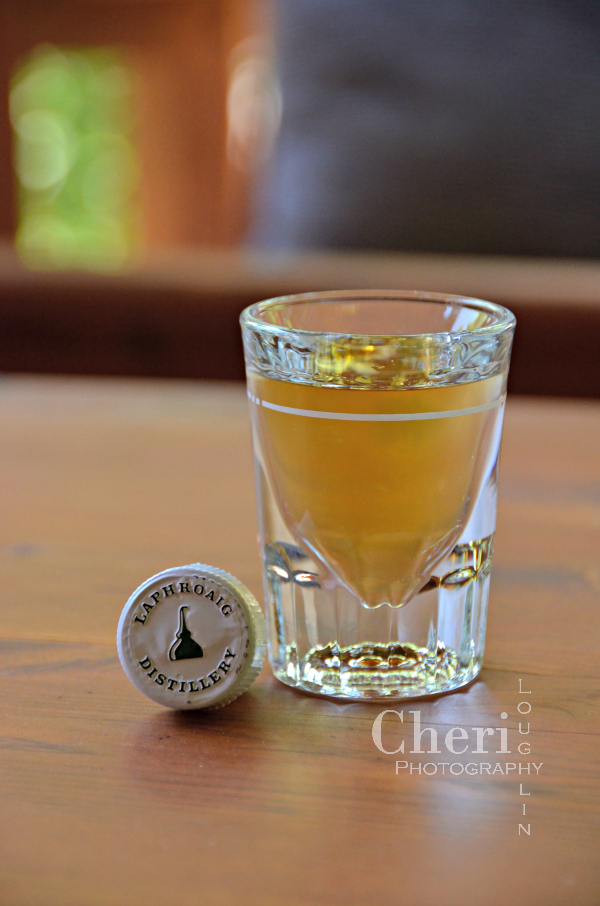 Aroma: First up is the classic Laphroaig peaty smell. If you can get past the peat and really dig deep, you will find a hint of fruit in the aroma. Not a lot, but some. I had flashbacks of iodine and hospital gauze, but pushed through. One of our tasters who loves to experiment with different spirits, but is not much of a scotch drinker detected a bit of chocolate under all that peat. You go girl!
Another member of the team is primarily a Chardonnay drinker. She mentioned the aroma was rather strong, but she liked it. Atta girl!
And then it happened. An emphatic "I do not like this" rang out from the group. He said he could not determine the aroma, but it was definitely strong. He may or may not have singed a few nose hairs trying to pinpoint any recognizable scent.
Read my review of Laphroaig Cairdeas Origin here.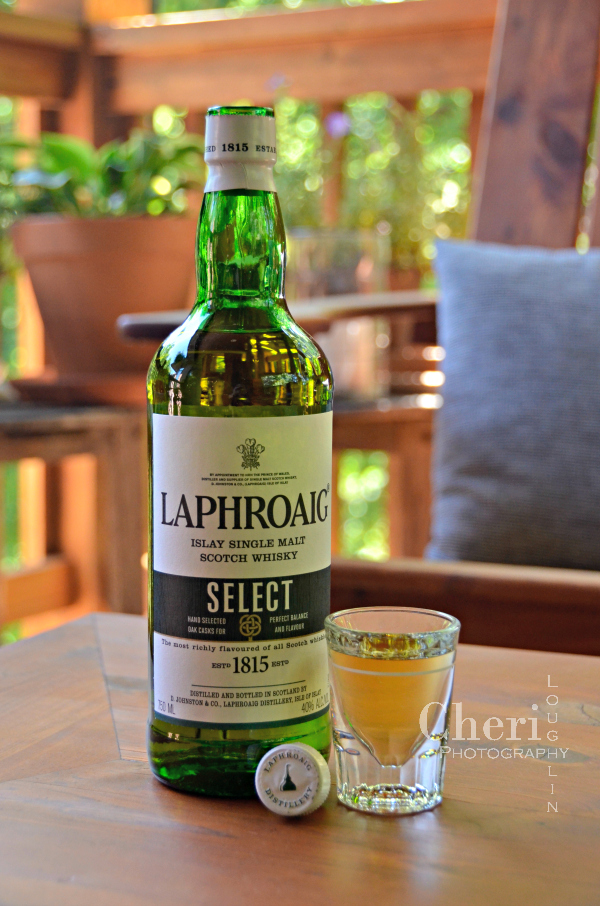 Tasted Neat: There was one among us that did not like the flavor at all. We all agreed Laphroaig scotches are an acquired taste. He gave up the rest of his taster to one of the women who ribbed him fiercely.
There is quite a bit of burn in the taste. Laphroaig Select is not nearly as harsh as Laphroaig 10, but it does have some of the same flavor components. It is peaty with barely there sweetness underneath. I would describe the peaty flavor as similar to inhaling a crackling fire with fresh firewood burning. There is a tad of honey, caramel, and chocolate deep in the taste. The finish lingers with dry smoke on the tongue. This is undeniably a unique spirit.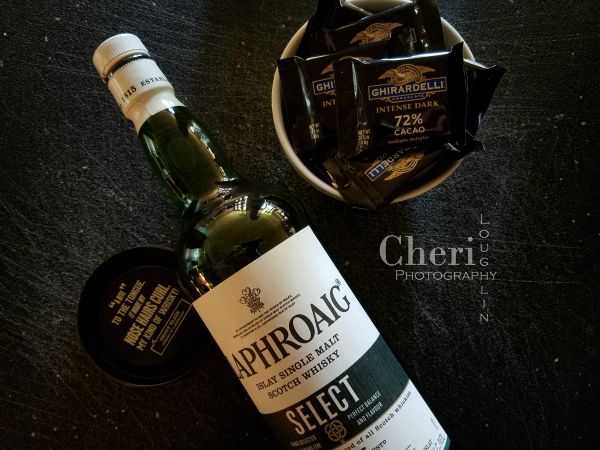 Pairing: Who would have thought, but Laphroaig Select pairs exceptionally well with dark chocolate. I am not usually a chocolate eater, but after the first taste of this scotch I knew chocolate would be a great fit. We nibbled on 72% dark chocolate while finishing up our tasting samples. Dark chocolate tamped down a little of the smokiness and brought out more of the scotch's chocolate notes. I would suggest dark chocolate rather than milk chocolate since dark chocolate is less sweet and sturdier in flavor. Perhaps a Laphroaig laced dark chocolate sauce would be good drizzled over ice cream.
Overall Impressions: As mentioned before, Laphroaig scotch is an acquired taste. It is not for the faint of heart. If you have never tasted it before, I would suggest sampling it at a bar or tasting event first. It would be a shame to purchase any spirit only to find out it is not to your liking.
The taster who gave up the rest of his sample to another taster said this scotch was "obnoxious. I can't stand it." That may sound a little harsh, but the beauty of the world is we all have different opinions and tastes. Others said they liked it, but it would not be their go-to scotch. Everyone did enjoy the chance to get to try something a little different from their norm.
I still like Laphroaig Quarter Cask expression best for sipping with a tiny bit of ice. But I loved the fact that this Laphroaig was a little toned down from Laphroaig 10. I have used the 10 in cocktails a few times and it always overwhelms the drink. The Select expression seemed like it would be a great balance for including in a cocktail recipe. So of course I had to try.
Laphroaig Select Lucky Devil Cocktail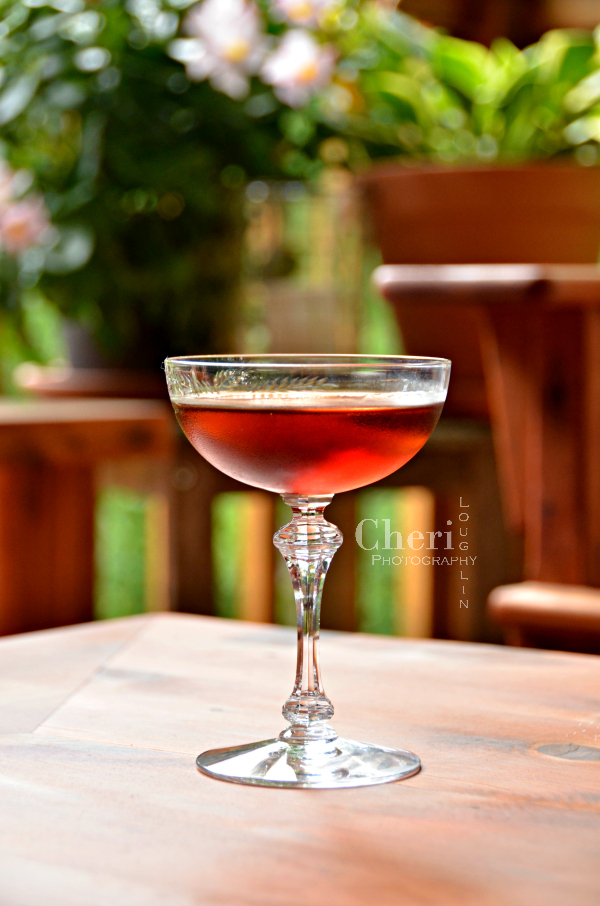 Laphroaig Select is a rather strong flavored spirit. In my opinion that strong flavor needs other strong flavors to balance out a cocktail. It needs something to sort of relax the spirit, make it round and lush, and add a hit of spice. I thought about washing the cocktail glass with Laphroaig Select, but opted for a measured amount instead to keep more of the authentic scotch flavor.
This makes a rather decadent cocktail. It is smoky with lovely citrus zest in the aroma. Laphroaig Select lends smokiness (kind of cigar-ish) to the drink without completely overwhelming the other flavors. The flavor is deep with some sweetness. There are hints of chocolate and perhaps a bit of cola flavor brought about due to the Amaro. The color speaks volumes to the richness of this cocktail. One taster described the color as "chocolate diamonds." Yeah, I like that!
Since it is all alcohol without mixers, I highly recommend sipping rather than gulping this one. Though, you might have a difficult time just sipping as did some of our tasters. One taster suggested saving this as an after dinner drink and definitely limiting it to one or two at max per session.
Lucky Devil – recipe by Cheri Loughlin
1-1/2 ounce Ron Zacapa 23 Rum
1/4 ounce Laphroaig Select Scotch
1/2 ounce + 1 teaspoon Averna Amaro
1/4 ounce Benedictine
1 dash Fee Brothers Aztec Chocolate Bitters
Orange Peel
Place all liquid ingredients into a mixing glass. Add ice. Stir for 25 to 30 revolutions, until thoroughly chilled. Strain into a chilled cocktail glass. Cut a fresh swath of orange peel. Twist over the cocktail and circle the rim of the glass with the peel side. Place peel on top of the drink and serve.
Subscribe to the Newsletter
All content ©2017Cheri Loughlin, The Intoxicologist. All Rights Reserved. Chat with Cheri @TheIntoxicologist on Instagram and facebook.com/Intoxicologist
Cheri Loughlin is the Omaha writer and photographer behind www.intoxicologist.net. Email Cheri with comments and questions at str8upcocktails at gmail.com.
Laphroaig Select Scotch Review with Lucky Devil Cocktail