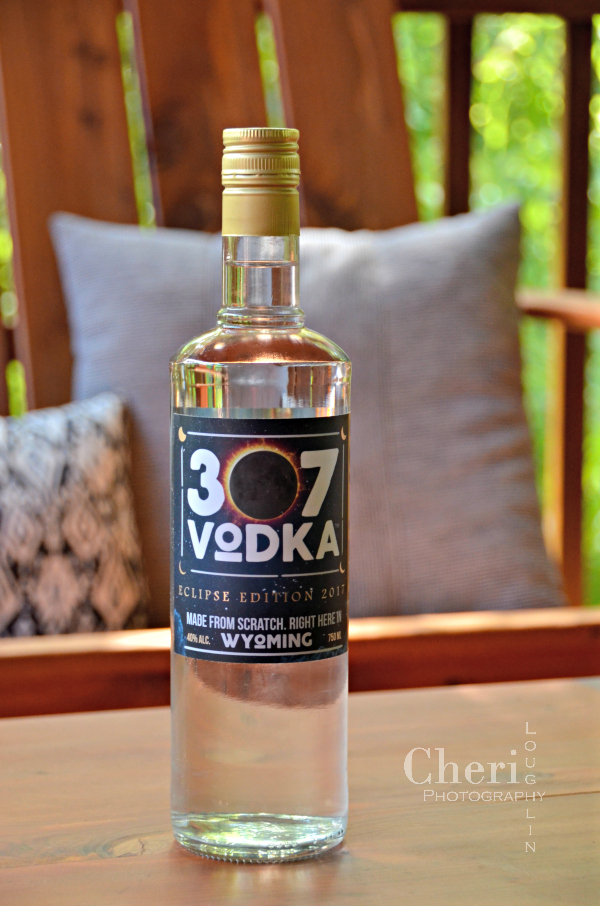 This 307 Vodka is a special edition bottle celebrating the first solar eclipse in the United States in 99 years. It is distilled at Backwards Distilling. Backwards Distilling is hosting a Solar Eclipse Watch Party, August 21. Find more information and make your reservation here. This solar eclipse has been dubbed the "Great American Eclipse" because it will be visible across the United States in a 70 mile wide stretch from Oregon to South Carolina. Learn more about this eclipse and the path it will take here.
307 Vodka product provided by brand representatives. All photos, comments and opinions are my own unless otherwise stated.
307 Vodka Solar Eclipse Edition Review
307 Vodka is made in Wyoming using corn, beet sugar and rocky mountain water. It is gluten free. The only difference between 307 Vodka and this special Eclipse Edition 2017 is the label.
80 proof / 40% alcohol by volume
$21 price point for 750ml bottle
www.facebook.com/307vodka
www.instagram.com/307vodka
First Impressions: Since this is a special edition bottling, the label is not the same as usual. This bottle adds splash of color and blazing sun and dark moon in the "0" of 307. It's clever, yet simple. The four moon phases are displayed in each corner of the label.
Color: Clear
Aroma: There is a bit of raw alcohol on the nose, with buttery vanilla notes. There is a hint of citrus and light florals.
Tasted Neat: There is a little burn from the start. Yet it is very buttery as the aroma suggested. It is a little thicker in viscosity than some vodka. Definite round vanilla notes in the finish.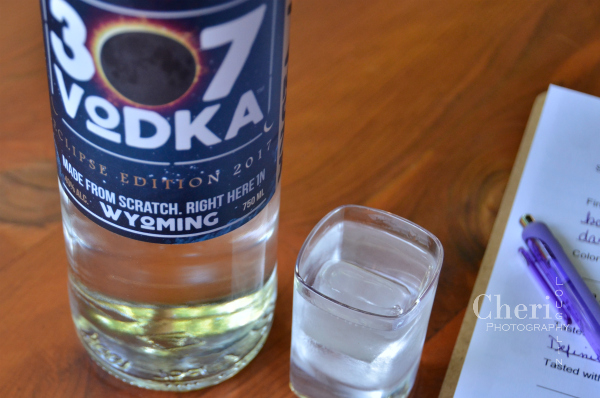 Tasted with Ice: There is little to no burn once the ice melts just a little. There are hints of sweetness that I would liken to the smell of fresh mown grass on a spring day. The buttery vanilla notes are still intact, but indication of citrus is completely lost. The vodka is clean, but not sharp. It rolls over the tongue with great lushness. There is an inkling of metallic in the finish. Though this is vodka, it reminds me a little of Bacardi Superior Rum in the buttery vanilla aspect.
Overall Impressions: This is excellent vodka for mixing, but not quite a vodka martini type of vodka. It lacks the clean sharp edge needed for straight up serve and is distracting with the vanilla notes. I would definitely use this in cocktails such as a White Russian, Espresso Martini, or any other creamy drinks. I also think 307 Vodka would make an excellent base for Homemade Vanilla and other flavored liqueurs.
307 Vodka Chocolate Hazelnut Eclipse Recipe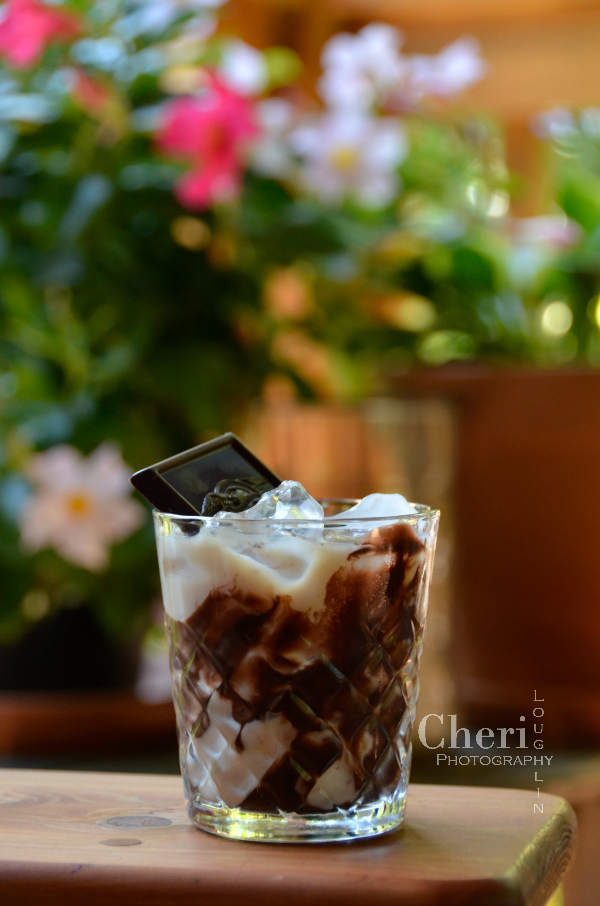 It is no secret that I love a White Russian from time to time. It is also fun to play with the recipe by adding in other flavors like Heering Cherry (try the Russian Cherry Espresso), amaretto, or hazelnut. This time around I wanted to include something nutty with chocolate. Adjusting the ratio of vodka to liqueur helps tone down some of the sweetness of the traditional White Russian recipe. The full roundness of 307 Vodka lends itself perfectly to this drink by adding a little depth to the flavor.
This drink is so delicious you might be tempted to lick out the inside of the glass once the drink is gone. Dive right in!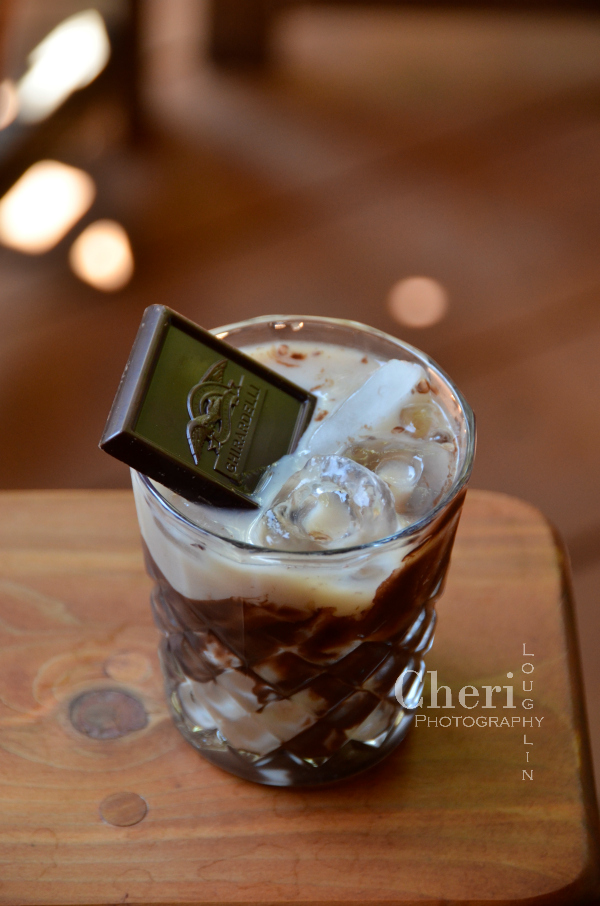 (just another photo to tempt you into trying this delicious dessert cocktail)
Chocolate Hazelnut Eclipse – recipe by Cheri Loughlin
2 ounces 307 Vodka
1 ounce Kahlua Hazelnut Liqueur
1 ounce Half & Half
Hershey's Chocolate Syrup
Ghirardelli Dark Chocolate Square
Swirl Hershey's chocolate syrup around the inside of a rocks glass. Add ice. Add vodka, Kahlua Hazelnut, and half and half. Stir briefly. Top it off with a piece of dark chocolate.
Subscribe to the Newsletter
All content ©2017 Cheri Loughlin, The Intoxicologist. All Rights Reserved. Chat with Cheri @TheIntoxicologist on Instagram and facebook.com/Intoxicologist
Cheri Loughlin is the Omaha writer and photographer behind www.intoxicologist.net. Email Cheri with comments and questions at str8upcocktails at gmail.com.
307 Vodka Eclipse Edition Review and Recipe