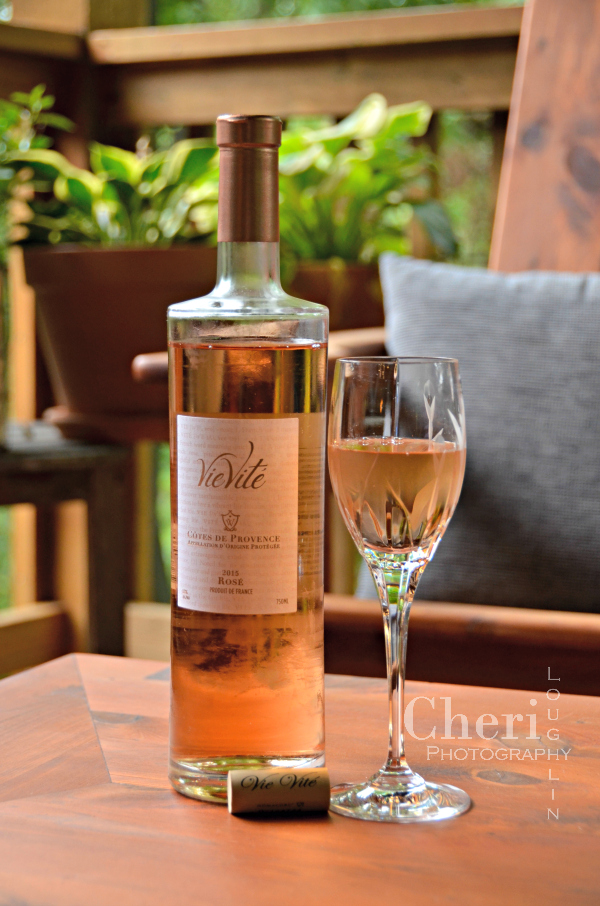 When the tasting team and I sat down to review VieVité Rosé wine, a comparison to White Zinfandel came up. You remember White Zinfandel don't you? It is the sweet pink wine that was all the rage years ago. Is today's rosé the same wine with a different name? Well no, not exactly.
Rosé and White Zinfandel are made in similar fashion, but Rosé tends to be more dry and less sweet than White Zinfandel. Vinepair breaks down the similarities and differences in this article. Wine Spectator's Dr. Vinny answers the question of why people love or hate White Zinfandel and what the new White Zin is like this time around.
So let's talk about VieVité Rosé Wine 2015.
VieVité Rosé Wine 2015 by brand representatives. All photos and opinions are my own or that of the tasting team unless otherwise stated.
VieVité Rosé Wine 2015 Review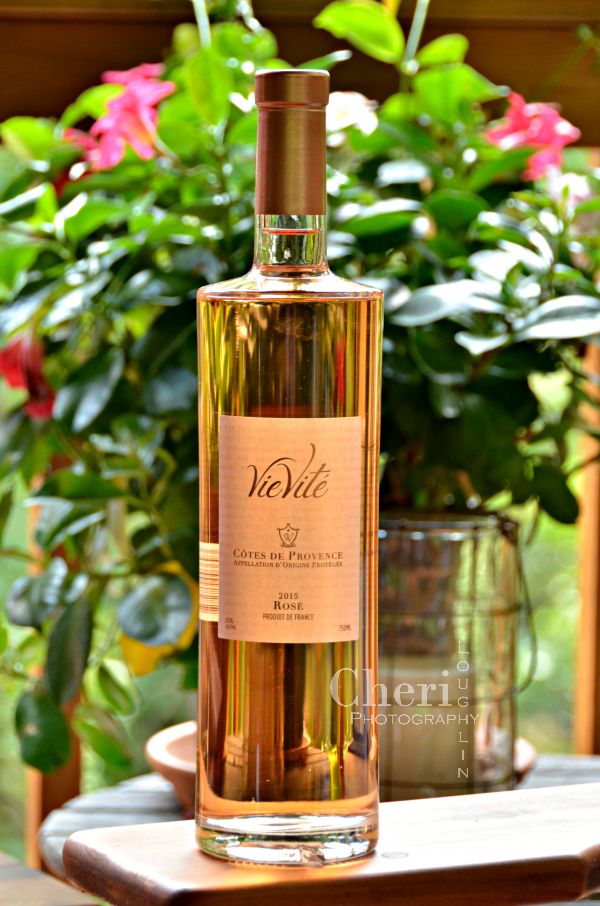 AOP Côtes de Provence | 2015 Vintage | $19.99 Suggested Retail Price
30% Cinsault, 30% Grenache, 30% Syrah, 10% Carignan
@VieVite on Instagram and Facebook | @VieViteRose on Twitter | #RoseAllDay
Available in the U.S.A, Netherlands, Turkey, and Greece
More information at www.VieVite.com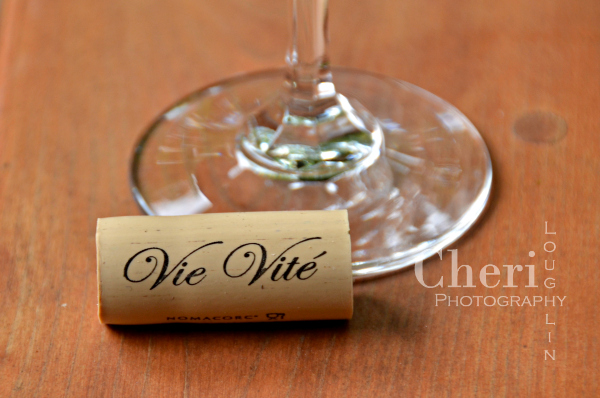 First Impressions: The bottle shape is not what one would consider a traditional wine bottle. It is more reminiscent of a vodka bottle. However it definitely works for this expression. The label gives a sense of regal stature to the wine. One taster described it as elegant.
The label is cream with soft pink lettering. Look a little closer at the label and you will discover meaning behind the words vie and vité. The words are so pale on the label that they might be a little difficult to make out. Google the meaning of each word in French and you will get an idea of what the label says. Vie is a noun meaning life, existence, habitation. Vité is an adverb meaning quickly, rapid, fast.
Synthetic cork with the name of the wine printed in the same lettering as on the bottle label.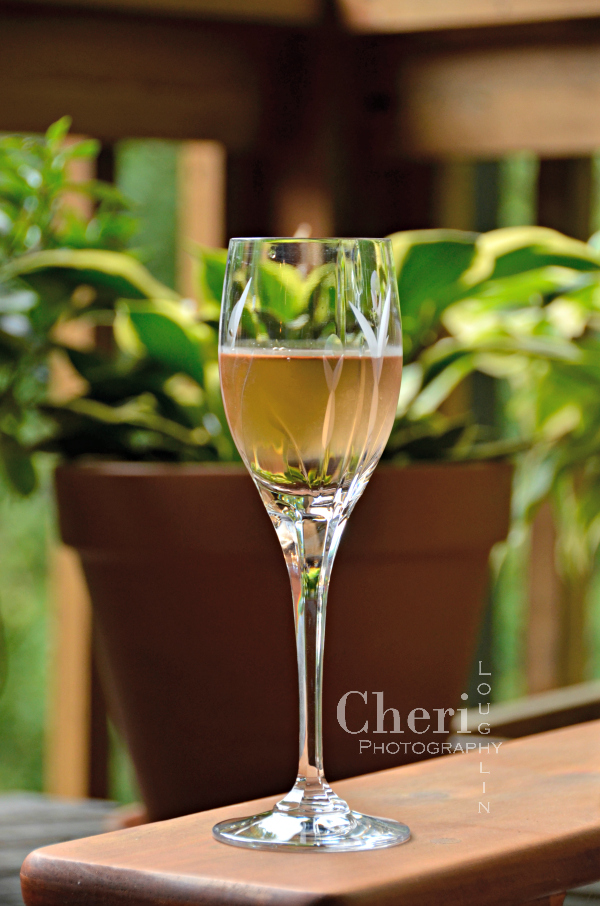 Color: Beautiful pale pink
Aroma: Everyone on the tasting team detected something different than the others. We picked up on strawberry, cotton candy, and tropical fruit aromas such as mango and pineapple. There were also hints of papaya perfume.
Taste: There is a little bit of effervescence with lightly sweetened raspberry with cherry skin. This rosé is crisp, with a hint of warming spice on the tongue. It is fruit forward, not too sweet, and slips over the tongue smoothly. It also seems as if there is a bit of peach note in the flavor in addition to those mentioned in the aroma.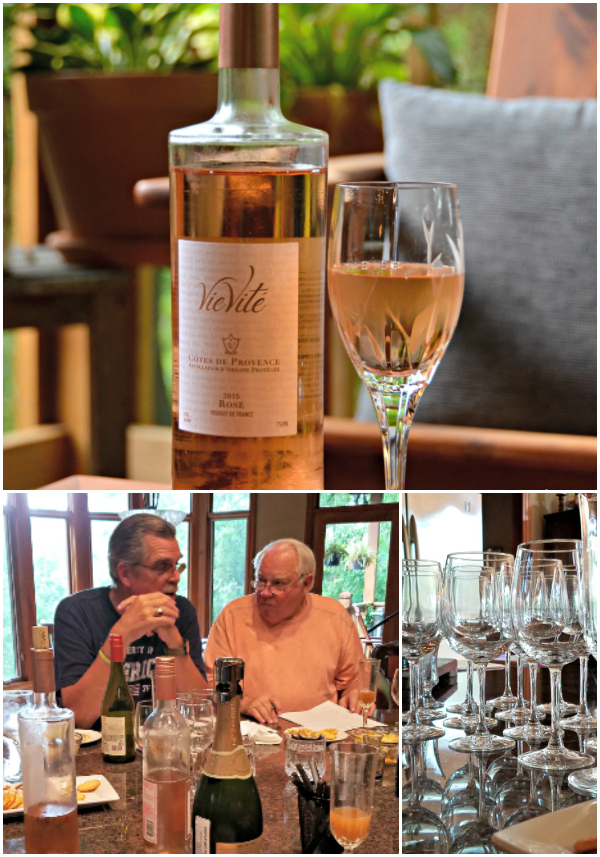 Overall Impressions: We all liked this wine very much. The flavor is spot on for those who love something lightly sweetened and crisp. The bottle is so beautiful, it would make a great hostess gift for someone who likes rosé wine. The wine is approachable enough for casual sipping and elegant enough to serve with a formal meal. The price point won't break your wallet.
Pairing: VieVité Rosé wine pairs well with light seafood dishes, sushi, and creamy pastas. I think this wine would also go quite nicely with chicken curry.
Home Wet Bar has a nifty food pairing graphic based upon the most prominent flavor in your glass of wine. Check that out here for more food pairing ideas.
Subscribe to the Newsletter
All content ©2017 Cheri Loughlin, The Intoxicologist. All Rights Reserved. Chat with Cheri @TheIntoxicologist on Instagram and facebook.com/Intoxicologist
Cheri Loughlin is the Omaha writer and photographer behind www.intoxicologist.net. Email Cheri with comments and questions at str8upcocktails at gmail.com.
VieVité Rosé Wine 2015 Review