Raspberry Spice Syrup uses baking spices that can be found in many household pantries. Its versatility makes this a wonderful addition to cocktail recipes and can be used as a delicious syrup topping for pancakes or ice cream.
Raspberry Spice Syrup – created by Cheri Loughlin
2 cups Brown Sugar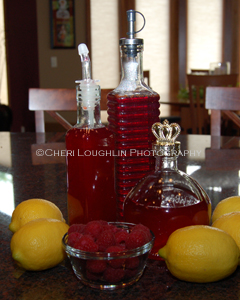 1 cup Water
12 ounce Fresh or Frozen Raspberries
2 Whole Cinnamon Sticks
1 teaspoon Whole Cloves
2 teaspoons Mace (dried aril of nutmeg spice)
1 ounce Orange Juice
1-1/2 ounce Vodka (as preservative)
Place all ingredients except vodka in saucepan over medium low heat. Stir continuously while bringing mixture to slow simmer. (Simmer for a few minutes if thicker syrup is desired) Remove from heat. Allow to cool. Stir in vodka as preservative if desired. Strain into container with lid. Store in sealed container in the refrigerator.
Twitter, Facebook, StumbleUpon – str8upcocktails @ gmail.com – ©2012 Cheri Loughlin-The Intoxicologist, All Rights Reserved.