There are a few spirits that sit back on the liquor cabinet shelf that I haven't used in a while. On a whim I have begun playing with a few of those forgotten partially used bottles of liquor. The result isn't always great, but sometime a winner comes through. Chocolate Raspberry Liqueur is one of those winning combinations. It turned out so well I made a special batch for a chocolate and raspberry loving friend for Christmas.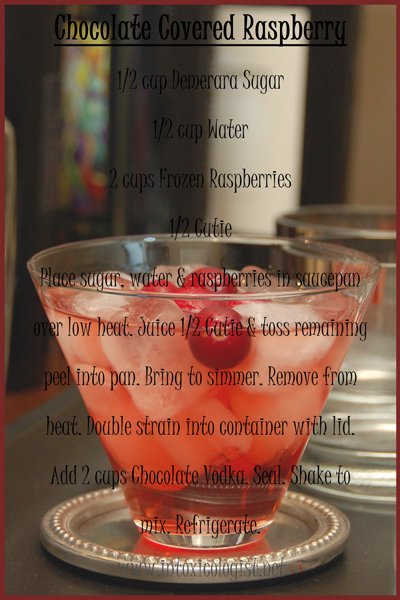 Chocolate Raspberry Liqueur – created by Cheri Loughlin
1/2 cup Demerara Sugar
1/2 cup Water
2 cups Frozen Raspberries (unsweetened)
1/2 Cutie – Juiced, save the leftover peel after juicing
2 cups Chocolate Vodka
Heat sugar, water, raspberries, juice & peel in saucepan over low heat. Bring to simmer. Remove from heat. Double strain to remove all pulp. Allow to cool. Pour raspberry syrup & 2 cups Chocolate Vodka in bottle with lid. Refrigerate.
Serve over ice or shake with ice & serve up in chilled cocktail glass.
Twitter, Facebook, StumbleUpon – str8upcocktails @ gmail.com – ©2013 Cheri Loughlin-The Intoxicologist, All Rights Reserved.
Homemade Chocolate Raspberry "Liqueur"