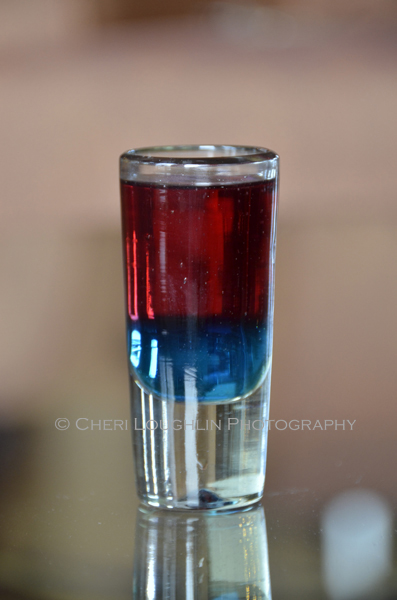 The Patriot Shot was named by overwhelming vote on The Intoxicologist Facebook page last week. I posted a photo of the shot and asked, "On sight alone, what would you name this shot?" There were so many great responses, but many responded with The Patriot.
You will never believe the ingredients in this shot. I was in the middle of recipe creation for a brand when creativity directed me toward a shot glass rather than champagne flute. It really is just the size of the glass and how slowly you sip… right?!
The Patriot Shot Recipe
The Patriot Shot – recipe by Cheri Loughlin, The Intoxicologist
1/2 ounce Blue Curacao
1-1/4 ounce Red Moscato Bubbly
Diced Red Apple Garnish – Optional
Place chilled blue curacao in bottom of shot glass. Very carefully and slowly pour Red Moscato Bubbly over back of spoon over top of blue curacao so it floats on top. Garnish with speared diced red apple if desired (make sure the white of the apple is visible). For more white (for the red, white and blue effect) rim the glass with granulated sugar.
The Patriot Shot Notes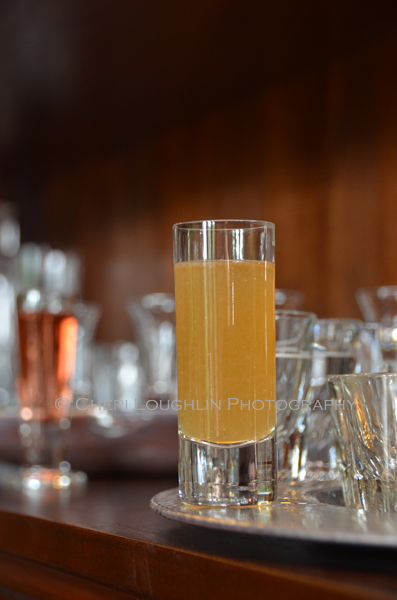 So yes, I did try this in a flute as well. But it was just so much better as a little mini shot. And seriously, there are mini French 75 shots out there. To be fair I will mention the brand used did not purchase this particular shot. But their bubbly does work really well in this recipe. You might say it works really well if you want to walk barefoot on the beach. *hint hint*
All content ©2013 Cheri Loughlin, The Intoxicologist. All Rights Reserved. Chat with Cheri @Intoxicologist on Twitter and facebook.com/Intoxicologist or str8upcocktails@gmail.com