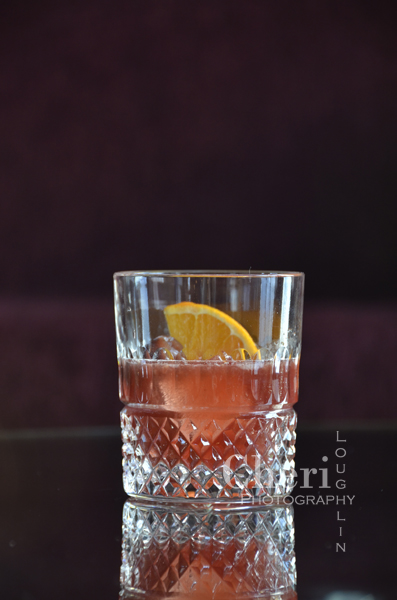 This variation of the classic Old Fashioned may look like a lot of steps to recreate, but I it is well worth the small amount of effort.
To make this you'll need a little advanced prep time to make the Cherry Vanilla Infused Rum. It takes minutes to put the ingredients together. Then just wait a few days and your Cherry Vanilla Infused Rum is ready to go. The infusion is fabulous! You'll want to make more, so save the vanilla bean. It can be reused.
Cherry Vanilla Infused Rum Recipe
This recipe calls for fresh cherries. But we all know fresh cherries are not always available. And our taste buds don't always want to wait for what's in season. I will often use Sweet Dark Cherries from the frozen food section. Make sure the ingredients are just cherries with no added sugar. Use the frozen cherries exactly as directed with the fresh cherries.
Cherry Vanilla Infused Rum – recipe by Cheri Loughlin
9 ounces Silver Rum
35 Fresh Cherries – Pitted
1 Vanilla Bean – Slit Lengthwise
Wash and pit the fresh cherries. Place prepared cherries in a pint size glass jar. Make a lengthwise slit in a vanilla bean. Open the vanilla bean up. Either fold the vanilla bean in half or cut the vanilla bean in half so it fits in the glass jar. Fill the jar with silver rum. The jar should hold 9 ounces of silver rum. Fill the jar completely to the top so all the cherries and vanilla bean are completely covered. Seal the jar and store it in a cool, dark area such as a pantry for 5 days. Turn the jar over a couple of times every day during the 5 days to allow the flavors in the jar to mingle.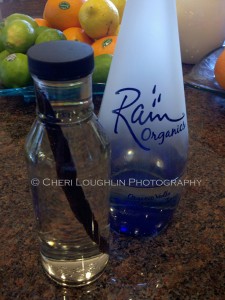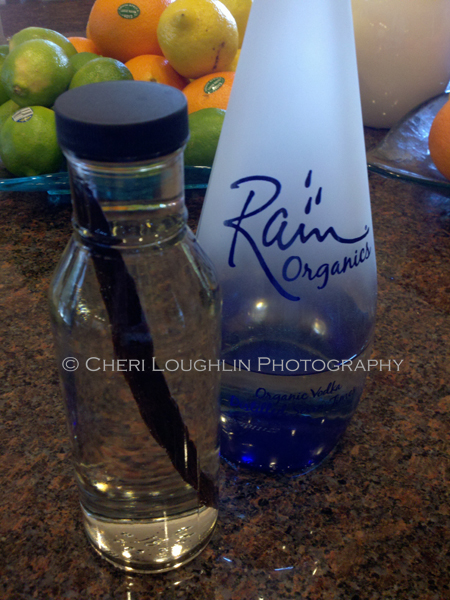 Vanilla beans can be quite expensive. Purchased locally at Whole Foods they are about $3.99 each. Purchasing Vanilla Beans online in bulk is much more reasonable in price. Amazon has several retailers. The one I linked is only one of many. Just store the beans in a sealed glass container so they don't dry out. I keep fresh vanilla beans on hand for making homemade vanilla extract. Making it yourself is SO much less expensive than purchasing small bottles at the store. You can also make vanilla sugar for teas, coffees, or for use in sugared rim cocktails.
Cherry Vanilla Rum Old Fashioned Recipe
Now that you have your Vanilla Cherry Infused Rum, it's time to put the drink together. This calls for brown sugar syrup. It is super easy to make it homemade in a matter of minutes. However, if you don't want to take the time to make the brown sugar syrup, just use regular brown sugar to taste. I would suggest adding regular brown sugar to the rum and stir until it is melted before adding ice.
Cherry Vanilla Rum Old Fashioned – recipe by Cheri Loughlin
2 ounces Vanilla Cherry Infused Rum
1/4 ounce Brown Sugar Syrup
2 dashed Classic Bitters
1 Orange Slice – cut in half
2 Cherries from the Vanilla Cherry Infused Rum
Place 1 cherry, half an orange slice, brown sugar syrup and bitters in a mixing glass. Muddle lightly. Add infused rum and ice. Shake to blend and chill. Strain into rocks glass over fresh ice. Garnish with remaining cherry and orange slice half.
This would also be good with 3 ounces of the Vanilla Cherry Infused Rum. The drink will be a little over-proof, but extra delicious. Keep the other measurements the same. Add an extra dash of bitters if you like. This infusion is just marvelous and this drink really allows it to shine.
I use a lot of bitters, so I prefer a larger bottle than what is ordinarily sold at local grocery and liquor stores. It's also more cost effective to purchase a 16 ounce bottle of bitters rather than a tiny 4 ounce bottle. Classic bitters and orange bitters are the ones I go through the fastest. I still purchase specialty bitters in small bottles since they are used at a significantly lower rate.
All comments, opinions and photography are my own. I'm sharing this recipe as an example of recipe and photo services provided through my cocktail development program.
Subscribe to the monthly Newsletter
All content ©2016 Cheri Loughlin, The Intoxicologist. All Rights Reserved. Chat with Cheri @Intoxicologist on Twitter and facebook.com/Intoxicologist
Cheri Loughlin is the Omaha writer and photographer behind www.intoxicologist.net and author of Cocktails with a Tryst: An Affair with Mixology and Seduction. You can email Cheri with comments and questions at str8upcocktails@gmail.com.
Cherry Vanilla Rum Old Fashioned