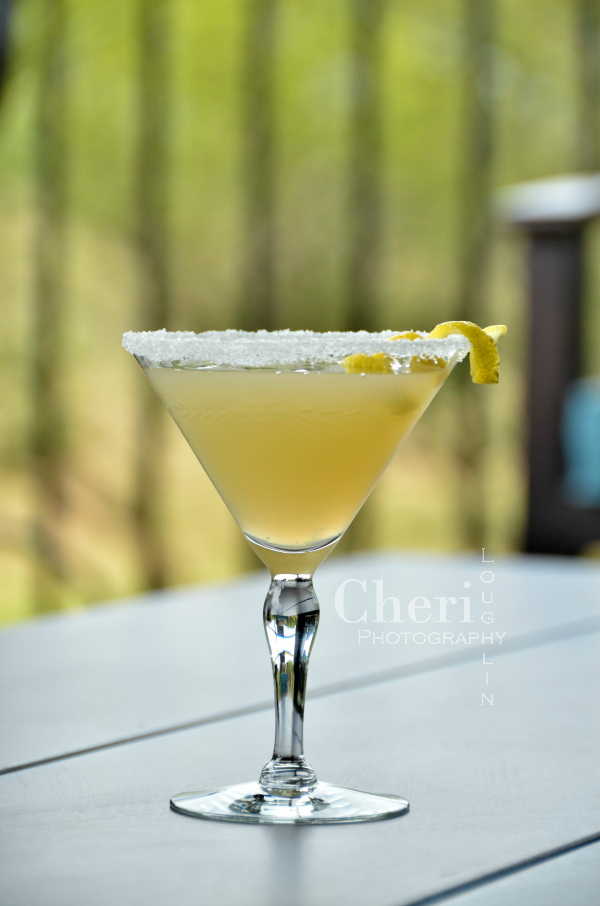 For the last several years friends and co-workers have gathered at my home for Halloween. Since celebrating Halloween 2017 mid-week leaves little room for dressing up and staying up late, our costume party is always the Friday before Halloween night.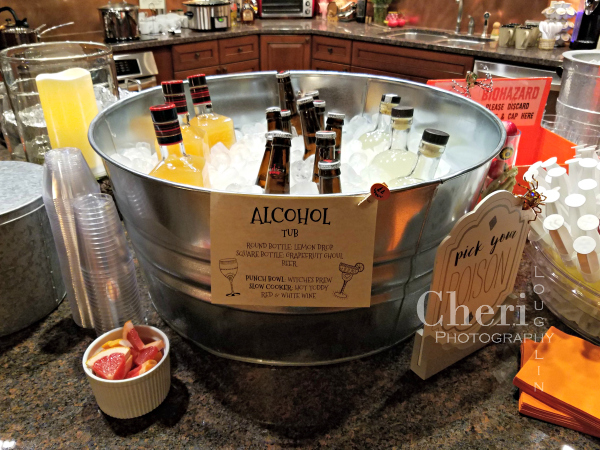 Gin punch and grapefruit martinis have become a staple at the party. Everyone loves them. I batch cocktails in bottles before the party so everyone can self-serve their own drinks as needed. I usually make several bottles extra just in case, because running out of drinks would be a shame. All the extras get sent home with the last few party goers.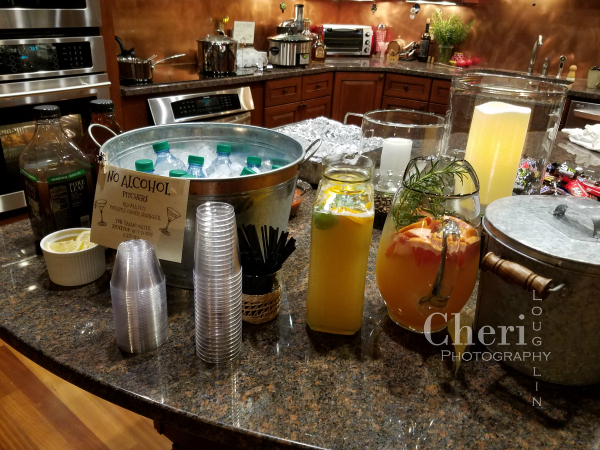 Temperatures dropped about 30 degrees from early in the week to Friday night, so the slow cooker Hot Toddy was also a huge hit. This ginger vanilla syrup is what makes it taste so good!
I usually make one rotating cocktail to add to the mix. Last year it was a hibiscus margarita. This year I knew a few of the guests liked Lemon Drop Martinis, so I made them in batch cocktail version and as a syringe gelatin shot. Needless to say, they were a hit.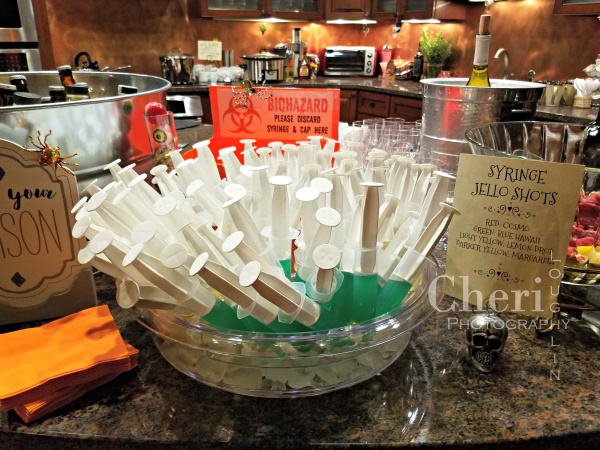 Single Serve Lemon Drop Martini
This recipe comes from a friend of mine. I am not sure if it is her original recipe or that of someone else. This summer she asked me to photograph her family and friends with some of their favorite cocktails. This is the drink she chose for herself. She later framed the photos along with the recipes to hang in her new home bar space. Such a cool idea!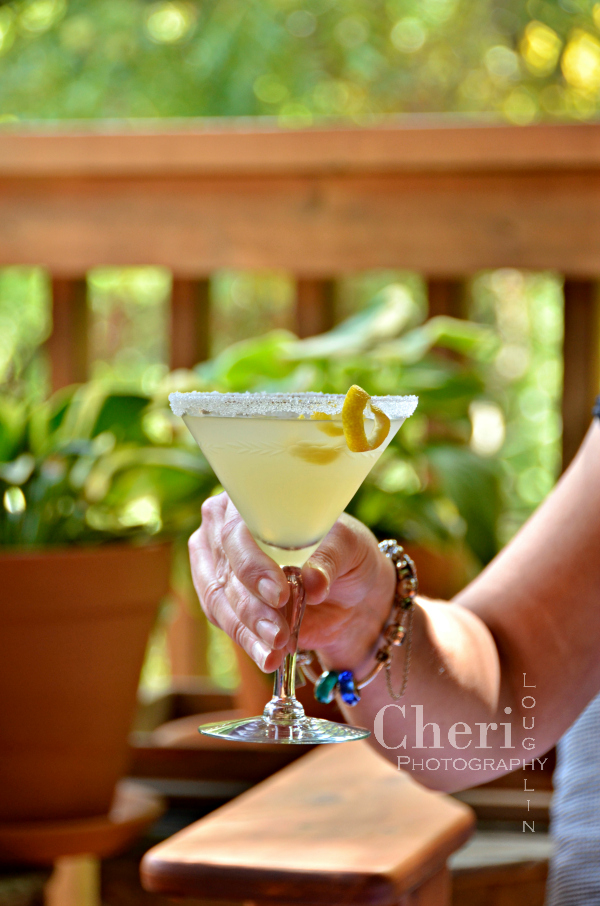 Lemon Drop Martini – single serve
1-1/2 ounce Lemon or Citrus Vodka – I used New Amsterdam
1/2 ounce Grand Marnier
3/4 ounce Fresh Lemon Juice
1/2 ounce Simple Syrup
Lemon Slice
Granulated Sugar
Rim a chilled cocktail glass with the lemon slice and then dip the damp rim into granulated sugar. Place the glass in the freezer to resume chilling while making the drink.
Add all liquid ingredients to a cocktail shaker. Shake to chill. Strain into the sugar rimmed glass. Garnish with the lemon slice or with a lemon peel.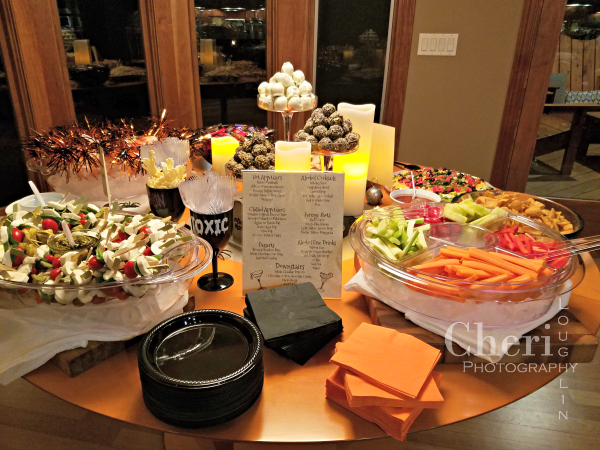 Batch Serve Lemon Drop Martini
Next time you empty a cool looking liquor bottle, soak the label off and wash the bottle out for later use. Clean, empty liquor bottles make excellent batch cocktail vessels.
I usually use fresh juices when making cocktails. However, I usually skip juicing and opt for RealLemon bottled lemon juice when using several liters of lemon juice at a time. That wouldn't fly in a craft bar, but it works out perfectly for parties. This year I made 16 bottles of batch cocktails and two large pots of Hot Toddy. That's a lot of lemons. RealLemon saved the day!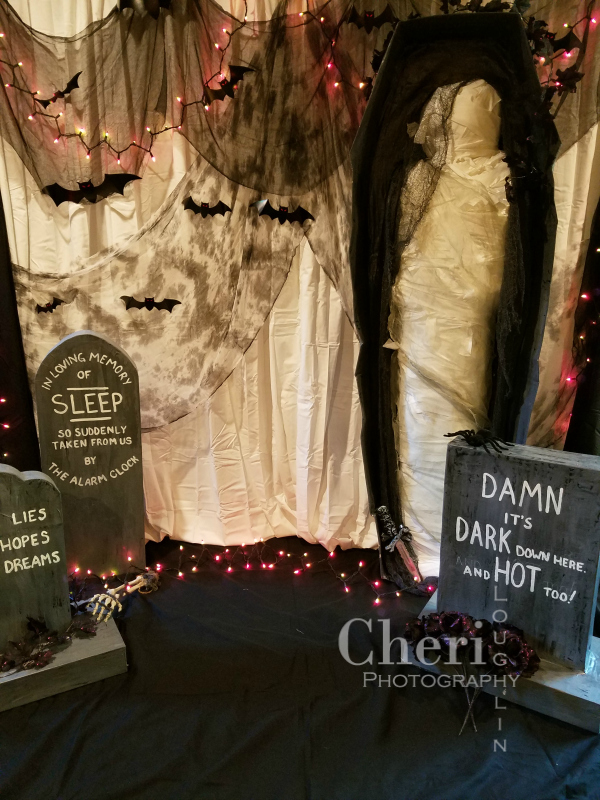 Batch cocktails are usually poured straight from the refrigerated bottles instead of shaken with ice. Before making a batch of cocktails, make a single one. Make a note of how much liquid goes into the cocktail shaker. Then add ice, shake it as you usually would. Then measure the liquid again. The difference between the two measurements is how much water you will need to add to the batch cocktail so that it tastes the same as the shaken version.
Example: The single serve Lemon Drop Martini originally measures 3-1/4 ounces before shaking. It measured 3-3/4 ounces after shaking with ice. This means 1/2 ounce ice melted into water during the shake.
Each 750ml liquor bottle holds approximately 25.5 ounces of liquid. Take 25.5 ounces and divide it by 3.75 ounces (the total ounces in a shaken Lemon Drop Martini.) A 25.5 ounce bottle will hold 6.8 single serve shaken Lemon Drop Martinis. Round that number to 7 to make the math easier. Rounding that number up will make the total number of ounces slightly more than one 750ml bottle. But that's ok. Use that little bit of excess cocktail as a tasting to know how your batch turned out.
Now multiply each individual ingredient in the single serve recipe by 7. Don't forget to include 1/2 ounce of water as one of the ingredients.
Example: 1.5 ounce citrus vodka x 7 = 10.5 ounces, .5 ounce Grand Marnier x 7 = 3.5 ounces, .75 ounce lemon juice x 7 = 5.25 ounces, etc…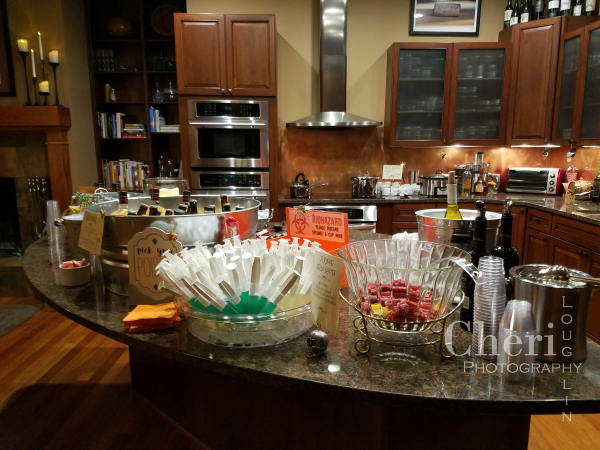 Lemon Drop Martini – batch serve
10.5 ounces Citrus Vodka
3.5 ounces Premium Orange Liqueur
5.25 ounces Lemon Juice
3.5 ounces Simple Syrup
3.5 ounces Water
Pour ingredients into a large container. Stir. Funnel the liquid into a clean, empty 750ml bottle. Sample the little bit of excess liquid in the name of quality control. Refrigerate until ready to use.
Set out a small plate of granulated sugar and small lemon wedges for guests to serve themselves.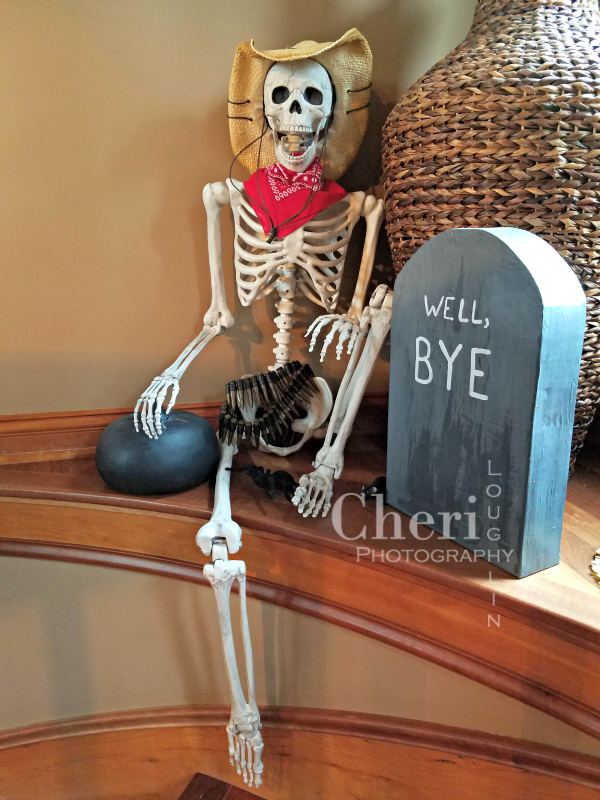 Subscribe to the Newsletter
All content ©2017 Cheri Loughlin, The Intoxicologist. All Rights Reserved. Chat with Cheri @TheIntoxicologist on Instagram and facebook.com/Intoxicologist
Cheri Loughlin is the Omaha writer and photographer behind www.intoxicologist.net. Email Cheri with comments and questions at str8upcocktails at gmail.com.
Halloween 2017: Batch Cocktails for Parties