This isn't your ordinary Frozen Strawberry Daiquiri. Oh, no. This is the tasty low calorie Strawberry Daiquiri version of one of summertime's favorite blended drinks. Oh My!
There is a hint of lime tartness and straight forward fresh flavorful strawberry. It is simply delightful! This Frozen Strawberry Daiquiri is Ideal for lounging by the pool in your bikini while others sip dangerously sweet, high calorie concoctions. No one will ever know you're sipping figure friendly. But they will be craving the delectable cocktail in your glass. Sharing is allowed.
Low Calorie Frozen Strawberry Daiquiri Recipe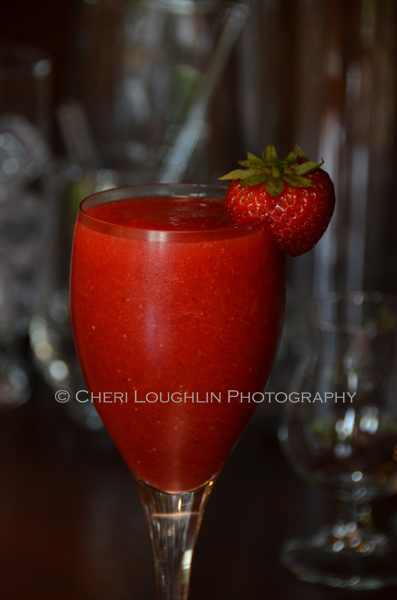 Frozen Strawberry Daiquiri – created by Cheri Loughlin, The Intoxicologist
8 Frozen Unsweetened Strawberries
1 ounce Strawberry Rum
1/2 ounce Triple Sec
2-1/2 ounces Lime Sparkling Water
Fresh Strawberry Garnish – optional
Place all ingredients except garnish in blender, no ice. Blend until smooth. Pour into decorative cocktail glass or white wine glass.
Frozen Strawberry Daiquiri Calorie Comparison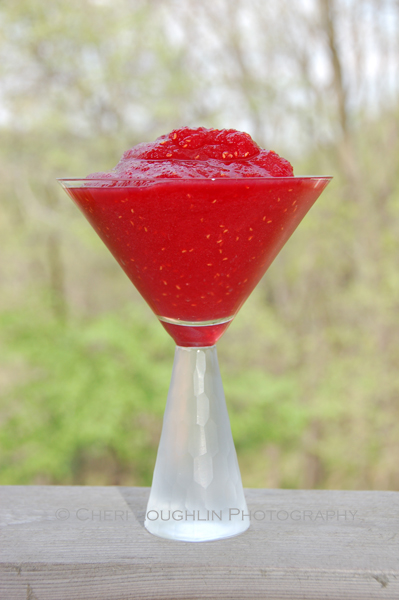 This low calorie Frozen Strawberry Daiquiri weighs in at approximately 121 Calories. Traditional Strawberry Daiquiri drinks start at about 230 to 250 calories per drink depending on where you order and who is making the drink. That's a caloric savings of 109 to 129 calories per cocktail. That is a lot! With calorie savings like that you could splurge and have the Peach Bikini Cocktail for 90 calories, or choose the Ocean Breeze for 88 calories or have a Margarita on the Rocks for 88 calories at Happy Hour later in the evening and still stay under the calorie amount of one regular Strawberry Daiquiri.
Keep the cocktails. Skip the calories.
Cocktail Tips and Tricks
Use frozen unsweetened fruit in place of ice when possible in blended drinks. Fruit adds more depth of flavor to the drink recipe. As the frozen cocktail begins to melt while you drink there is less watery mess and more flavor preservation in the drink.
Add your comment: I've seen cocktails marked "low calorie" that are 250 calores or more. What number do you consider "low calorie" for cocktails?
All content ©2013 Cheri Loughlin, The Intoxicologist. All Rights Reserved. Chat with Cheri @Intoxicologist on Twitter and facebook.com/Intoxicologist or str8upcocktails@gmail.com
Low Calorie Frozen Strawberry Daiquiri