Half the fun of Halloween is, well, having fun. We're never too old to enjoy Halloween and we're never too old to have a little fun with spooky themed drinks. Conjure up the mad scientist within you and start mixing!
Recipe cards below are downloadable. Click on the card to enlarge to proper size. Right click. Save to your photo files and print from your computer. Recipe cards are for personal use only. Below each card is a link to its original post which contains even more recipes.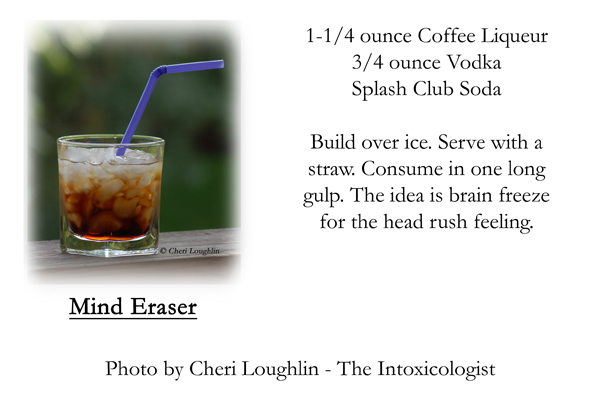 Mind Eraser is classified as a shot since it's taken in one continual quick sip giving the partaker one heck of a head rush. Think brain freeze. This shot can be found along with others in the Top 10 Popular Shot & Shooter Recipes post.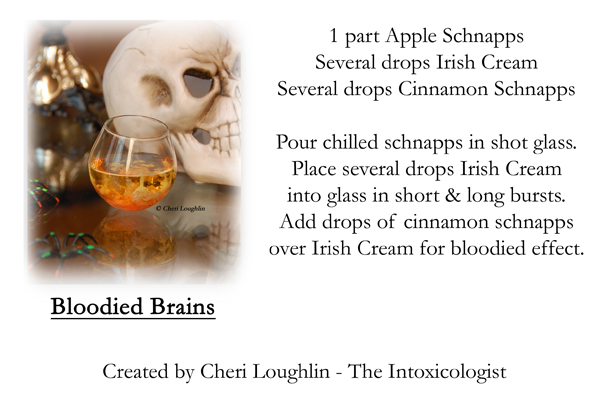 Bloodied Brains is all about presentation, but it tastes great too. This shot along and three others (Hellraiser, Vampire and Friendly Ghost) can be found in the Conjuring Up Halloween Shots post.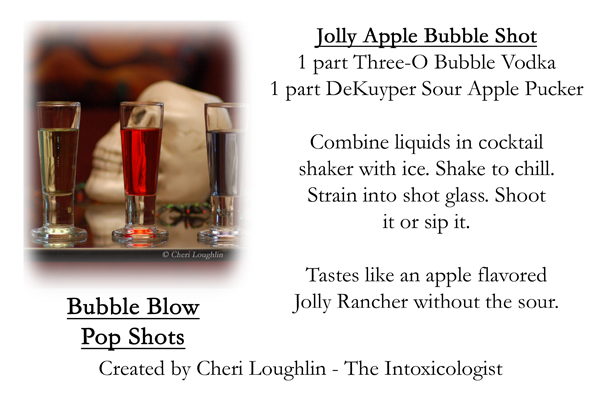 The Jolly Apple Bubble Shot is one of four shots using Three Olives Bubble Vodka. These four fun, easy to mix shots can be found in the Three-O Bubble Vodka Bubbles Over with Cocktails post. The post also contains other fun drinks such as the Boo-Berry Bubble long drink.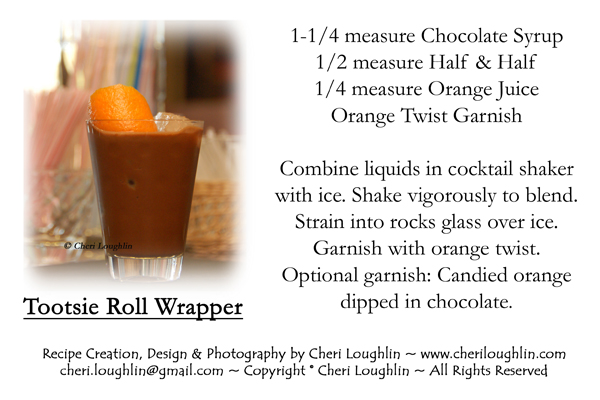 Tootsie Roll Wrapper keeps the candied spirit of Halloween going for non-drinkers, designated drivers and any underage guests who join the party. Three non-alcoholic Halloween drinks can be found in Sipping Through Candied Glasses.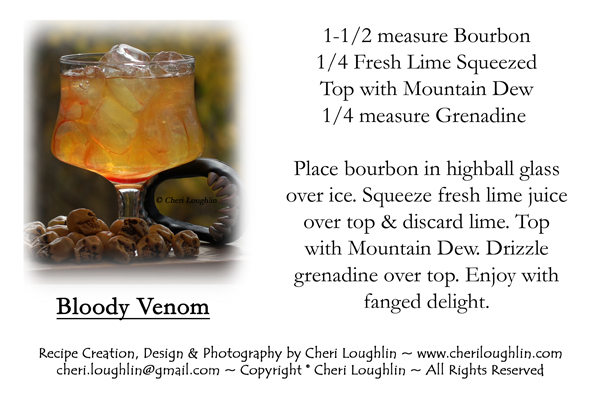 Bloody Venom is one of six bourbon and whiskey based cocktails inspired by the Halloween season found in the post; Mixing Halloween Whiskey Mischief into Halloween. You'll find Infusion, Dawn of the Red, Vampire Lust, Wicked Rye and Bobbing for Red Apples within the post.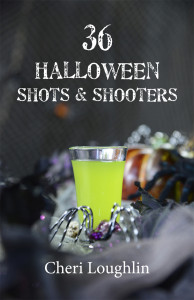 Find more Halloween themed shots and shooters recipes in the new ebook available on Kindle. 36 Halloween Shots & Shooters eBook offers 36 original, adapted and popular shot recipes perfect for scaring up a devilish Halloween party. A full color photo of the exact drink is included with every Halloween recipe.
Order your copy today!
All content ©2012 Cheri Loughlin, The Intoxicologist. All Rights Reserved. Chat with Cheri @Intoxicologist on Twitter and facebook.com/Intoxicologist or str8upcocktails@gmail.com
5 on Friday: Halloween Shots, Cocktails and Mocktails Recipe Cards