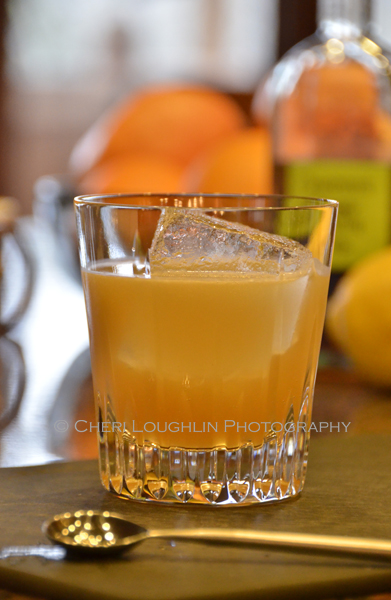 Sam Ross created The Penicillin Cocktail in 2005. This was a time when it was almost unheard of to place even a single cube of ice in a glass of scotch. It kind of still is. But Sam went the distance and shook an entire serving of scotch with ice and created an amazing drink. Watch Sam make and explain the detail behind his signature Penicillin cocktail.
The Penicillin cocktail is good for ails you. It's warming, lightly sweet with wonderful smoky spice. Ginger sweetness lilts through the drink bit by bit the longer this scotch cocktail sits in the glass. And will you just take a look at that amazing piece of ice. One Gläce Luxury Ice G-Cubed went the distance of two Penicillin cocktails with minimal melt factor.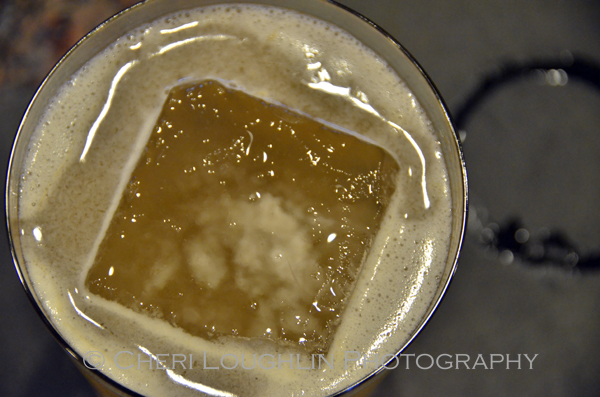 Penicillin
2 ounces Single Malt Scotch
3/4 ounce Fresh Lemon Juice
3/4 ounce Ginger Vanilla Syrup*
1/4 ounce Islay Single Malt Scotch
Candied or Fresh Ginger Disk Garnish – optional
Place single malt Scotch, lemon juice and ginger syrup in cocktail shaker with ice. Shake to blend and chill. Strain into rocks glass over fresh ice. Float Islay Scotch on top. Garnish with candied or fresh ginger disk.
You might have noticed the recipe I've listed above varies just a bit from the one Sam describes in the video. As he mentioned, it is nearly impossible to duplicate his honey-ginger syrup. I also prefer Single Malt Scotch as mentioned when writing about the Cameron's Kick scotch cocktail.
The Ginger Vanilla Syrup I created is listed below and posted in Mixers & Garnishes with step by step photos. This syrup is spicy sweet, caramel in color and delicious. It would be a terrific addition to dark rum Daiquiri's.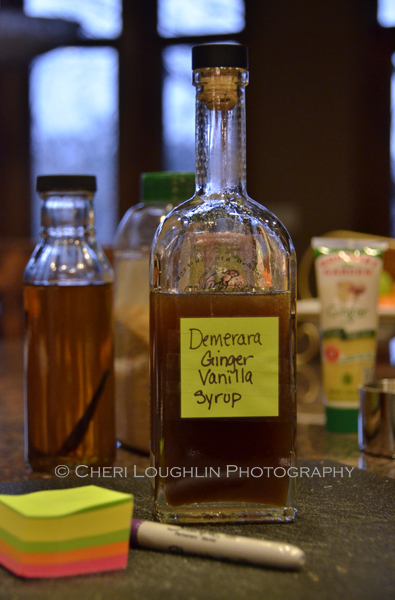 Ginger Vanilla Syrup – created by Cheri Loughlin
3 Tablespoons Garden Gourmet Ginger Paste
1 cup Demerara Cane Sugar
2/3 cup Water
1 ounce Homemade Vanilla Extract
Place ginger, sugar and water in saucepan over low heat. Stir continuously until sugar has melted and mixture begins to lightly bubble. Remove from heat. Double strain into heat resistant measuring cup. Allow to cool for 10 to 15 minutes. Add vanilla. [store purchased Vanilla Extract may be substituted] Stir. Once syrup is completely cool, place in glass container with lid. Keep refrigerated until ready to use.
Twitter, Facebook, StumbleUpon – str8upcocktails @ gmail.com – ©2013 Cheri Loughlin-The Intoxicologist, All Rights Reserved.
The Penicillin Cocktail is Good for What Ails You