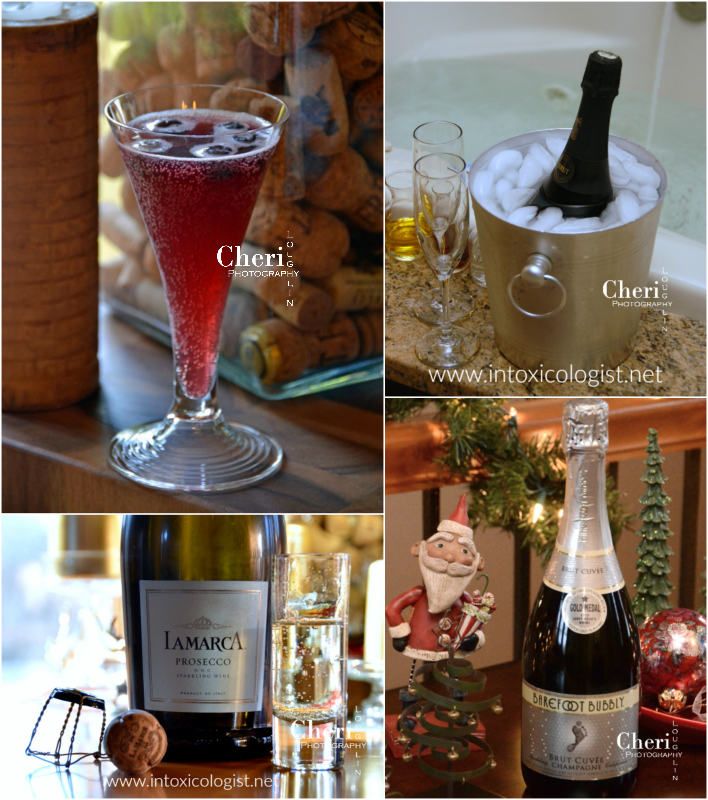 Bottles of bubbly were provided by brand representatives. Photos, comments, opinions and recipe are my own unless otherwise stated.
It's no secret I love champagne and sparkling wines. There is always a bottle at the ready in the chiller. In my opinion, champagne and bubbly are for any time and any occasion. The flavor is light and tickle your nose fun. And bubbly doesn't have to cost a fortune to taste good. These festive sparklers range from $10 to $15 per 750ml bottle. Some come in four-pack single serve portions.
The sparkling wines listed below were sent to me by company representatives. However, I regularly purchase and consume all of these sparkling wines by themselves and in delicious cocktails.
LamarcA Prosecco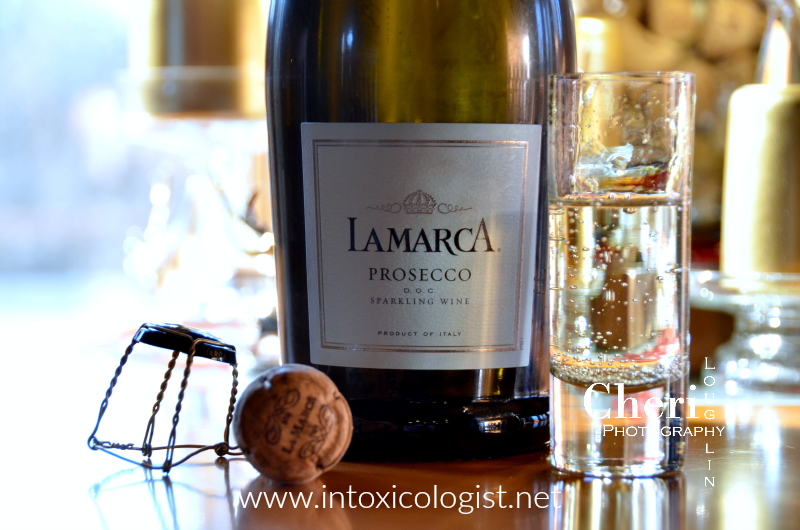 LamarcA Prosecco is crisp and fruity on the nose. There are hints of green apple such as tart Granny Smith and citrus notes. It is a mouthwatering dry sparkling wine; not too sweet. Perhaps I would suggest it is a balance between brut champagne and white moscato. There is the faintest hint of light brie cheese in the lingering taste.
LamarcA is delicious on its own served in a chilled champagne flute. Add a few frozen berries, thin sliced peach, or small chopped pieces of pineapple to add a touch of color and tinge of extra flavor. I created the three ingredient (plus garnish) Pomegranate Royale cocktail last year. It's festive enough for holiday celebrations or for a special brunch date.
Freixenet Cordon Negro Brut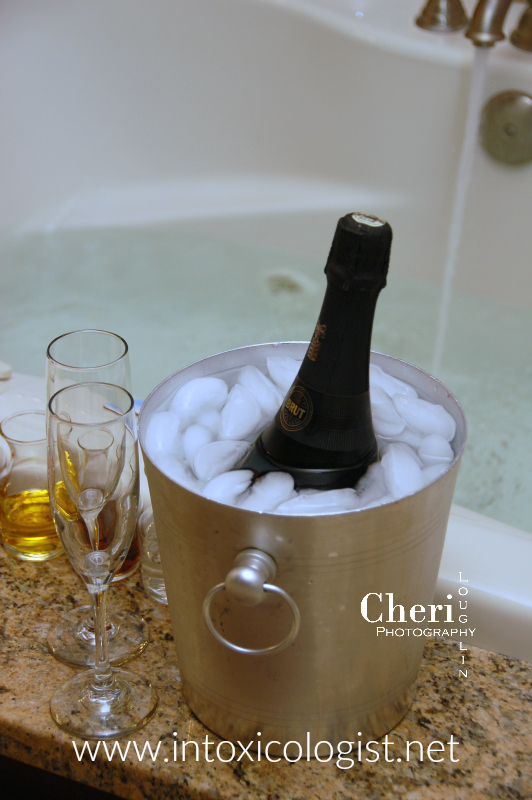 Freixenet is pronounced (fresh-eh-net). I've got to commit that to memory because I usually refer to it as the black bottle champagne / bubbly. The Freixenet website also refers to the Cordon Negro Brut as "black bottle bubbly."
Cordon Negro Brut is my favorite of the Freixenet line. This one is almost always in my cellar stock. Freixenet is cava from Barcelona prepared in the méthode champenoise tradition. It is crisp with medium size bubbles. It has a bit of creamy texture, but without the lingering flavor of quality soft cheese. I love this bubbly sipped as is, but it is also good in cocktails. I use it when making the cognac version of a French 75. This is a terrific bubbly to use while experimenting with cocktail flavor combinations.
Confession time: I love to relax in the tub with a bottle of bubbly. But that's not all. What I really enjoy is bringing a tray of small taster cups filled with liqueurs and juices to the tub along with a bottle of bubbly. It's fun to just play with flavor combinations topped with bubbly. It's whimsical and no pressure to create the next big thing. And yes, I did say bring the tray and bubbly to the tub. Hey, it's close to Valentine's Day as I write this, so this would make a great couples evening in activity. Have fun with it!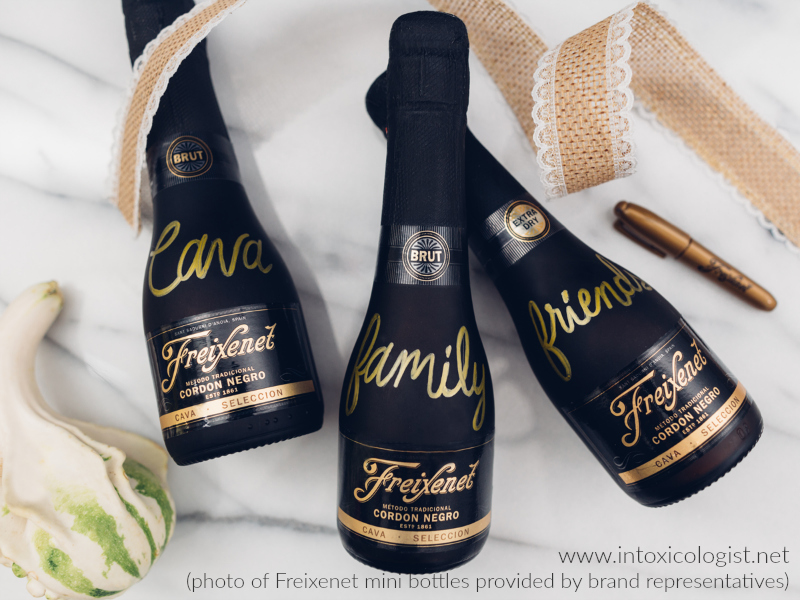 Cordon Negro Brut is also sold in single serve bottles in packs of four. They are so cute and ideal if you'd like a glass of bubbly rather than an entire bottle. Another cool feature of this particular bottle is the matte black finish on the bottle. You may have seen matte finish chalkboard bottles at hobby stores. They run about $8 to $10 each. Instead of buying an empty bottle, buy some Freixenet cava, drink it and then reuse the bottle. Clean off all the labels and grab a piece of chalk. It's just like an old school chalk board. Metallic pens made especially for bottle art are also great with the black bottle. Write a number on the bottle and use it as a table placeholder for wedding receptions. Invite guests to doodle or write messages on the bottle.
Barefoot Brut Cuvee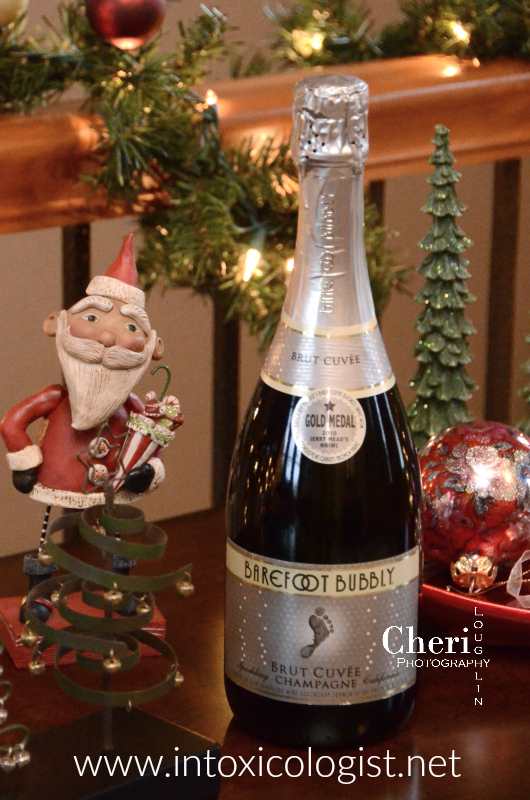 Barefoot Wine & Bubbly has an extensive line of bubblies. I have created hundreds of recipes for this brand through the last several years. I like this one best for bubbly topped cocktails and especially in punch bowl recipes. The bubbles are bright and bouncy, with flavors of apple and peach. The longer it's sipped, the more layering of flavors peek out to play over the tongue.
I've created so many recipes using the Brut Cuvee, it's difficult to choose a favorite. I love simple champagne style drinks that combine fresh fruits. But I also adore crisp bubbly over warm spirits such as used in the Holiday Honey and Irish Castaway. The melding of warm spirits with vibrant bubbly makes an extraordinary flavor combination.
Barefoot Brut Cuvee is also sold in single serve four-packs. I reuse the bottles after drinking the bubbly. The labels peel off rather easy with a dishpan of soapy water and sponge. The single size bottles are perfect for serving premade cocktails at indoor and outdoor parties. Make the drink of your choice and place filled bottles in a large tub filled with ice. Guest can grab their premade cocktail in a bottle freeing up a few of your obligations as host.
Goodnight Kiss Bubbly Cocktail
All this talk about bubbly leaves me a tad thirsty. There is a bottle in the chiller and well, I did say bubbly is appropriate any time of day. A small glass with lunch could be a good thing.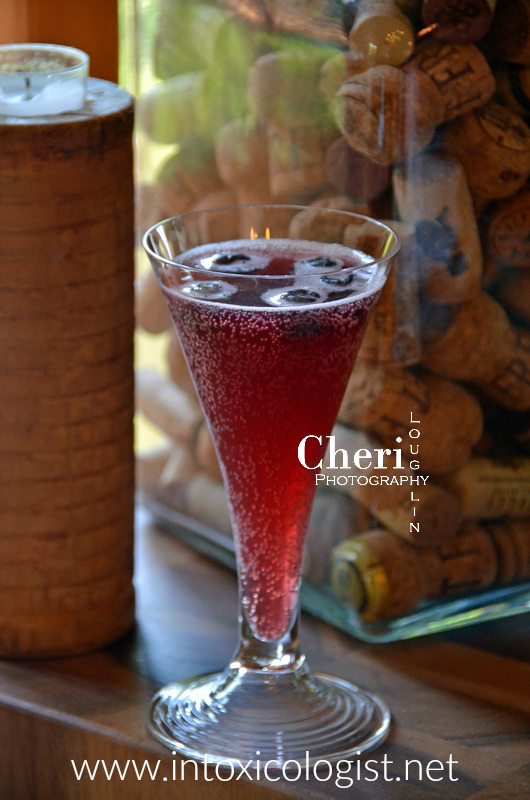 Goodnight Kiss is fruity, lush and full of berry flavors. Frozen blueberries keep the drink chilled while sipping and adds an extra shade of purple to the drink. Sparkling cava or brut bubbly could be used rather than prosecco according to preference and availability. Blueberry syrup called for in the recipe can be found on grocery aisles with baking products or pancake mix.
Goodnight Kiss – recipe by Cheri Loughlin
1-1/2 ounce Pomegranate Juice
1 ounce Blueberry Syrup
1 teaspoon Lemon Juice
3 ounces Prosecco
Frozen Blueberries
Place frozen blueberries in bottom of a tall flute glass. Place juices and syrup in a cocktail shaker with ice. Shake to chill. Strain into a flute over frozen blueberries. Top with Prosecco.
Subscribe to the monthly Newsletter
All content ©2016 Cheri Loughlin, The Intoxicologist. All Rights Reserved. Chat with Cheri @Intoxicologist on Twitter and facebook.com/Intoxicologist
Cheri Loughlin is the Omaha writer and photographer behind www.intoxicologist.net and author of Cocktails with a Tryst: An Affair with Mixology and Seduction. You can email Cheri with comments and questions at str8upcocktails@gmail.com.
Champagne, Prosecco and Cava, Oh My!