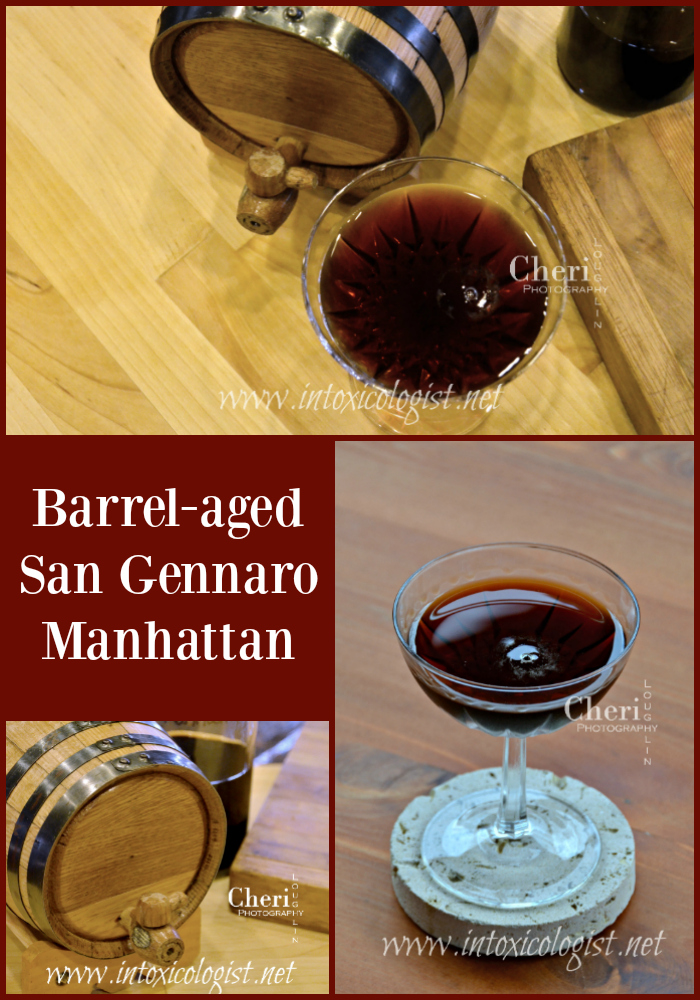 My first barrel-aging attempt went over pretty well. It was a variation of the Vieux Carré classic cocktail. You can read about the barrel-aged version here and the original Vieux Carré as experienced at The Bar, Peninsula Chicago for comparison.
Almost immediately after bottling the first barrel-aging experiment, I started another. I love a good Manhattan, but still wanted to do something a little off the "been there, done that" Manhattan trail. So I decided to experiment with the San Gennaro Manhattan. The original recipe calls for Amaro and Campari in addition to the usual whiskey and sweet vermouth recipe. Amaro gives this Manhattan a deeply rich and satisfying flavor. It's decadent, warming and completely satisfying.
Barrel-aging this recipe was just as satisfying. See the original San Gennaro recipe here. For aging purposes in a one liter barrel (approximately 33 ounces), multiply each recipe ingredient in the San Gennaro recipe by ten, excluding the cherry garnish.
Barrel-aging Tasting Notes
I usually include a full barspoon or teaspoon of Campari when making this as an individual cocktail. But since the liquids in the barrel become somewhat concentrated during the aging process, I felt it necessary to go with the original recipe recommendation of half a teaspoon of Campari. I didn't want too much concentrated bitter to come through.
First of all, it's the color just beautiful?!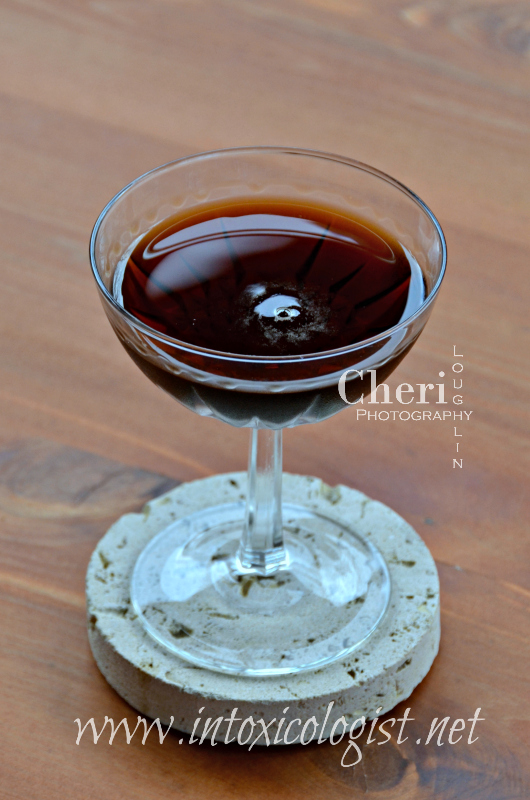 I lost track of time while aging this cocktail, so it sat in the barrel longer than I'd anticipated. This one stayed in the barrel approximately eight to ten weeks. From what I've read about this size barrel-aging, four to six weeks is optimum. Longer aging time causes more evaporation. And it did make a difference in volume from the first experiment. Significantly less liquid remained in the barrel this time.
The mixture is a bit thicker in texture and deeper in flavor than the original recipe before barrel-aging. Both finished results make good drinks. Wood notes are quite apparent in the final product. They are a nice complement to the bittersweet notes of the Amaro and Campari. I think a fresh orange or grapefruit peel twisted over the drink would be better suited to this cocktail than the maraschino cherry called for in the original recipe.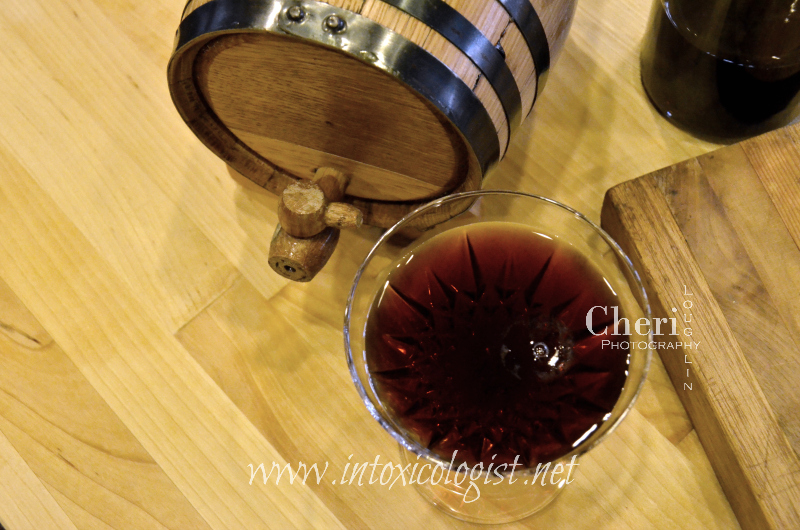 All in all this made a great drink, but I couldn't say it is any better or any worse due to the barrel-aging process. It's just a little different. For now I've retired the barrel to experiment another day.
Subscribe to the monthly Newsletter
All content ©2016 Cheri Loughlin, The Intoxicologist. All Rights Reserved. Chat with Cheri @Intoxicologist on Twitter and facebook.com/Intoxicologist
Cheri Loughlin is the Omaha writer and photographer behind www.intoxicologist.net and author of Cocktails with a Tryst: An Affair with Mixology and Seduction. You can email Cheri with comments and questions at str8upcocktails@gmail.com.
Barrel-aging the San Gennaro Manhattan