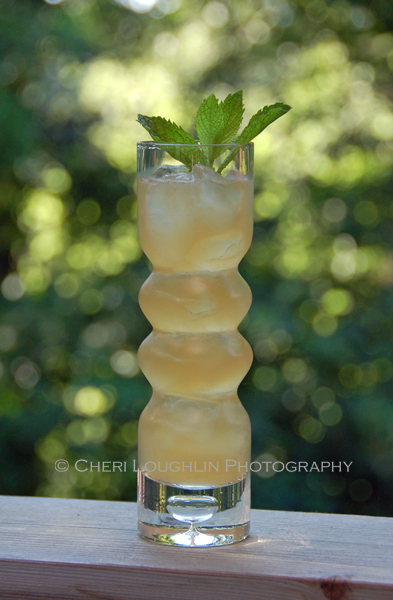 The classic Mai Tai drink recipe is commonly known to include Orgeat, almond syrup. I created this variation of the Mai Tai drink while reviewing Blackheart Spiced Rum. I found this particular rum worked well in tropical drink recipes and cocktails that leaned more toward warmer tones. That's one of the reasons I chose to work with Falernum rather than Orgeat in this variation of the Mai Tai drink recipe. Blackheart Spiced Rum already contains a significant amount of vanilla with almond tones. It just made sense to incorporate more Tiki spice into the drink.
Mai Tai Me Up Drink Recipe
Mai Tai Me Up – recipe by Cheri Loughlin, The Intoxicologist
2 ounces Blackheart Spiced Rum
1/2 ounce Triple Sec
3/4 ounce Velvet Falernum
3/4 ounce Fresh Lime Juice
Mint Leaf Garnish
Combine liquids in cocktail shaker with ice. Shake to blend. Strain into highball glass over fresh ice. Garnish with mint leaf.
More Mai Tai Drink Recipes
Falernum is sometimes difficult to find locally, so make your own with the easy Homemade Falernum recipe found in the link.
Another Mai Tai variation can be found in the popular 21 Must Try Classic Cocktails post. By the way, if you think of a classic cocktail that should be added to that that post, please mention the cocktail recipe in the comments section. I would love to add your suggestions!
Figure friendly cocktails that are truly fresh tasting and flavorful are difficult to come by. Rest assured the Mai Tai Teenie will keep your taste buds happy with only 127 calories in the glass. This low calorie Mai Tai uses fresh pineapple and orange juice rather than orange liqueur for wonderful fresh flavor.
Twitter, Facebook, StumbleUpon – str8upcocktails @ gmail.com – ©2013 Cheri Loughlin-The Intoxicologist, All Rights Reserved.
Mai Tai Drink Mixes Up Sweet Heat