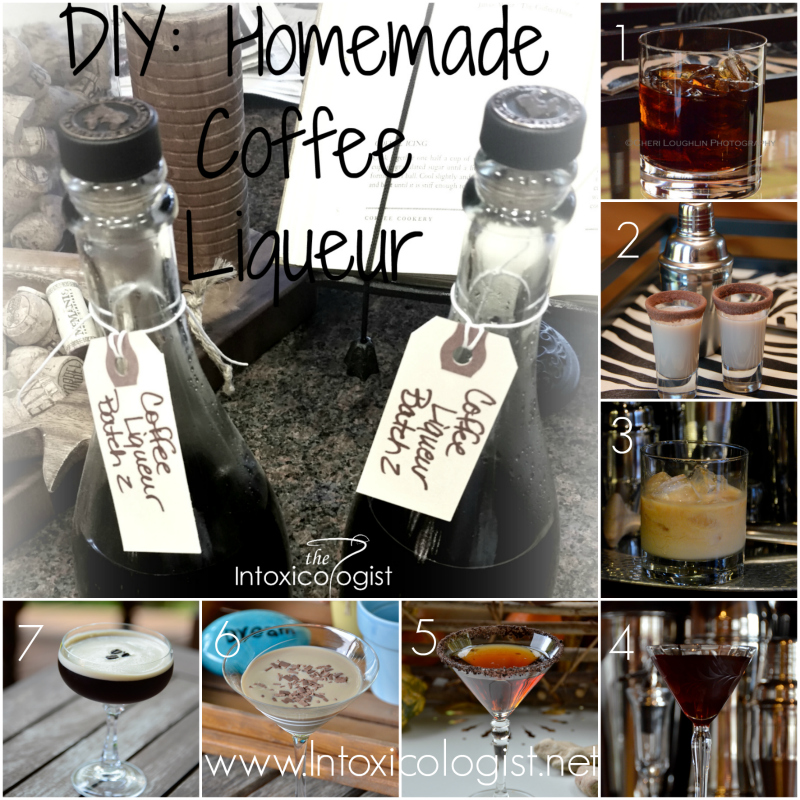 I am a huge fan of Kahlua Especial coffee liqueur. The flavor is deeper and richer than the original coffee liqueur and it tastes like there is substantially less sugar. Oh, and it's higher proof. What's not to love?!
I've tried my hand at making coffee liqueur several times. Earlier batches took months to cure. Later batches were usually too sweet with not enough coffee flavor for my taste. I mean really; the coffee (and the liquor of course) is what it's all about, right?!
National Kahlua Day is February 27.
Finally I've found a good balance of rich coffee flavor with light touch on the sweetness while maintaining a nice liquor balance. Even better…it's a cinch to make.
Use your homemade coffee liqueur in classic cocktails such as the White or Black Russian (1 & 3) and Espresso Martini (7). Or go glam with a Little Black Dress (4) with gin, Heering Cherry, Galiano and coffee liqueur. Get decadent and whip up a Devil's Double Chocolate Cake (5) cocktail or the P.S. I Love You (6) cocktail. Don't forget dessert; Oreo Cookie Shots (2)!
DIY Homemade Coffee Liqueur Recipe
This recipe is extremely rich in coffee flavor. More so than the Kahlua Especial I normally buy. This recipe is a little closer in strong coffee flavor to Starbucks brand coffee liqueur. It's lighter on sweetness, but oh, so good.
My Special Coffee Liqueur – recipe by Cheri Loughlin, The Intoxicologist
1-1/2 cup Espresso Coffee Grounds
3 cups water
Place coffee grounds in a filter in your coffee maker. Add 3 cups of water to the coffee maker. Brew.
2-1/4 cups (18 ounces Rum) – I used Shellback Silver Rum
2 cups Demerara Cane Sugar
2-1/2 cups fresh brewed Espresso Coffee
1 fresh Vanilla Bean – cut lengthwise with inside exposed
Or use 3 Tablespoons Vanilla Extract (homemade recipe here)
Place split vanilla bean into a large glass container that has a lid to seal. Set aside.
Place sugar in a large bowl with pour spout. Add hot fresh brewed coffee. Stir until all sugar is liquefied. Allow mixture to cool before proceeding. Add rum. Stir briefly. Pour mixture into glass container with vanilla bean. Seal. Store in a cool, dark area (such as pantry) for two weeks before using. Shake mixture once every few days while mixture infuses vanilla bean.
This recipe was delicious immediately. But it is phenomenal after allowing the vanilla bean to soak into the mixture. And it keeps on the shelf. Remove the vanilla bean once it rises above the level of the liquid.
If you chose to use vanilla extract instead of a fresh vanilla bean, your homemade coffee liqueur is ready for immediate drinking pleasure. No waiting, no refrigeration required.
Homemade Original Coffee Liqueur
If you prefer Kahlua's original coffee liqueur, this recipe might be more to your liking. It is sweeter with substantially more sugar added and significantly less coffee. The flavor is well balanced with milder flavor than the previous recipe.
Homemade Coffee Liqueur – recipe by Cheri Loughlin, The Intoxicologist
2-1/2 cups Fresh Coffee*
*10 level Tablespoons Ground Espresso + 3 cups Water
*Brew in coffee pot
3-1/2 cups Demerara Cane Sugar
2-1/4 cups Shellback Rum
1 Fresh Vanilla Bean – cut lengthwise and opened
Or use 3 Tablespoons Vanilla Extract (homemade recipe here)
Follow instructions as listed in the previous recipe.
Which recipe will you choose?
I used Shellback rum because it was handy in my liquor cabinet. Rums whose flavor profiles lend themselves to dry, coffee flavors will work exceedingly well. Possibly Bacardi or Flor de Cana would be good for this recipe.
Subscribe to the monthly Newsletter
All content ©2015 Cheri Loughlin, The Intoxicologist. All Rights Reserved. Chat with Cheri @Intoxicologist on Twitter and facebook.com/Intoxicologist
DIY Homemade Coffee Liqueur