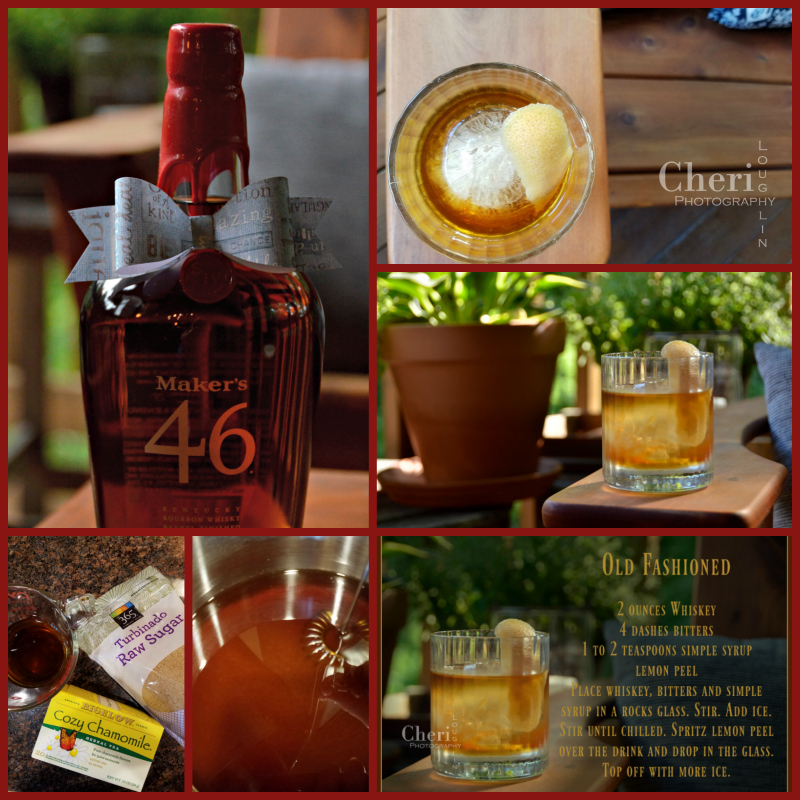 Maker's Mark recently invited me and other influencers to join the live broadcast of Maker's 46 Father's Day Tips and Sips Workshop. The workshop was hosted by Pamela Wiznitzer, President of the United States Bartenders Guild. Maker's Mark representatives sent out a gift box full of goodies, including a bottle of Maker's 46, for all participants so we could sample and mix an Old Fashioned cocktail along with the host. The guided workshop provided an excellent platform for learning more about the product and also hearing other's thoughts about flavors and drink ideas.
Maker's 46 product provided by brand representatives. All comments and opinions are my own unless otherwise stated.
The workshop focused on Father's Day and dads, but all the tips could easily be used for year round gift giving for men or women. As we know, there are a lot of women out there who enjoy a good whiskey cocktail. Me included. So let's get started!
If you are gifting a bottle of Maker's 46, tie a simple bow around the neck and be sure to include a recipe for instant cocktail inspiration.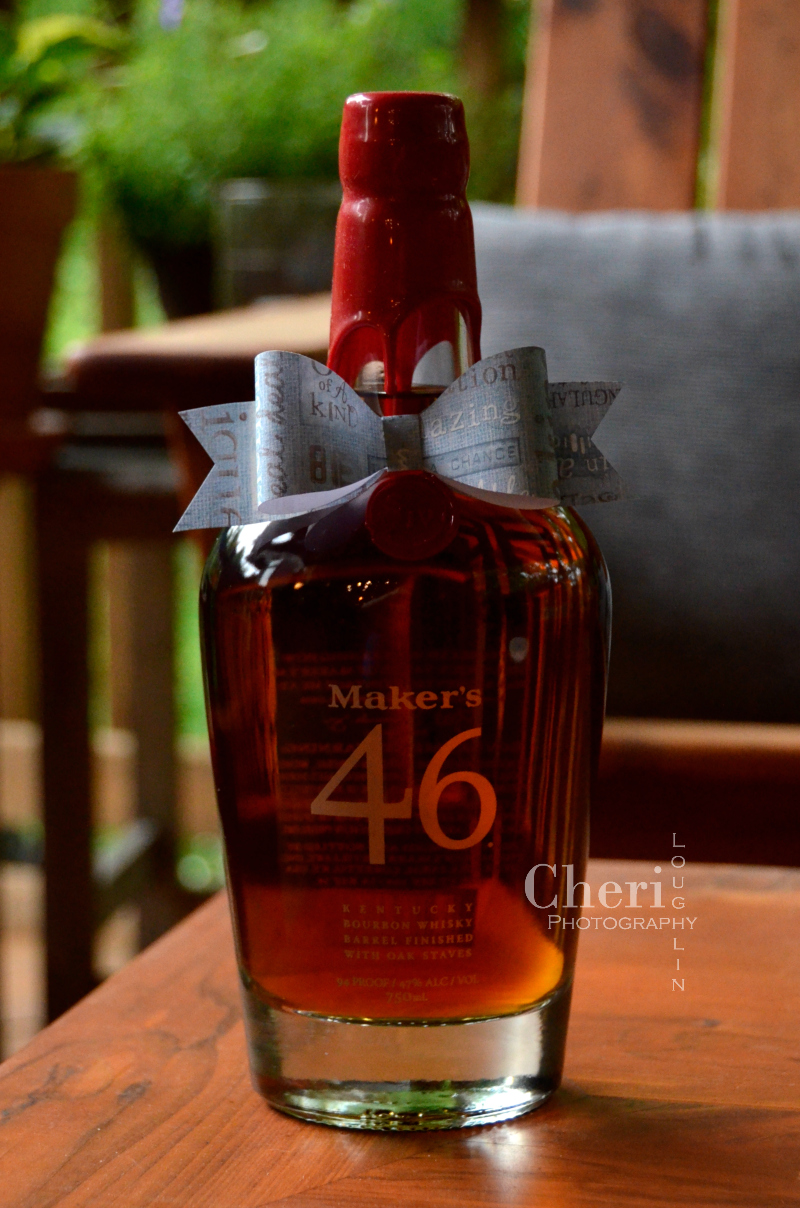 Tasting Maker's 46
According to Pam, Maker's 46 was fashioned off of a loaf of bread in that it is heavy on wheat in the mash bill. A mash bill is the mix of cooked and fermented grains used to make whiskey. The sweetness one finds in the aroma of Maker's 46 isn't sugar; it originates from the heavy wheat.
To taste with the purpose of evaluating flavors, sip and swish in your mouth to familiarize your palate with the bourbon. Think about what flavors come to the forefront. Now that your palate has acclimated to the bourbon, take another sip. This time the flavors will be sharper than the first and you will get a more accurate interpretation of flavor notes.
I reviewed Maker's 46 in November, 2010. That review can be found here along with comparison notes to Maker's Mark.
Some of the flavors participants commented on were notes of cinnamon, peanut, pecan, sweetness, vanilla, caramel, apple, and some smokiness. Pam explained that smokiness and spice notes come from the char in the barrel from which the whiskey was aged. Nutty notes stem from oiliness in the bourbon due to the manner in which it is made in the stills.
Tasting bitters can leave a bad taste in your mouth due to the concentrated pungent flavor. Pam offered up a cool way to "sample" bitters that's way more helpful than tasting. Place one to two drops of bitters in the palm of your hand. Rub your hands together briskly to warm the bitters. Cup both hands around your mouth and nose and inhale. You will almost taste the bitters in the aroma.
Maker's 46 is intensely flavored with a smooth finish that lingers on the palate. One taster said it was dynamic! Maker's 46 is versatile enough to drink neat, on the rocks, or in a cocktail. Speaking of cocktails, it's time to make one.
Maker's 46 Traditional Old Fashioned
Pam walked the group through making a traditional Old Fashioned. Her version includes 2 parts Maker's 46, 3 dashes of bitters of choice, sweetener of choice and citrus peel of choice. Simple syrup is by far the easiest sweetener option since it is simple to make and dissolves easily in cocktails. Honey and maple syrup are also terrific sweetener options. Keep the measurements the same, but swap bourbon for rum in this rum old fashioned when using maple syrup. If you opt for regular granulated sugar, I suggest dissolving it in the whiskey before adding any other ingredients including ice.
Pam's wedding trick: make an old fashioned, but don't add ice. Instead pour the ingredients into a flask to take on the go. When ready to drink, just pour it over ice in a rocks glass.
Pam talked about using different citrus peels, flavored syrups, and different styles of bitters for slight variations in the drink. The suggestion of grapefruit peel intrigued me, so I asked what flavor of syrup she would recommend when using grapefruit. She suggested chamomile. So I decided to make a chamomile tea infused syrup with grapefruit twist for my old fashioned.
During the webinar we learned that 3 drops equals 1 dash. So if your bitters bottle has an eye dropper, use 3 drops for every dash called for in a recipe.
Chamomile Old Fashioned
This drink is lightly sweetened and lovely in color. Grapefruit peel aroma is nice and fresh and adds a hint of bittersweet citrus to the drink. Chamomile tea syrup is subtle in flavor with barely there tea dryness. It is almost calming to the bourbon itself. Chamomile unexpectedly complements the flavor of Maker's 46 in a delightful way.
The tea syrup can also be used to sweeten cold or hot tea or other drinks of your choice. The first thing I thought of when I tasted the syrup is that it would be heavenly on hot, crisp waffles with lots of melted butter. Yum!
Chamomile Old Fashioned – recipe by Cheri Loughlin
2 ounces Maker's 46
3 dashes Angostura Bitters
1/8 to 1/4 ounce Chamomile Tea Infused Syrup*
Grapefruit Peel
Place bourbon, bitters, and flavored syrup in a mixing glass. Stir briefly. Add ice and stir until chilled. Strain into a rocks glass with a single large cube of ice. Spritz a fresh grapefruit peel over the drink and place the twist in the drink.
*Chamomile Tea Infused Syrup
3 Chamomile Tea Bags
8 ounces Hot Water
1-1/2 cup Turbinado Raw Sugar
1 ounce Vodka – optional
Place water in a small saucepan. Bring to boil. Remove from heat. Add tea bags to the water. Steep for 8 minutes. Remove tea bags. Add sugar and return pan to medium heat. Stir until all sugar has melted. Remove from heat and allow mixture to cool. Add 1/2 to 1 ounce vodka to the syrup if desired to preserve the freshness of the syrup for longer period of time. Place syrup in a glass container, seal and refrigerate until ready to use. Makes approximately 1-1/2 cup syrup.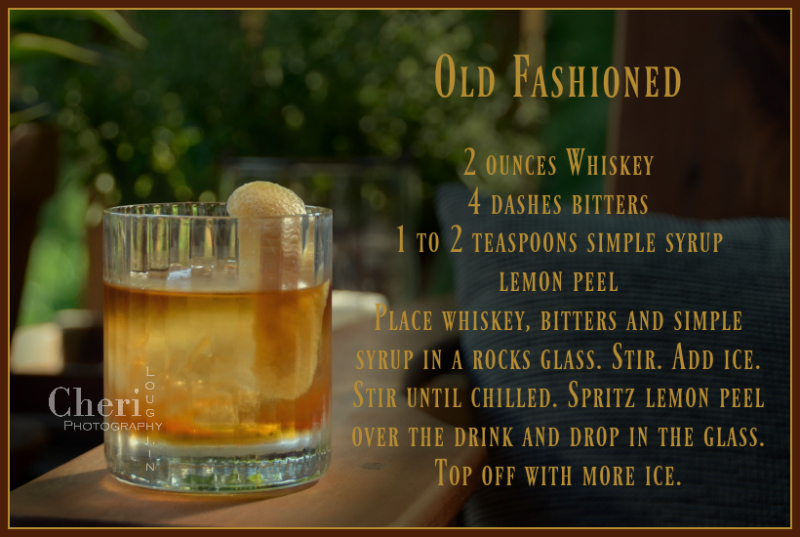 An old fashioned bar is a great idea for parties that won't leave you stuck behind the bar all day. You'll need a bottle or more of whiskey, assortment of syrups or keep it easy with just simple syrup, bitters such as Angostura, fresh citrus, jigger, citrus peeler, ice, stir spoon, glassware, and instructions of how to assemble the drink.
Subscribe to the Newsletter
All content ©2017 Cheri Loughlin, The Intoxicologist. All Rights Reserved. Chat with Cheri @Intoxicologist on Twitter and facebook.com/Intoxicologist
Cheri Loughlin is the Omaha writer and photographer behind www.intoxicologist.net. Email Cheri with comments and questions at str8upcocktails @ gmail.com
Maker's 46 Tips and Sips #MakeItDelicious